'Officer Naughty' Met policewoman guilty of gross misconduct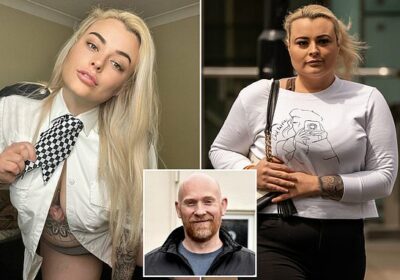 'Officer Naughty' Ex-Met policewoman with OnlyFans porn account who failed to properly investigate Wayne Couzens' flashing and then lied about it did commit gross misconduct, panel finds
PC Samantha Lee went to McDonald's where Couzens flashed women in 2021  
A policewoman who called herself 'Officer Naughty' committed gross misconduct by lying about her investigation into Wayne Couzens over two incidents of flashing, a disciplinary panel found today.
PC Samantha Lee, 29, was found to have failed to make 'the correct investigative inquiries' over two incidents when Couzens exposed himself to female members of staff at a McDonald's restaurant in Swanley, Kent, on February 14 and 27, 2021.
Ms Lee attended the restaurant on March 3 and interviewed manager Sam Taylor, hours before Sarah Everard was kidnapped, raped and murdered by the serving Met firearms officer. 
Lee was also found to have lied about her actions when later questioned about the interview, claiming that she believed that CCTV at the restaurant was deleted automatically so there would be no footage of Couzens or the offence.
A simple computer check of the CCTV would have revealed Couzens was the registered owner of the black SEAT Exeo and given his home address. 
PC Samantha Lee was told to go to a McDonald's drive-thru in Swanley, Kent, on March 3, 2021, after Couzens was captured on CCTV flashing two women
Lee outside outside Palestra House in Southwark, south London, during the disciplinary hearing earlier this month 
Lee, pictured in uniform, was criticised for the way she handled a flashing allegation against Wayne Couzens 
Lee had told the misconduct hearing that she did not know she was in charge of the case and went off on leave after the visit, assuming someone else would check it out further 'in a few days'. 
She told the hearing that she had been 'shocked' after Ms Everard's murder to learn she had responsibility for investigating Couzens' earlier offences. 
And she denied being lazy after being accused of carrying out 'a lamentably poor and rushed investigation', failing to acquire CCTV and spending just 15 minutes at the restaurant.
But panel chairman Darren Snow found that her dishonesty amounted to gross misconduct, and that had Lee still been a serving officer, she would have been dismissed from the force.
In his evidence, Mr Taylor said that he had shown Ms Lee CCTV footage and told her it could be downloaded on to a USB stick.
He also said that he explained to her that Couzens' registration plate could be seen in the CCTV footage of the second incident.
For her part, Ms Lee denied that this was the case, saying that he had told her that there was no CCTV.
Lee has left the force and set up an OnlyFans site under the name Officer Naughty
 In March of this year, Couzens was sentenced to 19 months in prison after admitting three counts of indecent exposure
Couzens was a serving Met officer when he kidnapped and murdered Sarah Everard
Mr Snow, reading the panel's findings, found that Mr Taylor was a 'credible' witness.
'We find Sam Taylor to be a credible witness and that his evidence was clear.'
He added: 'We find it inconceivable that he would not have shown her the CCTV evidence.'
Instead, the panel found that Ms Lee had been driven to dishonesty by the 'pressure' of the investigation.
'We have some understanding of this situation, a relatively straightforward exposure became an issue of immense pressure,' he said.
In her evidence, Ms Lee admitted that she made some errors but said nothing she could have done 'would have changed the tragic outcome' of what happened to Sarah Everard later that day.
'I accept that I could have done more around CCTV and evidence gathering, that was errors on my part and I accept that,' she said.
'And as much as I have thought it over and over, I don't believe that anything I could have done would have changed the tragic outcome of what happened later that day.'
CCTV shows Couzens making two trips to the McDonald's Drive-thru in Swanley, Kent
Couzens is seen placing an order at the McDonald's while driving back home following a 12-hour shift with the Met
As Couzens' collected his food and drink, he exposed himself to members of staff at the restaurant
The McDonald's drive-thru in Swanley, Kent, where Couzens flashed staff  in February 2021
In March this year, Couzens was sentenced to 19 months in prison after admitting three counts of indecent exposure.
He was already serving life behind bars for kidnapping Ms Everard as she walked home through Clapham, south London, on March 3 2021 and then murdering her.
The third indecent exposure incident related to when Couzens exposed himself to a female cyclist on a Kent country lane in November 2020.
Source: Read Full Article