Number of Ukrainian refugees unable to access abortion in Poland 'skyrocketing'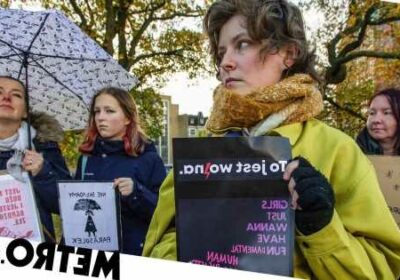 Hundreds of Ukrainians are struggling to access safe abortion in Poland under draconian laws.
Historically hostile to refugees, the eastern European country has welcomed 2.9 million people – mostly women and children – fleeing Russia's bloodshed in Ukraine which started on February 24.
But a near-total ban on terminations affecting tens of thousands of people in Poland every year is now proving yet another barrier refugees have to overcome.
Abortion Support Network (ASB) helped 267 Ukrainians from March 1 until April 19, sending them abortion pills or arranging transport to countries like Germany and the Netherlands for surgical terminations.
Since then, the number has 'skyrocketed', founder Mara Clarke told Metro.co.uk, adding the organisation is working on up-to-date data.
'To give you some perspective, we hear from about 550 people every month on our Polish helpline,' she said.
'So, that is a lot of people, who have identified as having fled Ukraine, contacting us in just a few weeks.
'We had a woman who had a brain aneurysm and her doctor told her it would be too dangerous to travel to get an abortion,' she said, giving another example of the Polish system. 'But giving birth would be fine?'
In 2019, between 95% and 98% of abortions were carried out because of foetal abnormalities, meaning that the ruling banned the vast majority of pregnancy terminations.
Because of shame and trauma, many Ukrainians do not know who to turn to for medical help, which is readily available in their homeland.
Anti-abortion activists in Poland have also targeted those in need with websites in Ukrainian and Russian falsely claiming to sell pills for cryptocurrency – so ASB had to quickly intervene.
Despite many Poles being pro-choice, if caught assisting a refugee with an abortion, they would face criminal charges.
Ms Clarke said: 'This is the terrifying thing – we can send pills to anyone but that person needs an address.
'So, good Samaritans – people who are showing compassion and kindness – are also putting themselves at criminal risk. We really need this to hit home.
'The Polish government has shown they're not playing. They will criminally charge somebody for compassion, for the crime of saying, "Yes, I will help somebody."'
The network has already received calls from concerned Polish families wanting to arrange abortions for their guests, Ms Clarke confirmed.
While ASB does not record the reasons people want to terminate a pregnancy or whether they have sought care elsewhere, there are fears many sexual assault victims are struggling to access help.
Last month, Ukrainian authorities alleged multiple women were raped during Russia's occupation of Bucha, with nine of them becoming pregnant.
Refugees in other eastern European countries like Hungary and Romania have also reported facing medical obstruction.
Ms Clarke said: 'Romania has a very anti-abortion push and there were quite a few reports during Covid-19 about how the government was using the pandemic to further restrict access to abortion.
Some of the first people to contact ASB after the war began and millions were displaced in eastern Europe were refugees from the Roma community.
After fleeing to Hungary, one woman who was six weeks' pregnant tried to access an abortion, but was delayed until her 13th week when the network intervened.
'As time goes by not only will people be later in pregnancy but they will also be more and more vulnerable,' Ms Clarke added.
Last year, Abortion Without Borders – which ASB is a part of – saw a five-fold increase in requests for help, contacted by 32,888 people.
Cost for each termination ranges from £400 to more than £2,000, depending on how advanced the pregnancy is.
If you would like to donate to Abortion Support Network to help the work they do, visit this website.
Get in touch with our news team by emailing us at [email protected]
For more stories like this, check our news page.
Source: Read Full Article