No time like the present for a rethink of the Suburban Rail Loop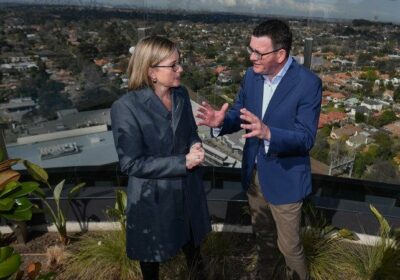 Big builds have been the signature of the Andrews government, and they don't come any bigger than the Suburban Rail Loop, on which the first shovelful of earth was turned in June.
The original government price tag of "up to $50 billion" when the project was announced in 2018 has now become the estimate just for construction of the first two eastern stages, connecting Cheltenham to Box Hill.
An artist's impression of one of the new loop stations.
The project may well have public support, but it is a controversial one. As The Age revealed in August last year, the Suburban Rail Loop was born in secrecy, outside normal planning channels and without an independent cost-benefit analysis. The business case that was eventually made left many unconvinced, covering as it did only the eastern stages of the project, which cannot be assessed standing alone.
Prime Minister Anthony Albanese has pitched in $2.2 billion of federal funding and his spokesman declared in May that "we know that this project stacks up and will deliver benefits to all Victorians".
But the full $11.5 billion that Premier Daniel Andrews is seeking from Canberra will depend on a review by Infrastructure Australia, which Albanese has vowed to strengthen in its scrutiny of such projects and whether they represent value for money when the health and education sectors are crying out for increased spending.
The spiralling cost has not been the only question around the plan. It was touted as part of the transformation of Melbourne into a polycentric city, with revitalised suburban precincts that would enable "value capture" and plough profits back into the loop itself. But in the south-eastern suburbs, where planning is a contested area, such proposals have quickly run into local trouble.
Changing Melbourne's 19th-century spoke-and-wheel rail system by building an orbital link has long had its proponents, though some argue buses would prove a cheaper and more effective approach. However, there is a lack of evidence of demand for trips along the Suburban Rail Loop's route, while passengers from the booming outer north and west remain underserved. Indeed, if this project is about revitalising precincts, even building its western side first and with more stops might make more sense.
At the time of the loop's announcement, Dr John Stone, a lecturer in transport planning at the University of Melbourne, welcomed it as a sign there was an alternative to "governments say[ing] the solution is big roads in the suburbs", but he warned that "to actually turn the vision into something really good for Melbourne takes a lot of hard work and a lot of honest debate".
This week mayors of cities along the proposed route – who have an obvious interest in seeing the loop succeed – appealed to the government for a rethink on how some connections with existing transport infrastructure will work.
But beyond the detail of underground walkways and better connection times is the larger question of whether the government is prepared to engage with a wider array of voices, especially in light of changes to the way we live in the city brought on by the COVID-19 pandemic. Time will be needed to establish just how the rise of working from home has changed transport patterns and the business case for Spring Street's transport plans.
The government's recent reset after a string of ministerial resignations has involved Jacinta Allan, the Suburban Rail Loop minister, being made Andrews' heir apparent. Surely, then, there is no time like the present for a reset of the Suburban Rail Loop, with broadened and more transparent consultation to make sure whatever plan is adopted works for everyone, and not just politicians.
Gay Alcorn sends a newsletter to subscribers each week. Sign up to receive her Note from the Editor.
Most Viewed in National
From our partners
Source: Read Full Article