Mystery as 3 sailors from USS George Washington aircraft carrier found dead in less than a WEEK as Navy probes deaths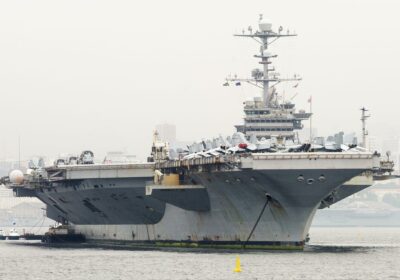 THREE sailors from the USS George Washington aircraft carrier were found dead less than a week apart from each other, said the Navy.
The Naval Criminal Investigative Service and local authorities are investigating the case.
The first sailor was found unresponsive on the carrier last Friday. The other two were found at an off-base location on April 9 and April 10.
"While these incidents remain under investigation, there is no initial indication to suggest there is a correlation between these tragic events," said Commander Reann Mommsen, a spokeswoman for the Navy.
Most read in US News
TRAGIC DEATH
Live updates as DJ Kay Slay dies aged 55 just months after Covid battle
Chilling message left by mom's 'killer' warning her entire family revealed
Easter descends into violence as US hit with 3 mass shootings & 100 hurt
Video shows 'killer dragging bag on street before mom's body found inside'
We pay for your stories!
Do you have a story for The US Sun team?
Email us at [email protected] or call 212 416 4552.
Like us on Facebook at www.facebook.com/TheSunUS and follow us from our main Twitter account at @TheSunUS
Source: Read Full Article