Murderer and sex attacker dubbed 'Clifton Rapist' is back behind bars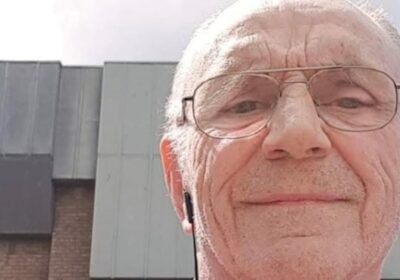 Murderer and serial sex attacker dubbed the 'Clifton Rapist' who is Britain's longest serving prisoner is back behind bars after he sexually assaulted a woman while out on licence
Ronald Evans, 82, was jailed for a string of rapes in Bristol between 1977 and 1979
A murderer and serial rapist who became Britain's longest-serving prisoner sexually assaulted a vulnerable woman just months after his release, it can be revealed.
Ronald Evans, who became known as the 'Clifton Rapist' following a series of sex attacks in the Bristol Downs in the 1970s, volunteered at a community centre after he left prison to prey on women, his trial heard.
The rapist, who murdered 21-year-old shop worker Kathleen Heathcote in 1963, was yesterday convicted of sexually assaulting the woman in July last year.
Another woman accused him of groping her breasts and crotch and rubbing his erect penis against her months earlier, but Evans was acquitted of these charges.
It is the second time Evans has been released from prison only to attack more women and represents the latest in a string of Probation Service blunders.
Ronald Evans, 82, (pictured) was jailed for a string of rapes in Bristol between 1977 and 1979
Last night, Miss Heathcote's best friend said she was furious he was ever released, and a detective who snared Evans said it was clear he would always represent a danger to women.
Reviews earlier this year found multiple failings in the case of Damien Bendall, who murdered his pregnant partner, their two children and their schoolfriend, and that of Jordan McSweeney, who killed aspiring lawyer Zara Aleena nine days after his release from HMP Belmarsh.
And Anthony Roberts, 56, tried to kill and sexually assault a 71-year-old woman months after he was released having served 22 years for attacking several women.
The Parole Board released Evans, now 82, in January 2019 after he spent a total of 52 years behind bars for murder and a string of sexual assaults.
He moved into a flat in Wembley, northwest London, and began volunteering at a community centre, where he began to 'target vulnerable women', prosecutor Lauren Sales said.
The prosecutor described Evans as 'a leopard that cannot change his spots,' adding: 'Despite his age, he was and remains a sexual predator.'
Evans met his victim, 53, through the community centre then lunged at her thigh and right buttock after persuading her to come to his flat in July last year.
The rapist, who murdered 21-year-old shop worker Kathleen Heathcote in 1963, was yesterday convicted of sexually assaulting the woman in July last year
After Evans sat next to her on the couch 'his demeanour changed' his 'eyes glistened' and he pounced on the woman, the trial heard.
The victim told the court: 'I thought is this the point where I get killed, hit or attacked, or is this the point that I get forced and raped?'
She added: 'I think [Evans] groomed me, picked me. He was overly keen to be my friend, telling me he was touchy feely, that ladies love him.
'Everything seemed to fit into getting me prepared for something he wanted to do to me.'
The victim, along with the other woman who had accused Evans, reported him to police in August last year after meeting at a support group and comparing their experiences.
When police arrested him, they found a purple dildo, condoms and lubricant in his bedside drawer.
Evans served 11 years in prison for Miss Heathcote's murder and began working as an electrician in Bristol after he was released on life licence in 1975.
Between 1977 and 1979, seven women were ambushed and sexually assaulted as they walked home alone in the Clifton, Redland and Westbury Park areas of Bristol.
The descriptions of the attacker provided by each woman bore haunting similarities, and locals began to refer to the prowler as 'The Clifton Rapist' or 'The Clifton Beast.'
Evans, 82, was dubbed the 'Clifton Rapist' following a string of attacks on women in Bristol 
Desperate to snare the prowler, Avon and Somerset Police launched Operation Argus in January 1979.
The force asked young female constables to act as bait and a dozen women, some aged just 18, were sent out onto the streets to lure the rapist into a trap.
After weeks with no attacks, male officers disguised as women – wearing high heels, wigs and make-up – were also deployed in the hope they might be attacked.
On March 22, 1979, PC Michelle Leonard, then aged 23, was attacked by Evans, who tried to drag her into a garden while telling her: 'Don't scream or I'll kill you.'
Leonard was able to wrestle free and Evans, who was 38 at the time, was caught by Andy Kerslake, an observation officer.
Evans denied two rapes but admitted five of the assaults and was sent back to prison.
Shortly before he was due for release in 2004, Gary Mason, who headed Avon and Somerset Police's Major Crime Review, uncovered more DNA evidence linking him to the two 1979 assaults he had denied.
Evans was jailed for a further ten years as a result, and has spent more than 52 years in prison – two years longer than notorious inmate Charles Bronson.
Mr Mason, who is now retired but is writing three books following 43 years' service, said he believed that Evans would have carried out further offences had he not been prevented from release in 2004.
'I am very disappointed he ended up getting released,' he said.
'The last time I saw him was 2004 and he was definitely still a danger to the public then, to women of whatever age group he was attracted to.
Evans was jailed for a string of rapes in Bristol between 1977 and 1979 (File image of Bristol)
'The thought they were considering sending him to an open prison then – I was grateful we had new crimes that prevented that at the time.'
Mr Mason said he could not understand why the Parole Board had deemed Evans safe for release.
'He must have presented himself as a frail old man. They will have known his history but they must have been persuaded by the fact that he was frail,' he said.
'You begin to wonder how many times does someone have to have their life licence revoked and for it then to be permanent.
'He comes out and commits more rapes after his murder, he gets taken back to court, back inside again then comes out and commits further crimes.
'I don't know how many messages you can send to a parole panel that you can't continue to let someone out who has quite clearly got problems when it comes to abusing women.'
Miss Heathcote's childhood friend, who had made the shopworker godmother to her child, said last night that she was 'incensed' he had ever been freed.
'It is my opinion that life should mean life,' she added.
'He went to prison for a string of heinous crimes and should never have been released.
'These women had no idea who he was after he was released, they were put in danger.'
Former Victims' Commissioner Dame Vera Baird said the Parole Board needed to be more aware of how calculating and devious sexual offenders could be, and not be so easily deceived.
'It looks as though Evans had far too much leeway to go back to his old ways, and these two poor women have suffered terribly as a result,' she added.
A Parole Board spokesman confirmed Evans was approved for release following an oral hearing in 2018.
They added: 'Parole reviews are undertaken thoroughly and with extreme care. Protecting the public is our number one priority.'
Evans will be sentenced on Thursday.
A Ministry of Justice spokesperson said: 'These were awful crimes and our sympathies are with the victims.
'We've toughened up punishments for the worst offenders and our Sentencing Bill will mean rapists serve their full term behind bars and sadistic killers are never released from prison. At the same time we are introducing a Ministerial check on the release of the most dangerous individuals to keep the public safe.'
Source: Read Full Article