Mother, 26, shot and killed in front of her two young children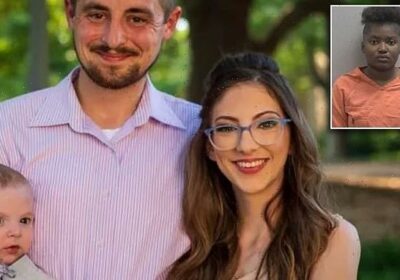 Mother, 26, killed in packed Kroger parking lot in front of her two young children after Valentine's Day fight with another woman: Husband says his wife was shot in the back
Alexandria Cress Borys, 26,  was shot and killed on February 14 outside the Kroger grocery store in Irmo, South Carolina
Police said Christina Harrison, 23, got into a fight with Borys in the parking lot, shot her and fled the scene before eventually turning herself in
Borys' grieving husband said his wife was shot in the back after the fight ended 
A mother-of-two was shot and killed in front of her children following a dispute with another woman on Valentine's Day outside a South Carolina Kroger. 
Irmo Police said Christina Harrison, 23, shot Alexandria Cress Borys, 26, at the packed parking lot off Saint Andrews Road on Tuesday just before 4pm, fleeing the scene afterwards. 
Officials did not specify why the women had gotten into an argument, but said Harrison turned herself in. 
Borys' husband, Tyler, told WACH that he was heartbroken that he must now raise his two children alone, describing his wife as 'a great mother,' and noted that she was shot in the back. 
Alexandria Cress Borys (left) was shot and killed on February 14 outside the Kroger grocery store in Irmo, South Carolina. She is pictured with her husband, Tyler, and one of her children
Police said Christina Harrison (above), 23, fired at Borys and fled the scene before turning herself in. She has been charged with murder and two other weapons charges
Tyler said his wife, a stylist and nursing school student, was shopping at the Krogers, and their two-year-old and infant were in the car when Harrison shot Borys.
He said Borys was the 'best wife you could ever ask for,' adding that 'she built a really strong support system' while at cosmetology school. 
According to her Facebook page, Borys has also worked as a babysitter since 2021. 
The grieving husband said the tragedy comes just a week after the death of Borys' brother. 
Tyler added that Harrison shot his wife when her back was turned after ending the fight. 
'From what I have pieced together, they had either concluded the argument or Alex was walking away. It's indicating she was shot with her back turned,' he told WIS News. 
Irmo Police Chief Bobby Dale said in a statement that Borys and Harrison did not know each other prior to the shooting. 
"Unfortunately, this is a situation where tempers flared, and someone let anger get the best of them," he said. 
The mourning family has since created a GoFundMe page for a memorial in Bory's name, which has raised more than $13,000 as of Saturday afternoon. 
Harrison has been charged with murder, unlawful carrying of a pistol, and possession of a firearm during a violent crime. 
The Lexington County Bond Court said in a statement that Harrison did not attend a hearing on Wednesday and has acquired a private attorney. 
The mother-of-two was killed while her two-year-old and infant were waiting in the car
Officials said Borys and Harrison did not know each other prior to the fatal shooting 
Borys' family has since started a GoFundMe for a memorial in her name
Her husband, Tyler, said he was heartbroken that he will now raise his two kids alone
The court and the Irmo Police Department did not immediately respond to Daily Mail.com's request for comment.  
The shooting has left the small community of Irmo shaken, with many saying the Kroger was the shopping hub of the town. 
'That shopping center is our go-to shopping center so this whole dynamic is a ripple effect in this entire community,' local resident Shawne Edwards told WACH. 
Fellow resident Tabitha Foster added: 'It makes me a little bit more aware because it's a trying time for any and everybody.'
Source: Read Full Article