Moment two vile thugs beat women up in shop before trashing aisles in sick rampage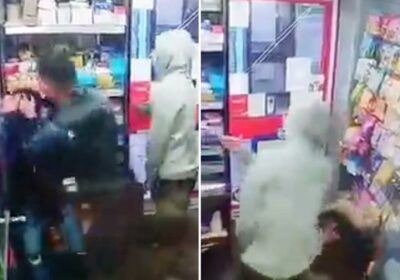 THIS is the moment vile thugs beat up two women in a shop before going on a destructive rampage and trashing the aisles.
The sickening events are understood to have taken place at a Post Office in Liverpool on Monday, but cops have not confirmed if a probe has been launched.
Two men can be seen entering the shop at the start of the footage before a man in a grey hoodie and mask grabs one of the women behind the counter, while the other woman tries to stop them.
It appears he is trying to get her out of the door as the other woman tries to intervene and the first woman is thrown on the floor.
As the victim cowers on the floor, the thug in the grey hoodie hits her around the head as he walks past.
He then pulls her up and hits her again as she starts to cry.
Then a second man who is wearing a black and dark grey jacket, who has been out of shot of the CCTV camera, appears and also starts attacking her.
Most read in The Sun
PUTIN DECLARES WAR
Missiles blitz cities across Ukraine with 'hundreds' of casualties
I ordered McDonald's after 12-hour shift- my driver's creepy texts ruined my meal
On the Buses and EastEnders star Anna Karen dies in house fire aged 85
GMB hit by HUNDREDS of Ofcom complaints over Richard Madeley comments
He pulls her and throws her across the shop.
As the alarm sounds, the man in the dark grey jacket kicks the door of the shop, breaking the glass.
Pictures of the shop in the aftermath show boxes of chocolates and other items such as dog food littering the floor.
Merseyside Police has been contacted for comment.
We pay for your stories!
Do you have a story for The Sun news desk?
Email us at [email protected] or call 0207 782 4104. You can WhatsApp us on 07423 720 250. We pay for videos too. Click here to upload yours
Click here to get The Sun newspaper delivered for FREE for the next six weeks.
Source: Read Full Article