Moment Royal Navy's Queen Elizabeth warship hunts down Chinese submarine stalking aircraft carrier in South China Sea | The Sun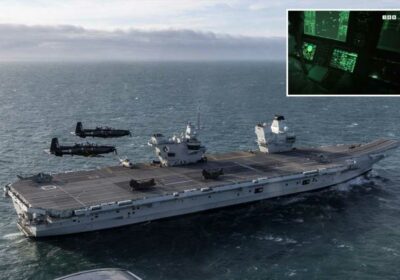 DRAMATIC footage shows the moment a British aircraft carrier hunts down a Chinese submarine in the South China Sea.
The submarine was seen "beaten to the draw" after it was detected and was forced to retreat by the Royal Navy's Queen Elizabeth warship.
The £3.2 billion HMS Queen Elizabeth, one of the UK's biggest-ever warships, was on its way to the Far East for a seven-month tour when the incident happened.
The encounter happened in 2021 but has now been revealed in a new BBC documentary, The Warship: Tour of Duty.
The footage shows how the boat was caught lurking near the aircraft carrier before being detected by HMS Queen Elizabeth.
An officer said: "If this had been in a different scenario, a conflict situation, it would have proven that we'd have detected something, in ample time, protected the main body of the carrier. 
read more on world
Newborn babies among those hauled from earthquake ruins as rescuers wept
Putin plotting to kill innocent civilians on war anniversary, says defence sec
"Then you could have started a weapon chain against the submarine that was detected to neutralise the threat. 
"So we beat them to the draw; 1-0 Queen Elizabeth." 
The Chinese Kilo- submarine was first spotted by the frigate HMS Richmond, which guards HMS Queen Elizabeth on its journey through the South China Sea. 
A specialist helicopter was scrambled to find the stalking boat under the water.
Most read in The Sun
Nicola's partner reveals 'panic' over her phone at centre of probe being found
Morning Nicola vanished was 'different' to others, 'panicked' partner says
Nicola Bulley's partner believes a local is responsible for disappearance
Pregnant Ferne McCann welcomes new family member & says she is 'beyond in love'
In order to locate the submarine, the team needs to drop a series of sonobuoys- highly sensitive sonar devices to alert the aircraft carrier.
A crew member can be heard saying: "If there's a sub down there, we will find it."
Moments later he announces: "We've identified one vessel down 20 nautical miles to the south of the force."
The incident comes as last month it was revealed that Russian warplanes performed threatening maneuvers toward HMS Queen Elizabeth.
The warship was forced to scramble its own F-35 stealth fighters to confront the danger.
The Warship: Tour of Duty airs on BBC Two and iPlayer on Sunday at 9pm. 

Source: Read Full Article