Moment California man catches a huge fish in middle of flooded road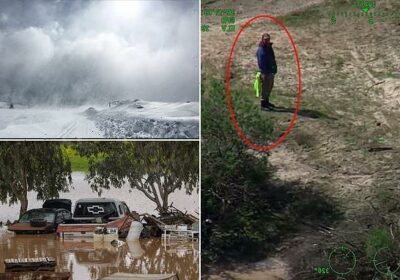 Crazy moment California man catches a huge fish with his BARE HANDS in the middle of a flooded road, while another is hoisted to safety by a helicopter – and there is more rain on its way
Severe weather rocking California left scenes of chaos over the weekend
A man was seen pulling a massive fish out of floodwaters between street traffic
Another man was swept away in floodwaters and left stranded on a patch of land amidst the overflowing Salinas River before being rescued by helicopter crews 
Weather chaos in California has wreaked havoc across the state over the weekend.
Heavy rains in Fresno County saw 10,000 people evacuated from their homes on Saturday, flash flooding struck Monterey and Tuolumne County Counties, hail the size of quarters fell and a spate of rare Tornado warnings were issued.
The flooding left roads and highways submerged beneath patches of water so deep one man in Watsonville was filmed pulling a nearly two-foot long fish out of the water between stalled up traffic. A family of ducks were even spotted floating along the washed out Interstate 580 in Oakland.
Along the Salinas River near Monterey County, a man in his car was swept away by the raging waters and left trapped on a patch of land amidst the deluge. Dramatic footage showed him stranded and isolated before being rescued by helicopter.
To the north heavy snows continued to bury the state, with scores of communities let without power and forced to dig themselves out of feet of accumulation.
A man stranded on a patch of land in the flooded Salinas River. He was rescued by helicopter
Dangerously rushing floodwaters on the Tule River in California on March 10
Record snowfall continued across the state. Above, cloud of snow blow on March 11
The storms marked the state's 10th atmospheric river to ravage the state this winter. 
Though Sunday brought a respite of light showers across parts of the state, forecasts call for more calamity as another atmospheric river was forecast to strike this week.
'It's hard to say that we have another one on the way,' FOX Weather's Jane Minar said. 'We will see a brief break as we go through your day on Sunday, as scattered showers do continue to pivot across the northern tier of [California].'
The National Oceanic and Atmospheric Administration warned that rain will be heavy on Monday leading to flooding risks from San Francisco to Sacramento.
By Tuesday the rains are due to head south, leading to flood dangers across swaths of central California.
'Rainfall is expected to bring another considerable flooding threat to elevations below 5,000 feet to Northern and Central California,' FOX Weather predicted. 'Forecast models show between one and three inches of rain for many communities, with a few spots, especially along the coast and the foothills possibly receiving more.'
That storm is expected to last till Wednesday.
Helicopter crews hoist up a man who was swept away by floodwaters on the Salinas River
California's Interstate 580 in Oakland was flooded by rainwaters on Friday morning
Ducks can be seen swimming in the floodwaters on Interstate 580 in Oakland
A flooded out parking lot in Springville, California, on March 11
A playground submerged in water on March 10 in Kernville, California
That storm could bring even more snow in the already inundated higher-elevated mountains, and more flooding at lower elevations.
'We will see additional rounds of both rain and heavy mountain snow redevelop across much of Northern and Central California as we go through the week,' National Weather Service meteorologist David Lawrence said.
'This is the craziest storm I know of,' Blake Heauser of the mountainside community of Grass Valley told The Guardian. 'It was relentless – it just kept snowing and snowing and snowing.' 
'And we're also likely to see this weather pattern continuing as we go into at last the first half of next week.'
One to three inches of rain is forecast for the coastal areas and valleys, KTLA reports, while mountain and foothill communities may see three to six inches.
Crews at the 95th Academy Awards struggled on Sunday to clean up water leaking from the ceiling at the Dolby Theater before celebrities arrived on the new champagne-colored carpet after weeks of devastating storms.
Water could be seen Sunday afternoon dripping down through the red drapes that serve as the ceiling for the glitzy event and onto the carpet where actors, directors and producers will soon pose for photos. 
Members of the Academy's drip control team tried to alleviate the puddles forming on the red drapes with giant poles, ABC 7 reports, before placing buckets to catch the drip. Fortunately, the champagne carpet was covered ahead of the event.
A home along the Tule River covered in flood waters and mud brought on by a flash flood
Cars lost to flood waters in California. The state was ravaged by rains last week
Handfulls of quarter-sized hail that fell across parts of California over the weekend
Giant hailstones that fell across California during the weekend's severe storms
First responders and the California National Guard rescued more than 50 people over the weekend. One video showed a member of the Guard helping a driver out of a car trapped by water up to their waists.
In Tulare County, the sheriff ordered residents who live near the Tule River to evacuate, while people near the Poso Creek in Kern County were under an evacuation warning. 
The National Weather Service's meteorologists issued flood warnings and advisories, begging motorists to stay off deluged roadways.
In San Francisco, an 85-foot eucalyptus tree fell onto the Trocadero Clubhouse early Saturday morning. The 1892 clubhouse, a San Francisco historical landmark, was left severely damaged, with part of the roof crushed and the inside flooded.
Governor Gavin Newsom has declared emergencies in 34 counties in recent weeks, and the Biden administration approved a presidential disaster declaration for some on Friday morning, a move that will bring more federal assistance. 
In higher elevations of California, massive amounts of snow continued to fall
People dwarfed by snowdrifts in California after record snowfall in recent days 
A window obscured by snowfall in California on March 11 after record snowfalls
An Oscars Awards statue covered to keep off the rain before the ceremony Sunday
Source: Read Full Article