Migrant-descendant minister says there's 'too much' immigration in UK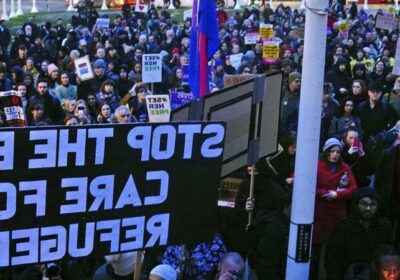 London: Britain's Interior Minister Suella Braverman has defended her policy to remove almost all migrants who arrive without permission, saying her political opponents were "naive do-gooders" and there had been "too much" immigration in recent years.
Prime Minister Rishi Sunak has said that stopping asylum seekers from arriving on the south coast of England in small vessels – often unseaworthy inflatable boats and dinghies – is one of his top priorities.
People gather in Parliament Square, London, to protest the Illegal Migration Bill during its second reading in the House of Commons on Monday.Credit:PA/AP
The legislation introduced to parliament on Monday aims to reduce the number of people entering Britain in that way, which last year reached a record 45,000, up 500 per cent in the last two years. Many came from countries such as Syria, Afghanistan, Eritrea, Iran and Iraq.
Under the government's plans, asylum seekers will be detained without bail before they being deported to their home country or, if this is not deemed safe, a safe third country.
Braverman, whose parents migrated to Britain in the 1960s from Kenya and Mauritius, said she had been the subject of "grotesque slurs" and would not be patronised over what appropriate views someone of her background could hold.
People gather in Parliament Square, London, to protest the Illegal Migration Bill during its second reading in the House of Commons, on Monday.Credit:PA/AP
"I will not be hectored by out-of-touch lefties," she told parliament. "It's perfectly respectable for a child of immigrants like me to say that I'm deeply grateful to live here, to say that immigration has been overwhelmingly good for the United Kingdom, but we've had too much of it in recent years."
The Illegal Migration Bill is expected to be heavily contested in parliament and in the courts, setting up a clash over how to deal with the arrivals of small boats ahead of the next election expected next year.
The legislation has been condemned by refugee groups and the United Nations, and the government concedes it may breach international law.
As members of parliament debated the new law in the House of Parliament on Monday, hundreds of people gathered outside to protest it.
Suella Braverman is Britain's interior minister.Credit:AP
Under the proposals, only in limited circumstances, such as people who were considered too ill to fly or those at a "real risk of serious and irreversible harm", would people be allowed to claim asylum.
Some MPs said in the debate they were concerned that the legislation could allow the deportation of families, pregnant women, and torture victims.
Asked if she was satisfied if there was enough provision to protect vulnerable children, Braverman said she was comfortable with the levels of safeguarding.
"Let's be honest, the vast majority of arrivals – 74 per cent in 2021 – were adult males under the age of 40," she said.
"The vast majority were not pregnant women, the vast majority were not young women. All travelled through safe countries like France, in which they could and should have first claimed asylum."
For the legislation to work, British Prime Minister Rishi Sunak needs France's cooperation to intercept the boats and break the people trafficking rings behind the flow of arrivals from Afghanistan, Iran, Syria and others.
Last week Sunak agreed to pay France about £480 million ($878 million) over three years to try to stop the stops coming across the Channel.
As part of the deal signed with French President Emmanuel Macron, Britain will help fund a detention centre in France while Paris will deploy more French personnel and enhanced technology to patrol its beaches. Officers from both countries will also look to work with countries along the routes favoured by people traffickers.
A British official said London was contributing 30 million euros over three years for the detention centre, with the official adding that detained migrants would be sent back to their home country if it is safe, or to the last country they transited through if their home country is unsafe.
"We will develop operational needs and will reinforce coordination," Macron said, while adding that to go further and address the issue of whether migrants could be returned to France would require agreement across the whole bloc.
While the number of applications for asylum in the United Kingdom hit a 20-year high of nearly 75,000 in 2022, it is still below the European Union average. And many EU members are themselves at odds over how to handle migrants, and whether they should be returned to the country where they first entered Europe.
Reuters
Most Viewed in World
From our partners
Source: Read Full Article