Melbourne pips Sydney as preferred city for expats in Australia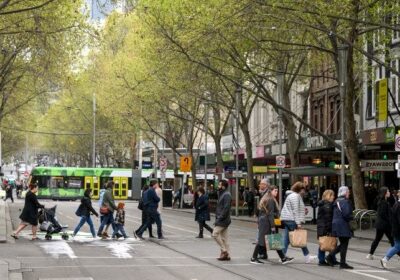 London: Melbourne has been listed in the top 10 most desirable cities to move to and has pipped Sydney as the Australian city of choice for expats.
The Expat City Rankings 2022 asked around 12,000 people of 177 different nationalities living in 181 jurisdictions about the quality of their expat life, including the ease of settling into their new home countries, cost of living, ease in making new friends and overall quality of life.
The unemployment rate has been 3.5 per cent or lower for five consecutive months.Credit:Eddie Jim
The survey by InterNations – a social networking site for expats – asked them to rank, on a scale of one to seven, their views about 56 aspects of urban life abroad which were condensed into five different categories: quality of life, ease of settling in, working abroad, personal finance, and expat essentials.
Topping the list was Spain's Valencia for its excellent quality of life, followed by Dubai, which offers a tax-free lifestyle in a bid to lure top talent from overseas.
Third on the list was Mexico City with expats saying it was a city that was easy to settle into.
"Financial aspects play a certain role when it comes to the ranks of these three cities, but they do not account for all of the differences," Malte Zeeck, founder of InterNations said.
Valencia came third in the personal finance rating because of its low cost of living, it was number one worldwide among those surveyed for the quality of life, but also made the top ten when it came to travel and transit options, health and wellbeing, environment and climate, leisure and safety and security.
View of the sea from a height of Pope Luna's Castle. Valencia.
Zeeck said that while Dubai ranked second on the list it rated poorly in the personal finance index but that this was balanced out by its strong performance in digital services, administration, language and housing.
Expats in London marked down the British capital for the cost of living and quality of life.
Melbourne was the only Australian city to make the top 10, coming in at eighth with Sydney 13th.
However, when it came to the ease of settling in and quality of life Sydney and Melbourne plummeted to below-average results compared to other cities.
Johannesburg in South Africa was ranked the worst city for expats because of its poor quality of life, poor safety, poor housing access and affordability, edging out Paris and Frankfurt for the bottom place.
The survey did not measure how the COVID-19 pandemic and the travel-related bans contributed to overall unhappiness among those who said their overseas experiences were negative.
"In fact, the unhappiness because of COVID-19 was the third-most frequently cited reason for expats' general malaise with living abroad," Zeeck said.
Zeeck said the pandemic lockdowns and restrictions had hampered expats' ability to form new support networks and friends.
While the ranking has been running since 2017 this year's index was overhauled to measure how expats experienced a broader range of issues they face when settling into a new country, like administrative processes.
The top 10
Get a note directly from our foreign correspondents on what's making headlines around the world. Sign up for the weekly What in the World newsletter here.
Most Viewed in World
From our partners
Source: Read Full Article