Man in custody after Mordialloc double fatal shooting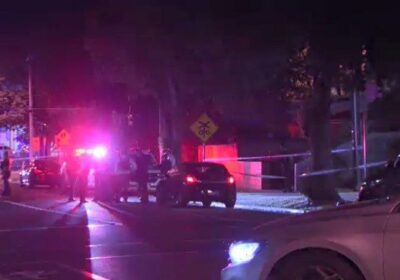 Two people are dead after a shooting in Mordialloc on Thursday night which a witness said involved a group of elderly people where there was "bad blood".
Police said emergency services were called to McDonald Street about 9.10pm after reports of gunshots. Two people were treated for critical injuries, but both died at the scene.
Scenes from a fatal shooting on Thursday nightCredit:Nine News
After a search of the area, a man was taken into custody a short time later and is now assisting police. Police were not looking for anyone else in relation to the incident.
A witness, Adam, said he shook the hands of one of the victims only seconds before he was shot.
After visiting his mother in an adjoining apartment complex, Adam said he passed a group of elderly people and wished them a happy new year before getting into his car.
"I came down the stairs, yeah, just said 'happy new year, good to see yas all, see you later', shook a couple of their hands … by the time I was in my car, I just close the door and I hear a gunshot immediately," he recalled.
"I look left and one of the elderly guys there was just reloading his rifle."
Adam said he drove to a nearby police station to raise the alarm before returning to the scene.
"I drove back, and I was trying to lure him back, so I can run him over to be honest because there was elderly people there, they were all scared. There was another two shots after that," he said.
"And about a minute or two after that. That's when all the police started rocking up."
Adam said he did not know what prompted the shooting but that he was aware of previous "bad blood" between those involved.
"It was very, very weird scenario. One of the guys that has passed I literally just shook his hand 10 seconds before he passed away," he said.
"He's [an] older man, looks like he's in his 70s, and you wouldn't pick it. I didn't pick it seven seconds before it happened."
Adam said his actions were driven by a concern for his mother.
"I'm pretty staunch and tough, I was just more concerned about my mum," he said.
"I came back to the scene because my mum lives there.
"I tried to lure him out, just trying to run him over to be honest, because there's so many elderly people, and then instantly I hear another shot when I was there. And then see him reloading again.
"And then when I'm trying to call him out, he looks at me [but] wouldn't come walk around the side of the building … and then I hear another shot. I called my mum because she lives in the complex. I just said turn off your lights don't come out."
More to come
Our Breaking News Alert will notify you of significant breaking news when it happens. Get it here.
Most Viewed in National
From our partners
Source: Read Full Article