Major update over human bones found in bags in river 3 years ago as cops reveal grisly details of man's mysterious fate | The Sun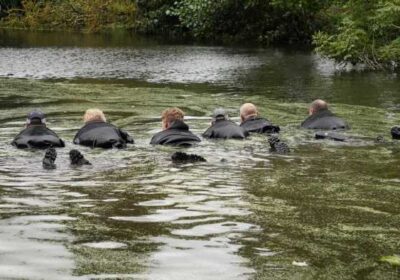 HUMAN bones found in bin bags in a river three years ago were surrounded by air fresheners and the body had been dismembered, police say.
The grisly find was made in the River Stour in Sudbury, Suffolk, in August 2020.
Mystery has surrounded the murder case, with police identifying the unknown victim as a man in his 50s or 60s.
Suffolk Police today revealed fresh details about the discovery – including other contents of the two bin bags.
Detective Superintendent Mike Brown said the first bag held what is believed to be arms, while the second contained legs.
Other bags carrying stones and bricks had been added to the bin liners in a bid to weigh them down in the water.
Read more news
GRIM OCCASION
Parents of Gabby Petito meet Brian Laundrie's for first time since murder
COUPLE TRAGEDY
Mum 'murdered alongside husband by their daughter' was stabbed to death
Officers also discovered air fresheners to "potentially block any smell" from the remains".
Skull fragments inside had 27 quite deep cuts "probably caused by a heavy-bladed weapon" but pathologists were not able to confirm if this was the man's cause of death.
The remains of the arms, legs and feet were partially mummified but the bags contained no hands, the force said.
The bones had also been "cleanly dismembered at the joints" with both arms and feet "bent inwards and upwards".
Most read in The Sun
CHILLING THREAT
Hezbollah 'fully prepared' to join Hamas as leaflets warn 1.1m to flee Gaza
SECURITY SHOCK
Big Brother house 'locked down' as panicked bosses scramble to stop breach
HEL ON EARTH
Helen Skelton breaks silence on marriage split with Richie Myler
INVISIBLE HAZARD
Last pic of toddler on balcony shows hidden danger before deadly plunge
Police believe the bags had not been in the water for long and appeared to have been dropped in the river, rather than thrown in.
The man is understood to have died between 2008 and 2012 – eight years before his remains were fished from the river.
Suffolk Police have been unable to identify him but believe he was white of north European descent and approximately 5ft 6ins to 5ft 9ins tall.
He had blond hair when he was born but this may have darkened over time and is likely to have been of an athletic or muscular build.
A DNA profile was loaded to local, national and international databases but a match has not been made.
DSI Brown said: "Our leading hypothesis is that this individual is very likely to have been the victim of organised crime.
"The way the body was dismembered – and the fact that the hands are missing – bear the hallmarks of being done very deliberately and by people who knew what they were doing.
"I am once again appealing for assistance from the public to contact us if they believe they have any information about either the victim's identity, his death, or the deposition of the remains. Any information you provide will be dealt with in confidence.
"As stated previously, not being able to identify our victim is a huge obstacle in this case. I would ask people to read the description of the victim's profile above again, and then cast their minds back to the period between 2008 and 2012.
"If you knew a man aged in his late 50s or early 60s at that time, who suddenly disappeared without a trace (you might think he had simply moved away), then please contact us.
"We remain fully committed to solving this complex case and obtaining justice for the victim and any family he may have had."
Anyone with information has been asked to call the Major Investigation Team on 01473 613513.
Read More on The Sun
CLOSING TIME
DIY chain with 153 stores to shut more shops – it sells 'the best' Xmas decor
ISLE SAY
Love Island legend hints she's returning to villa for a THIRD time for All Stars