'Living in luxury': Hamas chief oversees vast financial network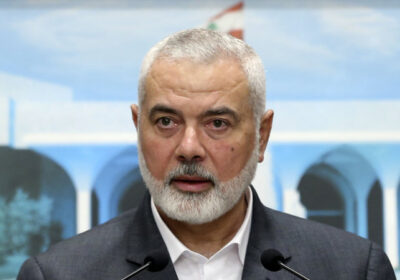 Save articles for later
Add articles to your saved list and come back to them any time.
The top Hamas political leader oversees a vast financial network while living hundreds of kilometres from the chaos and violence in Gaza, often travelling freely to represent the terrorist group before world leaders across the region.
Already under US economic sanctions since 2018, Ismail Haniyeh, 61, now faces an intensifying economic assault from the West as part of the wider war against Hamas. Since the group's murderous October 7 attack on Israel, US officials have vowed to crack down on Hamas's financial network just as Israel vows to eradicate it militarily, with senior Treasury Department officials travelling to Qatar, Saudi Arabia and Europe as part of a coordinated push to target the militant group's funding sources.
Ismail Haniyeh, the leader of the Palestinian militant group Hamas.Credit: Lebanese Official Government via AP
Senior Treasury officials have also accused Hamas's top leaders of living "in luxury." Haniyeh is based in Qatar, a US ally that is now trying to broker the release of more than 200 hostages held by the militant group but says it will reevaluate its relationship with Hamas after that.
"Haniyeh is really important – he is one of the bin Ladens in this story," said Mark Wallace, chief executive of United Against Nuclear Iran and a former official in the George W. Bush administration. "It's wrong that he's living in Qatar in luxury, seemingly beyond our reach. Qatar must turn him over."
Although the group and its leaders have faced US sanctions since 1995, Treasury has announced new sanctions against a range of senior Hamas leadership officials, trying to undermine the financial flows that fuelled its rampage in Israel. But the difficult work in crippling its networks remains unfinished.
The Israeli Foreign Ministry has claimed that Haniyeh's personal fortune is in the billions of dollars, though independent experts say there is no evidence to support that claim. Hamas's financial resources contrast starkly with the vast poverty facing the people of Gaza, even before Israel's military unleashed a devastating bombardment on the territory in retaliation for Hamas's October 7 attack, in which more than 1400 people were killed.
It is unclear exactly how much Haniyeh knew about the attack, with experts divided over the extent to which Hamas's political wing controls its military leadership, which is based in Gaza.
"The United States Treasury Department is laser-focused today on dismantling Hamas's financial networks," Wally Adeyemo, the deputy treasury secretary, told the Royal United Services Institute, a foreign policy think tank, in London last week. ". . . Hamas and associated terrorist groups have long sought to destroy Israel and attack those in the region and around the world that do not ascribe to their hate-filled ideology. These groups need financial resources to help fuel their hate. To do so, they have developed ways to access or circumvent our financial systems."
Through its heavy taxation of Palestinians in Gaza, with levies as high as 20 per cent on imports, Hamas raises as much as $US400 million ($614 million) per year, according to Matthew Levitt, a former Treasury Department official who is now the director of the Reinhard Program on Counterterrorism and Intelligence at the Washington Institute. The militant group has also stood up a vast investment portfolio that US officials estimate is worth more than $US500 million, and possibly as much as $US1 billion, with assets in Sudan, Turkey, Saudi Arabia, Algeria and the United Arab Emirates, among other countries.
In addition, the militant group receives as much as $US450 million per year in black market smuggling fees, according to Daniel Roth, research director at United Against Nuclear Iran. The State Department has also said that Iran provides as much as $US120 million to Palestinian groups including Hamas, while experts estimate it also receives hundreds of millions from other international funding sources, including Qatar. Overall, Hamas spends roughly $US1.6 billion on government operations in Gaza, according to Roth.
Iran's Foreign Minister Hossein Amirabdollahian, left, speaks with Hamas chief Ismail Haniyeh in Doha, Qatar, on October 31.Credit: AP
Israel and Egypt have imposed a strict blockade in Gaza since Hamas took over the territory in 2007 after a struggle with Fatah, the political party that controls the Palestinian Authority in the West Bank – which makes smuggling lucrative. These restrictions have also hurt average citizens in Gaza, choking Palestinians off from the international economic system.
Still, Hamas's illicit international financial channels played a crucial role in financing the October 7 attack, which required it to pay for soldiers, munitions and other weaponry to pierce through the Israel Defence Forces and a high-tech, expensive surveillance system on the border with Gaza.
On October 18, Treasury announced sanctions on Hamas backers and "financial facilitators" that report to the Hamas political bureau overseen by Haniyeh. Experts said that even if the Gaza economy shut entirely, Hamas could still receive funding from Iran and its investment portfolio that could be redirected to operations in the West Bank or elsewhere without US action.
"One of the things that stands out from Treasury's designations is that they all operate under the command of the Hamas political leadership, including Haniyeh," said Levitt, of the Washington Institute. "All of the Treasury designations make clear they answer to the political bureau" that Haniyeh chairs.
Levitt also said Treasury should go further by imposing penalties that would cut off from the US financial system entities that work with Hamas – penalties that it already applies to Hezbollah, an Iranian-backed political party in Lebanon and its military arm.
Born in the Shati refugee camp in the Gaza Strip to two refugees of the 1948 Arab-Israeli war, Haniyeh was detained by Israeli authorities for joining protests as part of the first intifada in 1987, according to the BBC, then imprisoned again in 1988. Haniyeh quickly rose through the ranks of the militant group. The BBC also reported that Haniyeh was injured in a September 2003 Israeli airstrike on an apartment complex in Gaza City.
Haniyeh was chosen as Hamas's leader by a council of the militant group's officials, whose membership is unknown, according to the European Council on Foreign Relations. This council elevated Haniyeh to the post in 2017 and again in 2021, giving him another four-year term.
In a video released shortly after the October 7 attack, Haniyeh and a group of about a dozen men gathered to pray on the floor while images of the massacre played on television.
Palestinians look at the destruction after Israeli strikes on the Gaza Strip in Khan Younis.Credit: AP
Treasury officials have repeatedly accused Hamas's top leadership of enjoying lavish lifestyles outside of Gaza while average Palestinians suffer the consequences of the militant group's actions. Adeyemo, the deputy treasury secretary, said last week that "much like many Russian elites, senior Hamas officials often live in luxury, while the average Gazan faces dire living conditions." Brian Nelson, Treasury's undersecretary for terrorism and financial intelligence, also said in an address last month that the investment portfolio allows Hamas officials to "live in luxury, including elsewhere in the Middle East, while ordinary Palestinians in Gaza face harsh living conditions and dire prospects."
Treasury spokespeople declined to provide any evidence, however, supporting these assertions. Israel's Foreign Ministry also declined to provide any evidence supporting its claim that Haniyeh and other top Hamas leaders are personally worth billions of dollars.
A Hamas spokesman also did not return requests for comment about Haniyeh's personal wealth.
Haniyeh has been able to run operations from Qatar because the United States and Israel have long tacitly endorsed his presence there, believing it is preferable to have Hamas's leaders somewhere they can be monitored rather than somewhere, such as Iran, where they can't. The events of October 7, however, seem to have complicated that arrangement in the eyes of some hawkish members of Congress, even as Qatar helps play a crucial role in negotiating the release of hostages held by Hamas.
Israel imposes restrictions on the movement of Palestinians within Gaza, which makes it far more practical for Hamas leaders such as Haniyeh to live abroad. And while Gazans are suffering under Hamas rule, the Israeli bombardment and the war – which has seen more than 9400 people, including more than 3600 children, killed, according to the Gaza Health Ministry – could strengthen the group's popularity.
"Historically, the political bureau for Hamas was moved abroad, and that is something they did for security tactics early on" in response to targeted assassinations by the Israelis, said Tareq Baconi, board president of al-Shabaka, a Palestinian think tank, and the author of a book about Hamas. Baconi also said while there is much resentment in Gaza toward Hamas over the current moment, it is important not to overstate the extent of a backlash. "I think historically Palestinians in Gaza have also rallied around Hamas at moments where it escalated its resistance because they understand that is the only way for them to engage with the Israeli authorities and its apartheid regime."
On Capitol Hill, pressure is already mounting for the United States to ensure that top Hamas leaders such as Haniyeh can no longer oversee the group's financial networks from the safety of Qatar.
"The administration should tell the Qataris that these guys should be handed over by the U.S. or Israeli governments. They shouldn't be able to stay there," said Rep. Juan Vargas (D-Calif.), a member of the House Financial Services subcommittee on national security and illicit finance. "The Qataris ought to make a choice: What side are you on, the side of terrorists or the side of the Americans? That choice should be forced upon them."
The Washington Post
Most Viewed in World
From our partners
Source: Read Full Article