Jehovah's Witness halls in Washington state targeted by arson attacks, at least 5 since March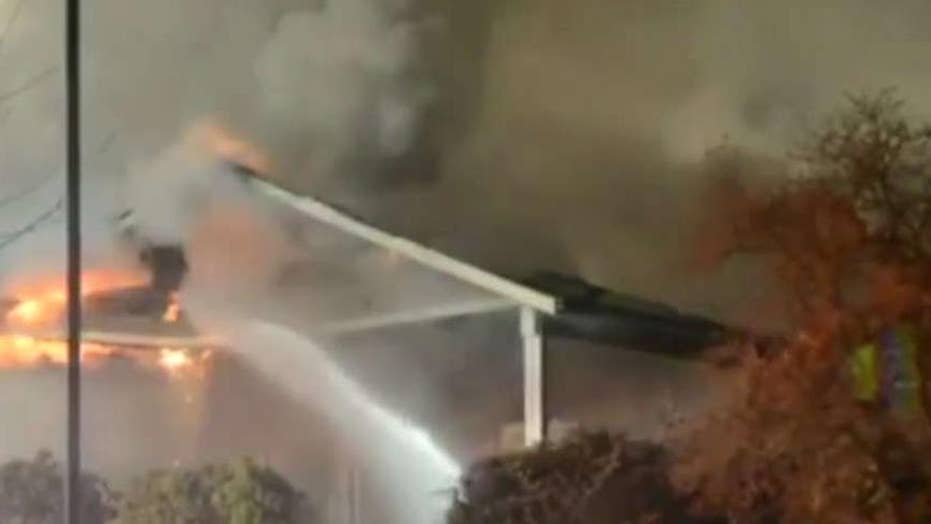 Jehovah's Witness community the target of arson attacks
Investigators searching for a serial arsonist after a string of attacks in Washington.
A fire that ripped through a Jehovah's Witness Kingdom Hall in Washington state Friday is now the fifth blaze in an apparent series of attacks targeting houses of worship in the area during the past nine months.
The Seattle Division of the Bureau of Alcohol, Tobacco, Firearms and Explosives said Saturday the agency determined the fire at the Jehovah's Witness Kingdom Hall in Lacey was an arson.
The Thurston County Sheriff's Office said the blaze was reported around 3:42 a.m. and prompted a response by the ATF and a local task force that's been looking into attacks targeting other Kingdom Halls in the county, located about 70 miles southwest of Seattle.
"Makes you feel really ill about somebody who has some sort of animosity towards any religion," Thurston County Sheriff John Snaza told Q13 News.
Since March there have been five attacks at Jehovah's Witness Kingdom Halls in Thurston County. Two arsons took place on March 19 at Kingdom Halls in Tumwater and Olympia with minor damage reported, according to the ATF.
The third incident was reported May 15, when someone fired 35 rifle rounds at a Kingdom Hall in Yelm and caused more than $10,000 in damage. Someone then returned back to the building in Olympia on July 3 and set a fire that destroyed the building.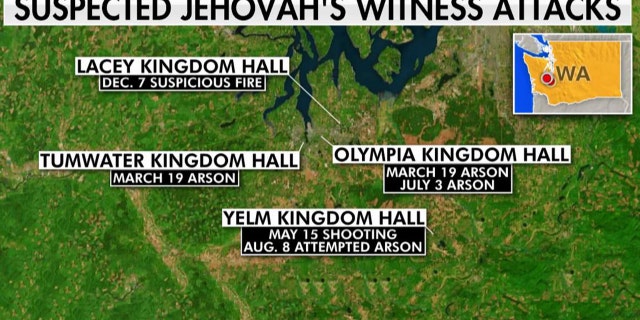 The dates and locations of attacks at Jehovah's Witness Kingdom Halls in Washington state this year.
(Fox News)
In August, someone tried to set fire to the Kingdom Hall in Yelm. Church elders at the time had arrived to find fire logs stacked up against an outside wall that was smoldering, Q13 News reported at the time. They were able to douse the logs with water and prevented any further damage to the building.
"More or less they're terrified," Snaza told Q13 News. "Why are they being targeted? Why is this specific religion being targeted?"
SEARCH EXPANDS FOR COLORADO MOM, 29, LAST SEEN ON THANKSGIVING
Dan Woollett, a minister at Lacey Kingdom Hall, called the blaze on Friday "devastating" for the whole congregation.
"It's devastating for sure but you know it's just a building," he said. "Everybody's safe and that's the important thing."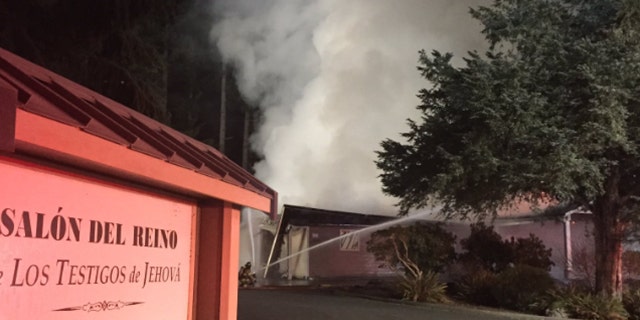 The fire at the Jehovah's Witness Kingdom Hall in Lacey, Wash. was the fifth blaze in an apparent series of targeted attacks.
(Thurston County Sheriff's Office.)
The ATF said authorities are offering up to a $36,000 reward for information in the case.
No injuries have been reported in any of the incidents, but Seattle ATF agent Derek Pleasant told Q13 News that "it is inevitable that innocent people will be injured or killed if these incidents go unchecked."
"We take events at houses of worship very seriously and are appealing to those who live in and around Thurston and the surrounding counties to partner with us in protecting their communities in this investigation," Pleasant said.
Anyone with information on the fires or the shooting at the religious facilities is asked to call ATF's toll-free hotline at 888-ATF-TIPS, Crime Stoppers of South Sound at 1-800-222-TIPS, or the Arson Alarm Foundation at 1-800-55-ARSON.
Source: Read Full Article