Israeli troops 'secure Hamas stronghold' with weapons cache as pics show IDF clearing out 'terror nest' with bulldozers | The Sun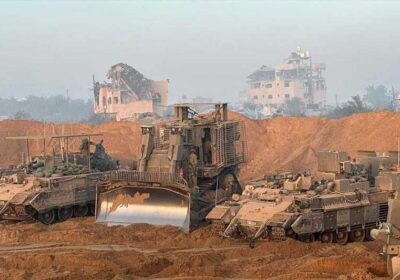 ISRAELI troops claim to have taken control of a Hamas military stronghold in Gaza where terrorists were stashing an arsenal of weapons.
Fighter jets struck the terror cell in the enclave's north before sending in IDF soldiers on foot.
The IDF claimed a number of anti-tank missiles, launchers, other weapons and "various intelligence materials" were uncovered inside.
It also revealed at least ten Hamas militants were killed in the blast.
The IDF said an aircraft also struck several Hamas militants who had barricaded themselves in a building near the al-Quds Hospital and planned to launch an attack on Israeli forces.
Footage shows gun-wielding Israeli troops moving into the "terror nest" and searching buildings.
More on Israel-Hamas
CENTRE OF HELL
IDF could storm into Gaza City after 'splitting the strip in two'
REPEATED SLAUGHTER
I live near Lebanon – Hezbollah plans evil like Hamas with 10x firepower
The IDF said: "Over the past day, IDF troops secured a military stronghold belonging to the Hamas terrorist organisation in the northern Gaza Strip.
"In coordination with soldiers on the ground, an IDF fighter jet struck a cell of approximately 10 terrorists.
"Following this, IDF ground troops identified an anti-tank missile cell operating in their vicinity.
"The troops directed an IDF aircraft that struck the terrorist cell."
Most read in The Sun
HEIR MILES
Harry flies on fuel-guzzling private jet owned by oil heir to attend concert
GONE TOO SOON
Former child star dies at sober-living home after 'struggle with drugs'
GOODBYE DAD
Britain's oldest dad who had a baby at 78 with his lover, 25, dies
HERO 'PUNCHED'
Poppy-selling vet, 78, 'punched as he fled station' during Palestine protest
It comes as pictures show Israeli forces using bulldozers to clear our mines and explosives and also demolish buildings as they push through the Hamas "terror nest".
Their arsenal includes the D9R armoured bulldozer – nicknamed Doobi or "Teddy Bear" – that can deflect rockets and tackle a labyrinth of tunnels and sniper positions.
With 15 tonnes of added armour and a reinforced blade, the beast is almost impenetrable to guns or explosives.
To reach Hamas' strongholds, Israeli forces will have to breach several defensive lines – including mines, mortar targets and anti-tank weaponry.
The 62-tonne monster bulldozer has bullet-proof glass to protect the two crew on board against sniper and machine gun fire.
And it can be kitted out with a grenade launcher, a mounted machine gun installation, or even a smoke projector.
Israel has vowed to remove Hamas from power and crush its military capabilities.
Hamas-led health officials meanwhile said at least 23 Palestinians were killed in two separate Israeli air strikes on Tuesday morning in the southern cities of Khan Younis and Rafah.
The death toll this week surpassed 10,000 in Gaza, the health ministry said – with more than 2,300 missing and feared to be buried under rubble.
About 1,400 people in Israel have died, mostly civilians killed in the October 7 incursion by Hamas that triggered the war.
It comes IDF soldiers encircle Gaza City a month on from the horror October 7 massacre after claiming to have split the enclave "in two".
Benjamin Netanyahu has insisted Israel will have overall security responsibility in Gaza for an indefinite period after its war with Hamas.
In an interview with ABC News, the Israeli Prime Minister expressed openness to little pauses in the fighting to facilitate the release of some of the more than 240 captives seized by Hamas.
But he doubled down on his refusal to order a ceasefire without the release of all the hostages.
Israeli troops have been battling Palestinian militants inside Gaza for over a week, and have succeeded in cutting the territory in half and encircling Gaza City.
The IDF is focused on Gaza City, which before the war was home to some 650,000 people about equal to the population of Washington, D.C.
But it is feared Israeli forces could be lured into Hamas' "kill zones" in the Gaza strip as the terror group moves through tunnels and hides explosives under airstrike rubble.
Experts have warned that leaked Hamas warfare plans reveal their chilling strategy for drawing IDF soldiers into traps.
The extensive rubble, caused by ongoing airstrikes, provides an ideal cover for defensive snipers and hidden explosives.
And Hamas' mysterious 311-mile maze of tunnels gives them the opportunity to cover vast amounts of ground and come up under the rubble when they plan to attack.
Analysts at the American Enterprise Institute have said Israel's technique in warfare, using heavy air strikes followed by raids on the ground, could be weakened by this.
Read More on The Sun
TIME TO QUIT
Signs you're borderline alcoholic & tips to cut back as Adele admits struggle
CHOC HORROR
Cadbury discontinues Christmas chocolate – but savvy shoppers find Costco dupe
They have also warned that the bombed-out city will be difficult for Israeli forces to navigate on the ground.
Source: Read Full Article