Israeli hostage families slam Biden deal to allow aid into Gaza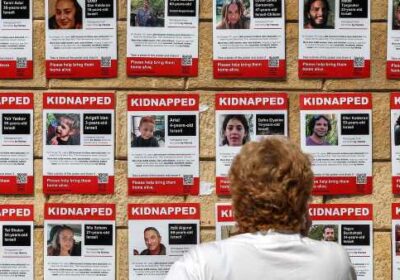 Israeli hostage families slam Biden's deal to allow aid into Gaza without securing release of their loved ones
Biden urged Israel to allow aid into Gaza in meeting PM Benjamin Netanyahu
On his way home he phoned Egyptian president and struck deal to open border
But many Israelis wanted aid to enter only as part of a deal to return hostages
The families of Israelis taken hostage by Hamas on Thursday slammed a deal to allow aid into the Gaza Strip while their relatives are still being 'held like animals' underground.
A day earlier, President Joe Biden ended a seven-hour visit by announcing that Eqypt had agreed to open its border crossed to allow trucks in.
Israel also said it would allow Egypt to deliver limited humanitarian aid to the territory, the first easing of a 10-day siege imposed after Hamas terrorists killed more than 1400 people.
A group formed to represent the 199 or more people thought to have been kidnapped said the decision angered families of the missing.
'The decision to allow humanitarian aid to the murderers of Gaza has caused great anger among the family members,' Bring Them Home Now said.
More than 199 Israelis are believed to have been kidnapped by Hamas and Islamic Jihad. The issue makes their relatives a powerful political force in Israel as it decides how to handle Hamas and plan a ground invasion of the Gaza Strip, where the hostages are held
President Joe Biden talked to reporters traveling with him aboard Air Force One as he returned to Washington, describing concessions he won from Israel and Egypt on aid to Gaza
'We remind you that children, babies, women, soldiers, men and the elderly — some of whom have serious health issues, are wounded and shot — are being held underground like animals without any human conditions, and the government of Israel is treating the murderers to baklava and medicine.'
It is a highly charged issue. Many Israelis believed aid was a crucial point of leverage that could be used to secure the release of hostages. 
But easing the suffering among Palestinians was one of the key goals of Biden's visit, along with standing in solidarity with Israel and warning off other armed groups from broadening the conflict.
However, the decision by Arab leaders to cancel a summit in Jordan meant he left the region without meeting several key figures.
Instead Biden spoke by phone with Egyptian President Abdel Fattah el-Sisi as he flew back to Washington. Sisi agreed to reopen his country's sealed border to allow up to 20 trucks carrying humanitarian supplies to cross.
Biden told reporters traveling with him that the deal included conditions on keeping the aid from militant groups.
'If Hamas confiscates them or doesn't let it get through … then it's going to end,' he said as Air Force One was being refueled at Ramstein Air Force Base in Germany.
He said that Sisi deserved a lot of credit.
'He was completely cooperative … He stepped up, as did Bibi,' he added, referring to Israeli Prime Minister Benjamin Netanyahu. 
A woman stands holding a sign showing the face of one of the Israeli hostages held by Palestinian militants since the October 7 attack near Azrieli Mall in Tel Aviv
Biden was greeted by Prime Minister Benjamin Netanyahu as he arrived on Israeli soil on Wednesday morning. Aid was one of three key issues he wanted to raise with the Israeli leader
Demands have been growing to allow aid into Gaza as the humanitarian crisis worsens, 12 days after the attack on Israel.
The Israeli Defense Forces have put the territory under siege, cutting of electricity and blocking the delivery of food, fuel, and water.
Hospitals say they are running out of medicine and surgeons are operating without anesthetic.  
Israel softened its position after Biden spent an hour meeting with Netanyahu, during which the American president reportedly argued it would help keep world opinion with Israel as it fights Hamas.
'In light of President Biden's request, Israel will not prevent the flow of humanitarian aid from Egypt as long as it is food, water and medical supplies for the Palestinian population in the southern Gaza strip and as long as it doesn't go to Hamas. Any aid diverted to Hamas will be prevented,' Netanyahu's office said. 
Source: Read Full Article