Israel soldiers take over Hamas parliament and police HQ as they claim terrorists have now 'lost control of Gaza' | The Sun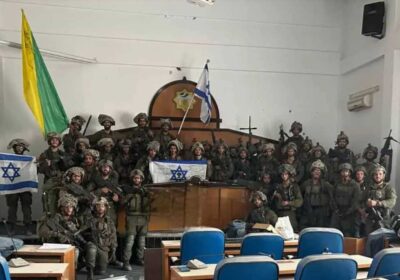 ISRAEL claims Hamas has lost control of Gaza after reportedly capturing the terror group's parliament and police headquarters.
After 16 brutal years, Hamas's tyranny over the Strip could finally be crumbling as Israeli forces surrounding Gaza City move to fully capture it.
Israeli Defence Minister Yoav Gallant has declared that Hamas no longer maintained control over Gaza.
In a statement, he said: "There is no power of Hamas capable of stopping the IDF. The IDF is advancing to every point.
"The Hamas organization has lost control of Gaza, terrorists are fleeing south, civilians are looting Hamas bases, they have no confidence in the government."
Shortly after his announcement, IDF troops were pictured waving Israeli flags inside Gaza's parliament building after capturing the site.
read more on israel-hamas
FULL BLOCKADE
Israel forces wipe out Hamas terror squad holed up in Gaza hospital
'CRITICAL STAGE'
Israel may storm Hamas tunnels in HOURS to save hostages, negotiator says
The striking image showed proud and smiling soldiers inside the bullet-ridden building with the rows of seats where Hamas leaders used to sit still in-tact.
Only the Palestinian terror organisation has used the building since taking complete administrative control of Gaza in 2007.
A separate picture also appears to show Israeli troops having seized the Hamas-run Gaza military police headquarters as heavily-armed soldiers once again smiled with flags.
Last night, the IDF said it raided Gaza City's Al Rantisi children's hospital after claiming Hamas operatives were holed up inside.
Most read in The Sun
WHERE EVIL LAY
Hamas 'hospital base' revealed as IDF video shows lair filled with weapons
hard time
Jonnie Irwin in heartbreaking update as terminally ill star reveals hospital dash
PLAYING VARD
Becky humiliated Jamie racking up £3m court bill and now she's splashing cash
jungle vips
First look at I'm A Celebrity 2023 line up as stars head to camp
It released footage of what appeared to be an underground terror nest littered with babies' nappies and bottles – possibly indicating hostages could have been held there.
Troops said they found many weapons in the hospital basement, including explosive belts, grenades, weapons and RPG missiles.
IDF spokesperson Rear Admiral Daniel Hagari said: "Underneath the hospital, in the basement, we found a Hamas command and control center, suicide-bomb vests, grenades, AK-47 assault rifles, explosive devices, RPGs, and other weapons."
"This is a kind of gear used for a major fight," he added.
The shocking footage emerged shortly after the IDF wiped out a Hamas terror cell in Al-Quds hospital after claiming Hamas was usingpatients as human shields to try and escape.
Scores of IDF troops and tanks are also surrounding Gaza's biggest medical facility, the Al Shifa hospital, amid fears a Hamas HQ is hidden in the tunnels underneath.
The World Health Organisation (WHO) claimed that power had completely run out and 36 newborn babies were fighting for their lives after having to be removed from defunct incubators.
The WHO stated that the facility is "nearly a cemetery" as bodies piled up inside and outside.
For days, international pressure has been mounting for Israel to better protect civilians and the hospitals caught in the crossfires.
US President Joe Biden stated that Al-Shifa hospital "must be protected" as fighting raged close to the facility.
His comments followed Prime Minister Rishi Sunak urging Israel to "take all possible measures to protect innocent civilians, including at hospitals".
On Monday, he re-affirmed Israel's right to defend itself, but argued that "too many civilians are losing their lives".
The IDF today said it was in the process of coordinating the transfer of incubators to Gaza to help save newborns.
Over 11,000 people – including 4,500 children – are said to have been killed in Gaza since Israel began its retaliatory strikes and ground operations, according to the Hamas-run health ministry.
Israel's bombardment and siege of the Strip was sparked by Hamas's bloody cross-border killing spree on Israel, that saw 1,200 slaughtered and some 230 hostages dragged into Gaza.
Forty days into the grinding conflict and the bomb-blitzed Strip has been "split in two" by IDF forces who have relentlessly pushed ahead with their ground invasion in an attempt to wipe out Hamas.
Now, an Israeli hostage negotiator states that Israel is gearing up to storm Hamas's terror tunnels to retrieve the hostages within "hours".
Baskin told The Times: "Within the next few days or even hours, if there isn't a deal for the release of hostages by agreement, military operations to go into the places hostages might be held will begin."
Read More on The Sun
DRY AS A BONE
Never use your dryer thanks to washing machine button people ALWAYS ignore  
jungle love
I'm A Celebrity's Danielle Harold shares relationship status ahead of show
But Baksin, who helped secure the return of an Israeli soldier in exchange for 1,000 Palestinian prisoners in 2011, warned that Hamas terrorists may kill the hostages in response to IDF forces hunting them through the tunnels.
Hamas has already claimed that 50 hostages have been killed by Israel's air strikes, which Baskin claimed was "very likely".

Source: Read Full Article