Is TOXIC giant hogweed growing near you?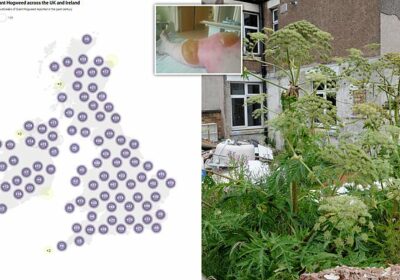 Is TOXIC giant hogweed growing near you? Interactive map reveals hotspots for the 'most dangerous plant in UK'
Giant Hogweed was imported to Britain in 1817 from the Caucus region of Russia
The plant's sap  if exposed to sunlight cause major burns on a victim's skin
It is branded the most dangerous plant in Britain because of the poisonous sap coursing through its stem, yet it was introduced by Victorian gardeners keen to display its size. 
Heracleum mantegazzainum gives a clue to the plant's size, which regularly can grow between 10-16-feet in height, which is why it was popular with ornamental gardeners, looking for an impressive centrepiece for their displays. Yet, the plant, which is more commonly known as Giant Hogweed, contains a highly dangerous sap which when spread on human skin and exposed to sunlight can cause horrific burns. 
Ironically, the hogweed, which was imported from the Caucus Mountains and Central Asia, is part of the same family as parsley, carrots, parsnips, cumin and coriander. 
The first wild colony of giant hogweed in Britain was reported in Cambridgeshire in 1828, around a decade after it was first introduced into the country. 
Each hogweed plant can release 10,000 seeds which can be spread on the wind or by rivers. The plants are often found near railway lines or waterways. 
Your browser does not support iframes.
Giant Hogweed, pictured, was first introduced into Britain in 1817 and sped into the wild within a decade
Even dogs can be affected by the deadly plant.  
Children are at particular risk from the leafy menace, which will begin to flower across the country in the coming weeks. The plant's giant stems – which contain the toxic sap – are hollow on the inside and make tempting swords or telescopes which can lead to horrific damage. 
Brushing against the stems can lead to excruciating pain if the victim's skin is exposed to the sap. Even professional gardeners can be caught out and badly injured by the 'Taliban terror weed'. 
According to the Royal Horticultural Society: 'The giant hogweeds were introduced into Britain and Europe from the Caucasus Mountains in the nineteenth century. The earliest documented reference to their introduction into Britain that has been traced is from the Royal Botanic Gardens Kew Seed List of 1817 where giant hogweed, under the name of Heracleum giganteum was listed among seeds supplied to Kew by the Russian Gorenki Botanic Gardens. 
CLICK TO READ MORE: Girl, 4, suffers second-decree burns after touching Giant Hogweed
A four-year-old girl from Bolton was left with second-degree burns after touching the toxic sap of a Giant Hogweed, prompting her school to put out a warning for parents to watch out for the invasive plant. Pictured: Terrible blistering and burns mark the girl's hands
'They were soon introduced into the horticultural trade and being aesthetically impressive plants, were widely planted in ornamental gardens throughout Britain. Unfortunately they quickly escaped from cultivation with the first naturalised ('wild') population recorded in Cambridgeshire in 1828, and are now widely naturalised as invasive species throughout much of Britain and Europe.'
Experts warn that the plant continues to spread dramatically and is known to thrive in hot weather, where people wearing summer clothes are at especial risk of exposure to the deadly sap. 
In December 2015, Nathan Davies from Ammanford, Wales, almost had a leg amputated after his wound got infected having been badly burned when exposed to the plant's poisonous sap. 
In the House of Commons in 1970, Tory MP Carol Mather said there was nothing to be afraid from the Giant Hogweed. He was complaining about people seeking to eradicate the plant. . 
Mr Mather, who was a founding member of the SAS said: 'Even the giant hogweed, which has just raised its head, is threatened. People are already shouting for us to provide stronger poisons to destroy it. I assure hon. Members, having one of these plants in my garden, that if one does not frighten it, it will not do one any harm.' 
During the 1970s, despite growing reports of the harm done to children by the plant, successive governments refused to act against giant hogweed, or even to issue advice about its control. In a written parliamentary answer in November 1976, under-secretary of state at the department of Agriculture, Gavin Strang said: '[The] powers to prescribe weeds as injurious and to take action against them are intended primarily to safeguard food production. There is no evidence that this plant is either common on agricultural land or a threat to agriculture.' 
Hot weather promotes the growth of giant hogweed which can leave sufferers with these painful injuries
Lauren Fuller suffered these injuries while building a den along the banks of Loch Lomand. She had used the plant's stems containing the deadly sap
Dog walker Christina Sabina suffered terrible blisters on her hands after brushing past a plant 
Deliberately sewing giant hogweed seeds in the wild was banned in 1981 under the Wildlife and Countryside Act. Although landowners are not obliged to remove the plants from their land. 
GIANT HOGWEED: THE DANGERS 
Giant hogweed sap contains toxic chemicals known as photosensitising furanocoumarins, which react with light when in contact with human skin, causing blistering within 48 hours.
Effectively the toxic sap prevents the skin from protecting itself from sunlight, which can lead to very bad sunburn and scarring.
If accidentally rubbed in the eyes, the sap can cause temporary or even permanent blindness.
Anyone who comes in contact with the weed is advised to cover up the affected area, to prevent the sap reacting with sunlight, and to wash it with soap and water.
Many local authorities have schemes to eradicate hogweed populations in public areas such as parks, allotments and riverbanks. 
According to the RHS, gardeners must be incredibly careful if they have giant hogweed around their homes.  
Its experts recommend considering non-chemical methods of control such as digging out the plant's roots or suppressing it with mulch. 
According to the RHS: 'When controlling giant hogweed always wear gloves, cover your arms and legs, and ideally wear a face mask when working on or near it. Cut plant debris, contaminated clothing and tools are potentially hazardous too. 
'Wash any skin that comes in contact with the plant immediately. Ensure that contractors working on your land are aware of the risks and are competent to deal with this weed.'
It is possible to pull out young giant hogweed plants by hand in May while the soil remains most. Larger plants will require digging out. 
'Never let hogweed set seed, but allow the flower spike to form and then remove it before the flowers fade. At this stage, the plant is less likely to survive trimming than earlier in the year. Remember that perennial forms have been identified by RHS research and preventing them from setting seed will not reduce giant hogweed populations quickly.'
When tackling giant hogweed, the RHS advises gardeners to cover up, including your face, which cutting stems. It is also advisable to work in overcast conditions and it is important to wash off any sap as soon as possible with cold water. 
What is Giant Hogweed? 
'Britain's most dangerous plant': Found across the country the Giant Hogweed (Heracleum mantegazzianum) looks harmless enough but can deliver life-changing injuries
 Giant Hogweed is a non-native species to the UK.
It was first introduced to the UK as an ornamental plant in the 19th century after being discovered in the Caucasus Mountains and Central Asia.
The plant escaped and naturalised in the wild and can now be found throughout much of the UK – especially on river banks as its seeds are transported by the water. 
It has been spreading uncontrollably across Scotland for decades, producing up to 50,000 seeds which can survive for many years. 
But the sap of the weed, which looks like a giant version of the harmless plant cow parsley, is extremely toxic to humans and animals, causing horrific burns on the skin.
The skin remains sensitive to UV light for many years – and can even cause blindness if near the eyes.
Every year, thousands of people, including children and pets, suffer life-changing injuries from Giant Hogweed after accidentally coming into contact with it out in the wild.
Source: Read Full Article