Iran warns 'TIME IS UP' in ominous messages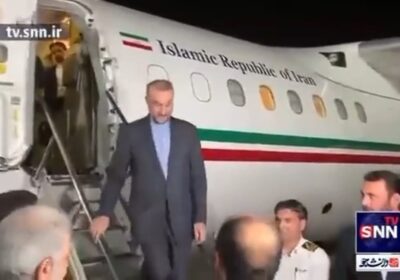 Iran warns 'time is up' as protestors escalate after Gaza hospital is hit by blast killing 500 during Hamas-Israel war
Hossein Amir-Abdollahian, Iran's foreign minister, tweeted a threat to Israel after the Gaza hospital bombing, declaring: 'Time is OVER'
Amir-Abdollahian arrived in the Saudi city of Jeddah for a meeting of the Organization of Islamic Cooperation, as Joe Biden was en route to Tel Aviv
Anti-Israel and anti-US protests turned violent in Lebanon and Jordan: diplomats are seeking to calm tensions as Israel continues taking its revenge on Hamas 
Iran's foreign minister declared on Tuesday that 'time is OVER' for Israel, as Joe Biden arrived in Tel Aviv to try and calm a rapidly-spiraling situation, with anti-Israel protests flaring up across the region.
An air strike on a Gaza hospital on Tuesday evening, killing at least 500 people according to Palestinian authorities, enraged people around the world. Israel and Palestinians both blame each other for the atrocity.
Hezbollah, the Iranian-backed terrorist group based in Lebanon, called for 'a day of unprecedented anger' against Israel, while Libya's foreign ministry accused the Jewish state of 'war crimes and genocide'. 
Demonstrators in Beirut briefly set the U.S. embassy on fire in anger at the killings, and in Amman dozens of protesters attempted to storm the Israeli embassy. Protests were also held outside the British and French embassies in Tehran.
Hossein Amir-Abdollahian, Iran's foreign minister, arrived in Saudi Arabia on Tuesday after the hospital bombing – a remarkable show of unity between two former sworn enemies.
Iran's foreign minister, Hossein Amir-Abdollahian, is seen arriving in Jeddah on Tuesday for a meeting of the Organization of Islamic Cooperation
Iran's embassy in Syria tweeted on Tuesday evening: 'Time is up'
Saudi Arabia and Iran in March agreed a Chinese-mediated détente and have moved toward reopening diplomatic missions in each other's countries: Amir-Abdollahian visited Saudi Arabia's crown prince, Mohammed bin Salman, in August.
On Tuesday, Amir-Abdollahian, in Saudi for a meeting of the Organization of Islamic Cooperation, issued a stark threat to Israel, blaming them for the hospital bombing.
'After the terrible crime of the Zionist regime in the bombing and massacre of more than a thousand innocent women and children in the hospital, the time has come for the global unity of humanity against this fake regime more hated than ISIS and its killing machine,' he tweeted.
'Time is OVER.'
Iran's embassy in Syria also tweeted, in Hebrew and Arabic: 'Time is up.'
Justin Bronk, a RUSI analyst, said that Iran's threats were deeply troubling. 
Russia and China have been relatively restrained so far, he argued, but if Iran gets involved, then Russia might support it – and the war could include the US, if Iran or its proxies attack Israel over the coming weeks.
Backing the Palestinian cause has been a pillar of the Islamic Republic since the 1979 revolution and a way the Shi'ite-dominated country has fashioned itself as a leader of the Muslim world.
Tehran says it gives moral and financial support to Hamas, which controls the Gaza Strip, but Western intelligence agencies do not believe that Tehran orchestrated the October 7 attack.
Israel has been preparing for a potential ground invasion of Gaza in response to Hamas' attacks on October 7, which killed 1,400 Israelis. 
Iran immediately blamed Israel for the Gaza hospital attack, with Nasser Kan'ani, a spokesman for the foreign ministry, calling it a 'savage war crime' and an instance of 'genocide.'
Kan'ani accused Israel of carrying out a 'bestial and appalling crime,' adding, according to state-run Press TV: 'The Zionist regime once again showed its ferocious and vicious nature to the entire people of the world.'
People stand in front of fire that erupted outside the security gate, during clashes between protesters and security forces outside the US embassy in Beirut
Lebanese protesters wave Palestinian national flags and shout slogans in solidarity with the people of Gaza in down town Beirut, after a strike on a hospital in the Gaza Strip
A Lebanese protester flashes the V for victory sign as a fire rages behind the security gate of the US embassy
Protesters clash with Lebanese security forces outside the US Embassy during a demonstration
The al-Ahli Hospital in Gaza City was hit at 7pm on Tuesday night.
Palestinian officials say the horror explosion was caused by an Israeli Defence Forces (IDF) air strike, while officials in the Jewish state insisted it was the result of a 'failed' rocket launched by terrorist group Islamic Jihad.
However, the terror group has labelled the claims 'completely incorrect' and accused the IDF of 'trying to cover for the horrifying crime and massacre they committed against civilians'.
The blast threw a visit from US President Joe Biden to the region – in the hopes of showing support for Israel and preventing the war from spreading – into chaos. 
A planned meeting involving him, the president of Palestine, Mahmoud Abbas, and leaders from Egypt and Jordan, was cancelled by the Arab nations in protest.
Washington is deeply concerned by Tehran's statements, and has told Iran to stay out of the war. 
The Pentagon has sent two US Navy carrier battlegroups to the Eastern Mediterranean to strengthen that deterrence message. 
White House national security spokesman John Kirby told reporters aboard Air Force One that Biden 'wants to get a sense from the Israelis on the situation on the ground' and will 'ask some tough questions'.
'He'll be asking them as a friend,' Kirby said.
The president also planned to meet Israeli first responders and the families of those killed and hostages taken when Hamas made its incursion into Israel.
Roughly 2,800 Palestinians have been reported killed by Israeli strikes in Gaza. 
Another 1,200 people are believed to be buried under the rubble, alive or dead, health authorities said.
Biden said in a statement that he was 'outraged and deeply saddened by the explosion at the Al Ahli Arab hospital in Gaza, and the terrible loss of life that resulted.'
He also said he 'directed my national security team to continue gathering information about what exactly happened'.
Doctors stand outside al-Shifa hospital surrounded by a sea of dead children brought in from nearby al-Ahli hospital after the explosion
The Hamas-run Health Ministry in the Gaza Strip says at least 500 people have been killed in an explosion that it says was caused by an Israeli airstrike
Unverified photographs circulating on social media showed fire engulfing the hospital halls, shattered glass and body parts scattered across the area
Among those wounded in the explosion were children, women and patients at the hospital. Pictured: A child at al-Shifa hospital after the fireball at al-Ahli hospital
Bodies of those killed in the blast were covered in white sheets and placed by the dozen in tents
A blood-soaked Palestinian woman holds a child as she waits for treatment at al-Shifa hospital following the explosion
Hellish video taken from the hospital, which was sheltering around 6,000 Palestinians and is funded by the Anglican Church, shows fire engulfing the building and the dozens of bodies strewn over the ground, many of them young children.
Ambulances and private cars rushed some 350 casualties from the al-Ahli blast to Gaza City's main hospital, al-Shifa, already overwhelmed with wounded from other strikes, said its director, Mohammed Abu Selmia.
'We are squeezing five beds into a single tiny room. We need equipment, we need medicine, we need beds, we need everything,' said Abu Selmia said, warning that the fuel supply for the hospital's generators will run out on Wednesday. 
'I think Gaza's medical sector will collapse within hours.'
In a press conference at al-Shifa doctors stood in a sea of dead children who had been brought from the stricken hospital, holding some of their faces to the cameras to show the horror that had befallen them.
In the immediate aftermath Hamas called the devastation a 'horrific massacre' and a 'crime of genocide', laying blame at the feet of Israel.
Izzat El-Reshiq, a senior Hamas member, said: 'There are scores of dismembered and crushed bodies, baths of blood.'
The Israeli military blamed the explosion on Islamic Jihad, a smaller, more radical Palestinian militant group that often co-operates with Hamas in their shared struggle against Israel.
The military, in a statement, said that a 'barrage of rockets was fired by terrorists in Gaza, passing in close proximity to Ahli hospital in Gaza at the time it was hit'.
An IDF spokesperson added: 'Intelligence from multiple sources we have in our hands indicates that Islamic Jihad is responsible for the failed rocket launch which hit the hospital in Gaza.'
The Israeli army earlier on Tuesday said that a hospital is a 'highly sensitive building' and is 'not an IDF target', and urged 'everyone to proceed with caution when reporting unverified claims of a terrorist organization'.
This was backed up by Justin Bronk, a senior research fellow in airpower and technology at the Royal United Services Institute, who said video of the explosion did not match with the type of weapons Israel typically uses. 
On Twitter he wrote: 'For what it's worth, this doesn't look or sound quite like an air strike using the typical IAF 1000lb or 2000lb JDAM/Mk80 series to me. Incoming projectile sounds like it's under power and the explosion frames visible look like largely propellant fire rather than HE [high explosive] detonation…'
Israeli prime minister Benjamin Netanyahu said: 'The entire world should know: It was barbaric terrorists in Gaza that attacked the hospital in Gaza, and not the IDF. Those who brutally murdered our children also murder their own children.'
An injured man is carried from the hospital while others are moved clear by paramedics after the attack
A Palestinian woman cries while holding her child after the explosion at the hospital in Gaza City
Scores of injured people are being taken to Al-Shifa Hospital following Israeli airstrike on Al-Ahli Baptist Hospital in Gaza City on Tuesday
An injured young child is carried by an apparent medic after an airstrike on Al-Ahli Baptist Hospital in Gaza City on Tuesday
People gather around the bodies of those killed in the devastation at the hospital on Tuesday
Hamas leader Ismail Haniyeh has also blamed the United States for the attack, saying in a televised speech late on Tuesday that Washington gave Israel 'the cover for its aggression.'
'The hospital massacre confirms the enemy's brutality and the extent of his feeling of defeat,' he said, adding that the attack will be 'a new turning point.'
Haniyeh called on all Palestinian people 'to get out and confront the occupation and the settlers.' He also called on all Arabs, and Muslims to stage protests against Israel.
Mark Regev, senior adviser to Netanyahu, told the BBC that Israel would not 'deliberately target a hospital'.
He said: 'My information, that I have just received from the highest authority … is that all indications are that this was not Israeli orders, that this was rather a Hamas rocket that fell short.'
Former Hamas chief Khaled Meshaal also called for protests in front of Israeli embassies across the world after the hospital blast.
In the occupied West Bank city of Ramallah, Palestinian security forces fired tear gas and stun grenades to disperse protesters throwing rocks and chanting against Abbas as popular anger boiled over after the blast.
Clashes with Palestinian security forces broke out in a number of other cities in the West Bank, which is ruled by Abbas' Palestinian Authority, late on Tuesday, witnesses said. 
In the occupied West Bank city of Ramallah, Palestinian security forces fired tear gas and stun grenades to disperse protesters throwing rocks and chanting against Abbas as popular anger boiled over after the blast
People clash with Palestinian security forces during a rally in solidarity with the Palestinians of the Gaza Strip in the West Bank city of Ramallah, on Tuesday
Demonstrators are seen flooding the streets of Ramallah on Tuesday evening in support of the Palestinians of the Gaza Strip
Protesters and Palestinian security forces clash during a rally in Ramallah on Tuesday night
Hundreds of people joined protests that erupted in Beirut and Amman, where an angry crowd gathered outside the Israeli embassy.
And in Tunisia hundreds gathered outside French embassy as they denounced the European country – who have 'firmly' denounced the strike – and the US as 'allies of Zionists'.
The carnage came as the US tried to convince Israel to allow the delivery of supplies to desperate civilians, aid groups and hospitals in the tiny Gaza Strip, which has been under a complete siege since the deadly rampage by Hamas in southern Israel.
Source: Read Full Article