Illinois boy, 11, inspired by 'A Christmas Story' gets tongue stuck on frozen pole
Spencer Kline, 11, poses next to where he got his tongue stuck to a cold pole.
(Courtesy TJ Cline)
It didn't take a triple-dog dare, but a boy in northern Illinois still found out the hard way not to place his tongue on a frozen metal pole.
Spencer Kline, 11, was sledding with his friend in Sandwich, located west of Chicago, after northern Illinois got blanketed with record snow last Tuesday when the pair came across a pole along a fence.
Kline told The Beacon News he had seen "A Christmas Story," where one friend dares another to put his tongue on a frozen pole, but didn't think his tongue could actually stick to the pole.
"I was just tempted to. I've seen the movie 'A Christmas Story,' which kind of inspired me," he told the newspaper.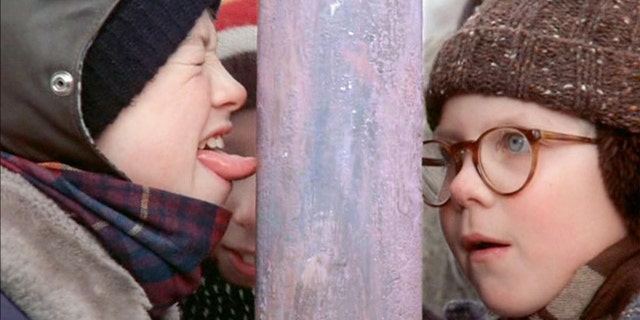 The situation was similar to that from the movie "A Christmas Story."
(Metro-Goldwyn-Mayer)
Sure enough, Kline's tongue became frozen to the pole. He then struggled to communicate with his friend, who then ran to a nearby house and asked a woman for hot water.
'CHRISTMAS VACATION'- INSPIRED HOLIDAY DISPLAY SPARKS PANIC IN TEXAS, PROMPTS VETERAN TO CALL 911
In the time the friend was gone, Kline was able to pry himself off the pole before emergency crews arrived.
"I was trying to get it off, but I wasn't pulling," he told The Beacon News. "I was being gentle and freaking out. Some of my taste buds came off onto the pole."
Officials treated the 11-year-old and released him that night. He and his tongue are expected to make a full recovery.
Kline just wants others to not make the same mistake as him.
"It hurt very badly," he said.
Source: Read Full Article