How many children does Tina Turner have?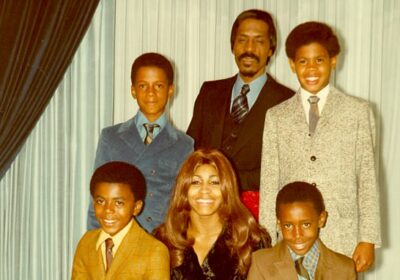 Tina Turner's children: A look at the iconic singer's family… and heartbreak after deaths of two late sons
A look inside the family of Tina Turner, after the pop star passed away aged 83 
Tina Turner has passed away at the age of 83, after a lengthy battle with a long, unspecified illness. 
The legendary singer died at her home in Kusnacht near Zurich, Switzerland.
Her representatives announced the news, saying: 'With her the world loses a music legend and role model.'
Did Tina Turner have any children? Was the singer married prior to her death? Read on below for all you need to know about the legendary vocalist's family.  
Tina Turner died at home at the age of 83 after a long illness. She is shown here in 2019 on the opening night of the Tina Turner Musical in New York City 
A musical legend: Turner in 1997. In a recent interview, she said she wanted to be remembered as 'the Queen of Rock 'n' Roll' 
Did Tina Turner have children?
The 'Queen of Rock 'n' Roll' had two biological children. She had her first son, named Raymond Craig, with Kings of Rhythm saxophonist Raymond Hill. 
She had a second son with Ike Turner, named Ronnie, who played bass guitar in a band called Manufactured Funk with songwriter and musician Patrick Moten.
She also adopted two of Ike Turner's sons and would raise his children as her own. Here is what you need to know about each of the singer's four sons.  
Craig Turner
Tina Turner gave birth to her first child, a boy, at just 18 years of age. As the child's father was Raymond Hill, the saxophonist in blues band Kings of Rhythm, he was named Raymond Craig Turner. 
Craig, who studied at Santa Monica College, worked in real estate at Rodeo Realty, in the San Fernando Valley. 
Tragically, Craig Turner was found dead by suicide aged 59, at his home in Studio City, California in 2018.  
Ronnie Turner 
Turner gave birth to her second son, Ronald 'Ronnie' Renelle, in October 1960 and shared Ronnie with her ex-husband, Ike. 
Ronnie would go on to follow in his parents' footsteps by going into showbiz, acting alongside his mother in the 1993 film 'What's Love Got to Do with It,' which charted Tina's rise to stardom.
Throughout his life, Ronnie faced a history of drug-related arrests, and was busted in August 1999 for possession of cocaine — with authorities alleging he was selling the drugs.
He had to register as a narcotics offender in the aftermath, but was said to have failed to kick his addiction — even going as far as to kick his common-law wife and their two children out of his apartment when they tried to push him to stop taking drugs. 
Tina and Ike with their sons, two of which Tina also raised as her own, in 1972, six years before their divorce 
Turner with her first husband, Ike. The pair shot to stardom together in the Ike and Tina Turner Revue
Turner shot to stardom as one half of a duo with Ike Turner. The pair married and had children but split in 1978 after what she described as years of abuse
Ronnie married French musician Afida Turner in 2007, who had previously dated Coolio and Mike Tyson.
Ronnie Turner passed away in December 2022 following a cancer battle that ravaged his health in just three weeks.  
Ike Turner Jr
Ike Turner Jr is one of Tina's two adopted sons from her relationship to Ike Turner. 
He would also go on to achieve success in the music industry, winning a Grammy Award in 2006 after featuring on 'Risin' with the Blues', the final album recorded by his father before the latter's death from a cocaine overdose in 2007. 
Speaking in an interview with the Mail on Sunday in 2018, Ike said that Tina 'turned her back' on him, abandoning her family in the United States having relocated to Switzerland in 1994. 
'Tina raised me from the age of two. She's the only mother I've ever known', Ike stated. 
'But I haven't talked to my mother since God knows when – probably around 2000. I don't think any of my brothers have talked to her in a long time either. 
Ike and Tina were always absent parents, he claimed.
'We were raised by housekeepers because my mother and father were gone 11 months out of a year.
'My father took me out of school at 13. I ended up running his recording studio, plus going on the road with them. They made a lot of money on tour and my father used to make me count it until my hands were grey.'
Michael Turner 
Of the four sons Tina Turner cared for during her life, the least is known about Michael Turner, the youngest of the quartet. 
Ike Jr said of his brother: 'Michael is in a convalescent home in Southern California and needs medical support. I've been to see him quite a few times. He's doing great.' 
Asked if Tina ever visits Michael, Ike Jr replied: 'No. All she does is send him money.' 
In December last year, Turner's son Ronnie died at the age of 62 from complications caused by colon cancer
Ronnie's death came only four years after his older brother, Craig, killed himself in his Studio City home at the age of 59. Craig is pictured here with their mother
Turner is survived by her husband, 68-year-old Erwin Bach, and two adult sons 
Was Tina Turner married?   
Tina married Ike Turner in 1962. Their marriage of 16 years was a troubled and turbulent relationship.
The drug addict son of a Mississippi preacher, Ike regularly beat up Tina until, after 16 years, she fled in the middle of the night in a bloodstained white suit with just 36 cents in her pocket.
Following her difficult relationship with Ike Turner, Tina relocated to Switzerland in 1994. 
Having initially met German music producer Erwin Bach – who is 16 years younger than her – when he was sent to greet her at Dusseldorf Airport in 1986, the pair would begin a relationship.
The couple married in 2013, during a civil ceremony which was held on the banks of Lake Zurich in Kusnacht, Switzerland. 
Source: Read Full Article