How exclusive nightclub Tramp became a mecca for rock 'n' roll royalty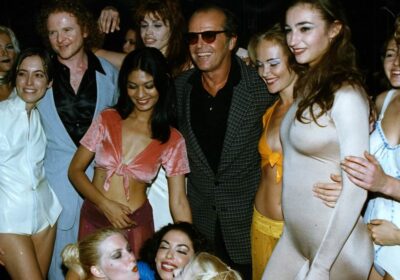 The death knell for Mayfair's most iconic nightspot? Tara Palmer-Tomkinson became a Bond girl, Jack Nicholson and Prince Andrew partied and Mick Jagger hid his affair with Jerry Hall at celeb hangout Tramp that now faces uncertain future
Hedonistic and legendary London club Tramp – a debauched playground for the rich, famous and royalty for more than 50 years – has shut suddenly and appears to have been secretly sold.
A byword for nocturnal overindulgence, drunkenness and descent into sensual dissipation in Mayfair, its future appears unclear after members who pay an annual £1,000 subscription received an email telling them that the club is closed.
Its legendary founder Johnny Gold opened the club on December 18, 1969. Mick Jagger was a founder member and with him on the opening night were hellraisers Peter Sellers, Michael Caine and Richard Harris. 
Overnight, Tramp became a hang-out for the film and rock 'n' roll elite. The Beatles, the Rolling Stones, Marlon Brando and Charlton Heston were regulars when in London. Richard Burton and Elizabeth Taylor would drop by.
Such was Tramp's pulling power that on one celebrated night three James Bonds — Roger Moore, Sean Connery and George Lazenby — were all in the club having dinner at the same time. 
One night, Jack Nicholson French-kissed a tramp outside the club's unassuming entrance on Jermyn Street.
The Who's legendary drummer Keith Moon had a penchant for removing all his clothes and dancing naked. On one occasion he was banned after pulling down a crystal chandelier – but after his chauffeur returned with £500 he was allowed back 48 hours later, arriving naked and strapped to the bonnet of his famous white Rolls-Royce before rocking away until dawn.
George Best was at Tramp so often his Manchester United manager Sir Matt Busby would tend to ring the club first to check if he was there when he failed to turn up for training.
Jack Nicholson and his popstar friend Mick Hucknall surrounded by women at Tramp after a raucous night out in London 
Socialite Tara Palmer-Tomkinson stopping traffic as she celebrated her 21st birthday at the club
The Faces, including Rod Stewart and Ronnie Wood, cutting a cake at a reception at the Tramp nightclub in London for the release of their album 'Ooh La La' in 1973
Mick Jagger and Jerry Hall leave Tramp. The Rolling Stone was a founding member of the club
Supermodel Naomi Campbell, wearing black long silk dress and sunglasses, poses outside Tramp nightclub for the after party following the launch of her debut novel 'Swan' on September 6, 1994
Ronnie Wood with his then wife Jo Wood at nightclub Tramp to celebrate its 30th anniversary in 1999
Prince William and Prince Andrew have also partied at Tramp in London's Mayfair
Marie Helvin, Sir Michael Caine, Jackie Collins and Shakira Caine at a book launch at Tramp
Miranda Quarry, the stepdaughter of Lord Mancroft, deputy chairman of Cunard's at her wedding reception following her marriage to Peter Sellers in 1970
Michael Douglas and glamour girl Jenny Strachan leave the club together in the 1980s
Lord Frederick Windsor dancing with Rebecca Loos at Tatler's Little Black Book 2004 party at Tramp nightclub
A model leaves Tramp smoking a cigar and flashing her breasts as she left the club famed for its debauchery 
Best remained a member despite once punching regular Sir Michael Caine on a night where the footballer tried to muscle in on a date of Bill Wyman, who once famously turned up with almost a dozen women in tow. 
READ MORE: EDEN CONFIDENTIAL: Mystery as Prince Andrew's favourite club Tramp closes its doors
Prince Andrew outside Princes Arcade in London's Piccadilly, after leaving Tramp nightclub
Johnny Gold presided over a 'play-pen' where stars such as Caine and Sellers and society miscreants, like 'Seducer of the Valleys' baronet's son Dai Llewellyn, could unwind in uninhibited fashion. 
Gold invited 300 friends and showbusiness folk to become founder members of Tramp, the club he named after the Charlie Chaplin character, for the princely sum of 10 Guineas — £200 in today's money. 
Peter Sellers, Liza Minnelli and Joan Collins all held their wedding receptions there. Jackie Collins' book The Stud was based on the nightclub and the the 1978 film adaptation was filmed at Tramp including a racey scene where she was ravished on the dancefloor.
Mick Jagger's relationship with Jerry Hall was almost revealed to his estranged wife Bianca, who he discovered was in the loo when they arrived for a tryst so they had to hide in a darkened corner to avoid them being spotted.
Indeed, it was said that while girls dressed up for nearby Annabel's, they undressed for Tramp. 
This may have explained why former It Girl Tara Palmer-Tomkinson was confident of entry when she turned up in nothing more than a bikini under an open fur coat for her 21st birthday party. 
Jack Nicholson and Danny DeVito after a night partying at Tramp 
Princess Eugenie leaving Tramp in 2009
English actress and model Liz Hurley at nightclub Tramp to celebrate its 30th anniversary
Katie Price at Tramp for a Tatler party in 2010
Rod Stewart and his ex-wife, model Rachel Hunter leave Tramp
Caprice and Sir Rod leave Tramp together
Mick Jagger of rock band The Rolling Stones leaves nightclub Tramp after attending Prince's birthday party on June 22, 1992
Liza Minnelli and Mel Brooks after a night out at Tramp
Lottie Moss and Valentine Sozbilir at Tramp nightclub on Halloween 2017
Frankie Dettori kisses his wife Catherine outside Tramp
Lady Mary Charteris Furze, a British fashion model, DJ, and musician
Lady Alexandra Spencer-Churchill, the youngest child of John Spencer-Churchill, 11th Duke of Marlborough, and Countess Rosita Douglas
Australian pop star Holly Valance attends the 'Tatler Little Black Book 2003' party held at 'Tramp'
Jemma Kidd arrives to party
Jacobi Anstruther-Gough-Calthorpe, brother of Cressida Bonas, parties with a friend
More recently it became famous worldwide after Prince Andrew was accused of whirling Virginia Roberts round the dancefloor. He denied it, saying her description of him sweating cannot be true because he stopped perspiring after serving in the Falklands and came under fire. Princess Margaret, Prince William, Prince Harry and other royals have left bleary-eyed after nights out there.
But what happens next is unclear, after a mystery buyer appears to have snapped it up just over two years to the day after its legendary founder Mr Gold died. 
Five key directors — including Guy Sangster, son of the late horse-breeding tycoon Robert Sangster, and Kevin Doyle, who acquired the club for £4million in 1998 — resigned in unison from the holding company which now owns Tramp. 
The Daily Mail's Richard Eden reports that a fashion show, which was to have been held there this week, appears to be the first casualty. 
'I got a call saying the club was sold and cancelling my event — unless I could pay £2,000 up front,' an organiser said. 
'It's very sad. I've had a great relationship with Tramp for years.' 
It came just weeks after Tramp hosted Luther star Idris Elba as he celebrated the launch of his rosé champagne, Porte Noire – with no sign of the closure to come.
Calls to the club are being answered but a 'well spoken woman' would only confirm that Tramp is closed.
Tramp's new owner appears to be Luca Maggiora, who's described as a 'former bank credit analyst turned leading hospitality entrepreneur'. But little is known about what Mr Maggiora will do with his legendary acquisition.   
The stars who partied there helped create the greatest nightclub of the 1970s.
Gold's strict policy of no paparazzi and no autograph-hunters meant that it was a welcome oasis, not just for movie stars and celebrities, but also for royalty. 
Princess Margaret felt reassured enough to let her hair down, often — if her photographer and then husband Lord Snowdon was working — with the actor Peter Sellers in tow.
'I don't think anything went on between them,' recalled Gold in his memoir Tramp's Gold. 'From my observation, they were genuinely just good friends.
'Peter always had a crush on Princess Margaret and, to an extent, it was reciprocated. He even offered to swap wives with Tony [Snowdon] but although the delectable Britt Ekland [Sellers' second wife] was on offer, the noble photographer declined.' 
It was at Tramp that Prince Andrew, then a young Naval officer, met Koo Stark and where, after his marriage, he and Fergie became regulars. But sometimes the club was in the news for more controversial reasons.
Tramp is the nightclub at the heart of the allegations of sexual impropriety that have been made against the Duke of York by former masseuse Virginia Roberts.
She claims she danced there with the 'sweaty' prince before having sex at the Belgravia home of Ghislaine Maxwell, daughter of the disgraced newspaper tycoon Robert Maxwell.
Andrew denies the claim, insisting that he was not at the club on the night in question but at home after visiting a Pizza Express restaurant in Woking, Surrey, with his daughter Beatrice.
Jack Nicholson plays up for photographers
The Hollywood star, pictured in 1980, once kissed a tramp outside Tramp
Actress Britt Ekland and her date David Morrison arriving at the nightclub Tramp in London in 1982
Ronnie Wood and Rod Stewart were regulars
Susannah Constantine parties with friends
His sister Princess Anne, on the other hand, has fonder memories of her visits to Tramp. She first went there as a mini-skirted 19-year-old not long out of Benenden School. 
Tearing herself away from the dance floor, she told Gold she had to leave early because of the annual Remembrance service the following day.
Once Shirley MacLaine fell asleep at a table and fellow actor Mel Brooks ran around the place barking like a dog.
Marlon Brando enjoyed the club so much that he insisted the exhausted waiting staff take breakfast with him in the early hours.
And in the footsteps of the celebrities came Gucci-clad playboys and oil-rich Arab princelings, all eager to join this irresistibly glamorous gathering.
Its heady mix of disco music, cheap but good food and fashionable people was a brilliant commercial success.
It was also in Tramp that — ten years after the murder of John Lennon — the three then surviving members of The Beatles sang together for the first time in public. 
'It was chilling to hear them sing All My Loving as fresh as if it had just been written,' Gold later recalled.
Times were often trying. When Michael Douglas turned up with Kathleen Turner and Danny DeVito, there wasn't a seat to be had. Douglas pleaded: 'Please find us a corner seat somewhere.'
Perched at his regular table, Johnny Gold (pictured with Joan and Jackie Collins) surveyed the comings and goings at Tramp, his famous basement nightclub, with a paternalistic pride
Gold didn't set out to be a name-dropper but for decades Tramp was perhaps the world's premier jet-set club and the names, including Brigitte Nielsen (pictured), kept dropping in
For more than half a century Tramp nightclub (pictured), so discreet you could walk past at street level without noticing it, has been a second home for royals
Gold responded by finding a stool for Turner and told DeVito and Douglas to sit on the staircase.
'They would never have stood for that in Los Angeles,' Gold related. 'But they were in Tramp and they were happy.'
Under Gold, Tramp had a democratic spirit unlike Annabel's, Tramp's rival on nearby Berkeley Square, which had a strict dress code.
Gold's path to fabled and celebrated nightclub impresario was not straightforward, however. 
After two years National Service in the Army as a young man, he worked in a garment factory and even as a film extra before joining his father in the family turf-accountant business.
But, by his early 20s, Gold was back in London and working in the fashion trade.
Just before his 23rd birthday, two friends invited him to a club called the Crazy Elephant. Among the guests sitting at the bar was Hollywood legend John Wayne, who proceeded to pick up a girl for him.
From that moment Gold was hooked on the nightlife vibe.
Married with two children, he embarked on a career which involved a working day that ended at 4.30 each morning.
Gold sold Tramp in 1998 but remained at the helm as greeter for another five years before retiring to the Bahamas where he worked on a holiday resort project.
He died in October 2021.
Source: Read Full Article