How actor Jansen Panettiere made his own success before dying at 28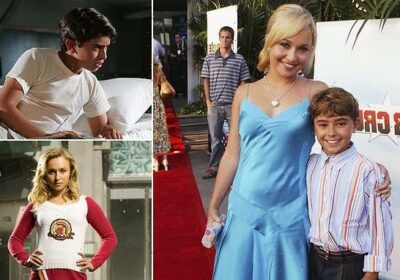 How actor Jansen Panettiere achieved his own success as a child actor and co-starred with his sister and 'best friend' Hayden in films including Tiger Cruise and The Forger but never achieved the same level of fame before dying aged 28
Jansen Panettiere was known for roles in The Walking Dead and The Forger
He often appeared with his sister and 'best friend', Hayden, of Heroes fame 
READ MORE: Jansen, 28, was found 'unresponsive' in a chair by friends
Jansen Panettiere has died at the age of 28.
No foul play was suspected after the young actor died in his apartment in New York over the weekend, a source told TMZ.
Reports have focused on his relationship with Hayden Panettiere, the sibling five years his senior known for major roles in Heroes, Nashville and Scream.
Jansen would have been 11 when his sister landed her breakthrough role as Claire Bennet on Heroes (2006-10), which led her to a string of film and TV roles, and modelling work.
But two years prior, the 'best friend' duo had already worked together on the Disney Channel's full-length film Tiger Cruise, with Hayden in the leading role.
A year later, they reprised the relationship in Racing Stripes, a 2005 sports comedy film about a circus plains zebra who wants to compete as a professional racehorse.
Here Jansen stepped up, voice acting for the younger titular zebra, Stripes, alongside Malcolm in the Middle star Frankie Muniz.
As his sister took on major roles and contracts – becoming the face of Neutrogena in late 2006 – Jansen went on to star in movies for the Disney Channel and Nickelodeon, following his sister's proven route.
Jansen Panettiere (L) is pictured with his sister, Hayden, at the 2004 premiere of Tiger Cruise
Jansen in his role as Enrique in the 2009 drama The Perfect Game
Hayden in her big role as Claire Bennet on the NBC superhero series Heroes
By the 2010s, Jansen was carving out a path for himself.
He took a role in a serious drama, The Perfect Game, released in 2010, about the 1957 Little League World Series – the first time a team from outside the United States had won the cup, with the odds against a Mexican team on expired visas and experiencing segregation.
In 2011, he worked on The Forger – another drama, this time about art forgery in California, and alongside The Hunger Games star Josh Hutcherson.
Again, his sister took on a leading role.
As he grew up, Hayden found a new interest in art and began sharing photos of his vibrant work to brighten up moody, vandalized streets and to experiment with abstract shapes.
Two weeks before his death, he posted on Instagram the last known picture shared publicly.
On his art website, where he sold his work, his bio read: 'I AM a good person. I don't do anything illegal illegal or at least I don't do illegal things that hurt people in front of me, if that makes sense.'
The actor said he had been introduced to painting by his father, an amateur artist, at a young age. 
He said spending time in LA as an adult, he became 'ridden' with anxiety and depression, which 'eventually produced a spiritual clarity that drove him to start painting his problems, one by one.' 
A source told DailyMail.com: 'He had been having a rough time lately with his career and he was dragged in so many directions.
'Hayden is just inconsolable. He was her best friend and her only brother. 
'He was such a nice guy but he lived on the edge.'
His sister has not yet publicly addressed her brother's unexpected passing. 
Jansen Panettiere worked as an artist, experimenting with abstract shapes and vibrant colors
After struggling with anxiety and depression, Jansen said art helped him paint his problems 
Jansen seen in roles in The Martial Arts Kid (2015) and The Secrets of Jonathan Sperry (2009)
Jansen Panettiere had started out a child actor attached to Even Stevens, Hope & Faith and Third Watch.
With his sister, he steadily built a portfolio of known titles, and went on to voice act in Racing Stripes, Robots and Ice Age: The Meltdown.
In later life, he began to find his own way, taking on adult roles in a range of films and working among the stars.
He is survived by his mother, Lesley, and his father, Skip.
Source: Read Full Article