Hotel boss who knocked over and killed mother of the bride on the eve of her daughter's wedding is CLEARED | The Sun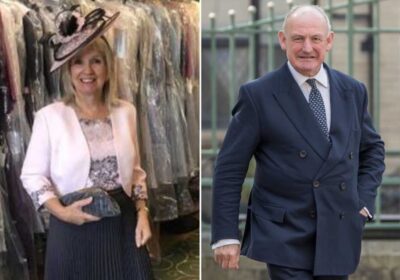 A HOTEL boss who knocked over and killed the mother of the bride on the eve of her daughter's wedding has been cleared.
Range Rover driver Nicholas Bannister, 64, hit Judith Wadsworth, 66, as she crossed a raised walkway at the luxury Coniston Hotel and Spa in the Yorkshire Dales.
Gran Judith had been collecting boxes for her daughter Rebecca's wedding from her parked car – and was walking back to reception when she was run over.
Bannister was on trial at Bradford Crown Court charged with causing death by careless driving – and was due to give evidence today.
But the CPS offered no further evidence before he took to the witness box, with the judge directing the jury to find him not guilty.
The six-day trial heard that Bannister drove on for 20 metres after knocking down Judith.
Read More UK News
Weightlifter killed when 60kg metal bar fell on his neck and suffocated him
Co-op launches drastic action to tackle shoplifting after staff attacked
He only stopped when he heard sounds under his Range Rover Vogue and a hotel employee rushed out to help Judith.
Bannister repeatedly told wedding guests "I didn't see her" after the fatal crash at 5.21pm on February 7 2020.
Prosecutor Michael Smith said that Bannister had his headlights on in the twilight when he hit Judith at a speed of 9-12mph.
He said: "Judith Wadsworth was attending the Coniston Hotel on 7 February 2020 to attend her daughter's wedding.
Most read in The Sun
SKY IS FALLING
Sky Broadband internet is down for customers as BT and Now face issues
BACK ONLINE
Katy Perry breaks silence after ex Russell Brand accused of rape
PIERS MORGAN
Russell Brand treated women like prey. Why won't Katy Perry reveal 'truth'?
AWKS
Katie Price lashes out at 'cruel' Loose Women panel in furious rant
"The party was in reception and in the usual way people do when they arrive at a hotel, people were bringing things into reception.
"Judith Wadsworth was bringing items in for her daughter from the car park into the reception area."
Smith added: "As he drove to the spa complex of the hotel, he knocked Judith Wadsworth over, unhappily, killing her.
"It's the prosecution's case that in the immediate aftermath of the collision the defendant repeatedly said, 'I didn't see her'.
"It's not disputed as the defendant struck her, he still did not realise he hit her – so he drove on for about 20 metres, before a sound under the car caused him to stop."
The prosecutor went on to tell the court that there was no longer a "realistic prospect of conviction".
Judge Jonathan Gibson directed the jury to return a not guilty verdict, which they did.
Source: Read Full Article