Hold on to your hats: Threat of thunderstorm, damaging winds for Cup Day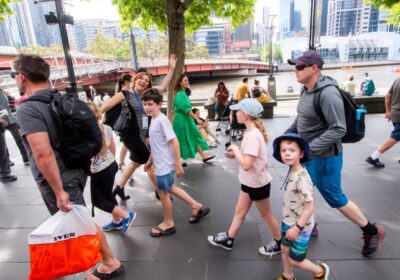 Save articles for later
Add articles to your saved list and come back to them any time.
A hot and humid day is expected in Melbourne this morning with a possible thunderstorm in the afternoon after a predicted top of 30 degrees.
The Bureau of Meteorology has forecast a 70 per cent chance of rain for Cup Day, as well as possible damaging winds and even hail and lightning over Flemington from about 2pm.
The race that stops the nation is scheduled to start at 3pm.
Vilma Riparip, Domingo Martinez, Frelyn Dela-Cruz wait for the train to Flemington Racecourse at Southern Cross Station.Credit: Rebecca Hallas
Meteorologist Dean Narramore said those headed to Flemington Racecourse for the Melbourne Cup should also prepare for windy conditions.
Narramore said the forecast was for north to northeasterly winds at a speed of 20 to 30 km/h, tending north-easterly 15 to 20 km/h in the evening.
"The forecast is for a warm and partly cloudy day with a high chance of showers, most likely in the afternoon and evening, and there is a chance of a thunderstorm," he said.
Melbourne's predicted top of 30 degrees would be the warmest day in the city this spring after temperatures peaked at 29.8 degrees on Monday.
The hot and humid conditions forecast for this year's Melbourne Cup follow a cold and windy year in 2022 when temperatures reached just 13.2 degrees. Melbourne Cup Day temperatures peaked at 30 degrees and mostly sunny in 2021.
Meteorologist Michael Efron said if Melbourne did reach its predicted top of 30 degrees today it would be the warmest day since March.
Melbourne can expect a warm and humid Tuesday with the chance of a shower or thunderstorm for Melbourne Cup Day.Credit: Justin McManus
Efron said after dry and settled conditions on Tuesday morning, Melbourne could expect a humid and potentially wet afternoon.
"There is the risk of some shower and thunderstorm activity across the Melbourne area, so potentially affecting the Flemington region," he said.
"With that activity, there is the risk of some damaging winds and even the risk of also large hail as well. That's not a certainty that's just a risk with that activity this afternoon.
"We actually had some thunderstorm activity overnight. Across parts of the Melbourne area around two or 3am we did see some storms move through, so already we have had a taste of those unsettled conditions."
It will be a warm to hot and partly cloudy day across Victoria with isolated showers and thunderstorm activity forecast everywhere except the far west of the state, mainly during the afternoon and evening.
Storm activity may be severe over parts of central and eastern Victoria with the risk of large hail and damaging winds.
Start the day with a summary of the day's most important and interesting stories, analysis and insights. Sign up for our Morning Edition newsletter.
Most Viewed in National
From our partners
Source: Read Full Article