Harry, Meghan and Doria Ragland jump in New York yellow taxi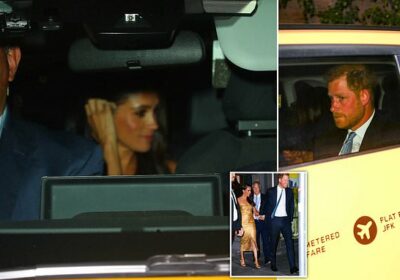 Taxi for Harry and Meghan! Duke and duchess and her mother Doria Ragland hop in yellow cab as they leave glitzy New York gala after accepting Women of Vision award
Duke and Duchess of Sussex are thought to have got into an SUV after ceremony
They then got out and into the yellow cab with Meghan's mother Doria Ragland 
Prince Harry, Meghan Markle and Doria Ragland were spotted in a New York taxi last night after leaving the glitzy gala where the Duchess received an award.
The Duke and Duchess of Sussex are thought to have got into an SUV after the ceremony at Ziegfeld Ballroom before getting out and into the yellow cab.
Photographers spotted the royal duo travelling in the back of the car with Meghan's mother, following the Ms Foundation for Women's 50th anniversary event.
Harry was sat between Meghan and Ms Ragland, while a member of their security team could be seen speaking into a microphone in the front next to the driver.
The Sussexes' departure came after they attended their first public event since Meghan's absence at King Charles III's Coronation in London on May 6.
Prince Harry in the back of a New York taxi after the Ms Foundation for Women's gala last night
Meghan is spotted in the back of the taxi after the 50th anniversary gala in New York last night
Meghan, pictured in a taxi, was given an award at the ceremony in Manhattan yesterday
The couple were accompanied by Meghan's mother, Doria Ragland, in the back of the taxi 
The Duchess sits between Doria Ragland and Prince Harry after receiving the award last night
Meghan wore a strapless gold midi dress with scalloped pattern detailing for last night's event
The ceremony honoured 'game-changing' grantee partners and visionary leaders committed to the organisation's mission of 'advancing collective power and creating safe, just and equitable futures for women, girls, and gender-expansive people'.
READ MORE Meghan uses Queen's mantra for her own crowning moment: Duchess hails 'service' as she accepts Women of Vision award at glitzy New York gala with Prince Harry
The Duchess received the Ms Foundation's Women of Vision Award, recognising her 'global advocacy to empower and advocate on behalf of women and girls'.
She wore a strapless gold midi dress with scalloped pattern detailing.
Meghan was presented with the award by renowned journalist and feminist activist Gloria Steinem.
Her acceptance speech closed out the gala where she said: 'It's just never too late to start.
'You can be the visionary of your own life. You can charter a path in which what you repeat in your daily acts of service, in kindness, in advocacy, in grace and in fairness, that those become the very things that are recognised by the next wave of women, both young and old, who will also choose this moment to join the movement and make our vision for an equitable world reality.'
Looking over at Ms Steinem, who introduced her alongside current foundation chief executive Teresa Younger, Meghan also said: 'I am a woman who remains inspired and driven by this organisation.
'It allowed me to recognise that part of my greater value and purpose in life was to advocate for those who felt unheard, to stand up to injustice, and to not be afraid of saying what is true and what is just and what is right.'
The Duchess's comments on service were notable given that her brother-in-law Prince William paid tribute to Charles's 'service' during the Coronation Concert at Windsor Castle on May 7. 
William had said: 'For all that celebrations are magnificent, at the heart of the pageantry is a simple message. Service. My father's first words on entering Westminster Abbey yesterday were a pledge of service. It was a pledge to continue to serve.'
Prince Harry and Meghan Markle at the Ms Foundation Women of Vision Awards last night
Meghan arrives in a $1,850 strapless gold dress with scalloped pattern detailing
Meghan, 41, also posed for a solo shot before making her way inside the awards ceremony 
The Sussexes were joined by Meghan's mother, Doria Ragland, for the event last night
And on May 8, at the end of the bank holiday weekend, Charles issued a message insisting that he and Queen Camilla would 're-dedicate our lives to serving the people of the United Kingdom, the Realms and Commonwealth'.
READ MORE Meghan's speech decoded: Hidden messages in Duchess' Women of Vision speech with a nod to acts of service, vowing to stand up for 'what is true' and retelling story about how she grew up eating TV dinners 
Queen Elizabeth II famously said on her 21st birthday in a 1947 speech broadcast from South Africa: 'I declare before you all that my whole life, whether it be long or short, shall be devoted to your service and the service of our great imperial family to which we all belong.'
Meghan's words also recalled when she and Harry made a statement in February 2021 after Buckingham Palace confirmed they would step down as working royals, saying: 'We can all live a life of service. Service is universal.'
The duchess's relaunch – dubbed 'Meghan 2.0' – has already seen her speak about mental health with youngsters in Santa Barbara and dine with Hollywood stars including Cameron Diaz and Gwyneth Paltrow over the past week.
Yesterday's event marks the first public event that Harry and Meghan have attended together since the duke made the solo trip to the King's coronation earlier this month.
Meghan had opted to stay at their US home in Montecito, California, with their two children Prince Archie and Princess Lilibet.
Last year the pair became the recipients of the NAACP President's Award as well as the Robert F Kennedy Ripple of Hope Award, at a ceremony also held in New York.
Source: Read Full Article