Harry and Meghan Netflix documentary LIVE: ALL revelations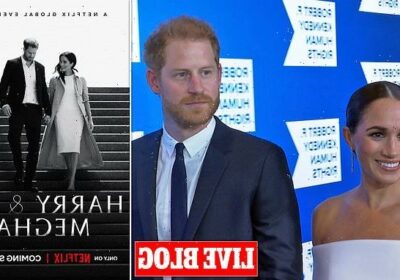 Harry and Meghan Netflix documentary LIVE: ALL revelations from the three episodes of bombshell series as Sussexes talk love and dating, share unseen photos of beloved dogs and Doria Ragland speaks out about son-in-law Duke
This is MailOnline's live coverage of the Royal Family as Prince Harry and Meghan Markle's bombshell Netflix docuseries is released, with Buckingham Palace officials braced for fresh attacks on the royal household:
Host commentator
King Charles appeared in high spirits this afternoon as he attended a community hub in London, hours after the explosive documentary was released.
The monarch, 74, smiled while meeting volunteers and beneficiaries of local community initiatives in King's Cross.
Intimate glimpse into Harry and Meghan's wedding
Royal fans have spotted a detail in one of the first episodes of Harry & Meghan which showed the couple's 'informal' approach to some aspects.
The couple shared a previously unseen photo of themselves smiling while sat with their bridesmaids and page boys, plus a quick snapshot of their wedding invitation.
Read more here:
Harry is 'like a child' while Meghan is 'dominant', body language expert claims
Body language expert Judi James told FEMAIL that Harry was 'full of anger' and still in 'mourning' over the death of his mother, as he sat down to talk to the camera in the much-anticipated show.
She added that he was also conveying a sense of anxiety and looked like a child as he discussed his first date with his wife, 41, who gently scolded him about being late and that he looked like he has an 'on-going' fear of losing Meghan.
Read more of Judi's analysis here:
World's media say there is 'no going back' for Harry and Meghan
Newspapers in Europe, the US and Australia have shared their reactions to the Netflix series, with one suggesting the couple has declared 'all-out war' with Buckingham Palace.
Germany's Bild newspaper said: 'There's no turning back for anyone' while NBC in the US said the Duke and Duchess of Sussex had 'renewed [their] clash with British Royals'.
Royal fans react
What did royal fans and viewers make of the first three episodes of Harry & Meghan's documentary?
While some argued the couple's story was 'boring', others thought they came across well.
Twenty bombshell revelations so far in Harry & Meghan so far
From Harry revealing he has 'blocked out' memories of Princess Diana to the fact the couple had their third date in Botswana, the Duke and Duchess of Sussex shared some intimate details of their personal lives with viewers in the first three episodes of Harry & Meghan.
Don't have time to watch it all? We've rounded up some of the most interesting insights here:
Royal Family 'was not approached for comment' ahead of the series, source claims
A Palace insider claimed earlier today that a claim made at the beginning of Episode One in the documentary suggesting the Royal Family had refused to comment on the series is untrue.
The episode opens with the statement: 'Members of the Royal Family declined to comment on the content within this series.'
However, the source claimed that neither Buckingham Palace, Kensington Palace nor any member of the family were approached for comment on the content of the Duke and Duchess of Sussex's Netflix series.
Meghan recalls the moment she was told a story would be published about her father posing for pictures for a story.
'That was the first I was hearing of it,' she says.
Meghan says her father denied staging photos, including one of him reading a history book on Britain as she offered to arrange his travel to London a day earlier than planned.
She recalls looking at Harry after the call and said: 'I don't know why but I don't believe him.'
Afua Hirsch says it was 'really significant' that Harry and Meghan attended a Stephen Lawrence memorial.
'It represented a direct attempt to speak to the pain that many people still feel as a result of the murder of Stephen Lawrence.'
She adds: 'That was really welcomed by many Black communities in Britain.'
Afua notes she had always perceived Harry as 'just another senior royal who's a little bit racist, very ignorant' but adds he has 'really embraced' a commitment to becoming an 'anti-racist'.
Writer and broadcaster Afua Hirsch says the Commonwealth was created when Britain played the 'strategic role' in giving formerly colonised nations independence.
She adds the Commonwealth is 'still described as that, you know, a club of friends who share common values.
'I find that language really problematic. I sometimes call the Commonwealth "The Empire 2.0".'
David Olusoga adds: 'And yet, here was a woman who just looked like most of the people in the Commonwealth. Meghan represented something. There was a hope that, maybe this is a way of having these difficult conversations that have been pushed away so many times.'
Serena Williams says Harry and Meghan are 'so tight'
Serena Williams, one of Meghan's closest friends, says: 'They as a couple are so tight and rely on each other so much, and are each other's best, best, best friends.'
After Meghan was sent a white powder package a few months before she was due to marry Prince Harry, the couple recall how their security was stepped up.
'I was just turtling,' she says.
The show cuts back to Ashleigh, who recalls she began hearing from Meghan less.
She says: 'Communication with Meg became less and less frequent. My impression was that her relationships were being managed on some level.'
Meghan recalls being advised by a communications team that it was complicated to explain in public that Samantha was not invited to the royal wedding, but Samantha's daughter Ashleigh was on the guest list.'
Meghan recalls: 'With Ashleigh, the guidance at the time was to not have her come to our wedding.'
She says it was 'painful' to explain the decision to her niece.
Meghan reveals she chose to wear 'muted tones' while out on royal engagements, claiming she had to be mindful not to wear the same colour as Queen Elizabeth II or other senior royals.
But she added: 'It was also so I could just blend in. I'm not trying to stand out here.'
Meghan Googled the National Anthem
Speaking to the camera, Meghan jokes there was no set lesson for how she was supposed to behave within the royal family and she admits: 'I had to learn a lot.'
She reveals she Googled the National Anthem ahead of royal engagements.
'I Googled it, and I'd sit there and I'd practice and I'd practise.'
As more headlines appear on the screen of Meghan 'breaking royal protocols', she says: 'It was a baptism by fire.'
Looking back on his time in the army, Harry said: 'It gave me a lived experience that other members of my family wouldn't have had.'
He says of his experience: 'You grow up pretty fast. Jeez, I went to war twice.'
Harry says the friends he made in the army are like his 'second family'.
'There are still scars left from my mum's awesomeness to put it mildly,' he says.
'The bubble within the bubble that I grew up in got burst and ultimately I'm so grateful for it.'
As he admits he is still learning about his own unconscious bias, Prince Harry harks back to younger years when he dressed up as a Nazi to attend a party.
He says: 'It was one of the biggest mistakes of my life. I felt so ashamed afterwards.
'All I wanted to do was make it right.'
After revealing he met a Holocaust survivor and spoke to the chief Rabbi in London, he says: 'I could have ignored it and probably made the same mistakes over again in my life. But I learnt from that.'
Harry says royal family is sometimes 'part of the problem'
Footage cuts to news reports of Princess Michael of Kent wearing a blackamoor brooch to Christmas lunch, which is often viewed as racist.
Recalling the scandal, for which Princess Michael of Kent apologised, Afua Hirsch says: 'One of the realities of Britain is that if you go into a palace or a stately home or anywhere that represents tradition you are likely to be faced with racist imagery.'
Addressing these issues, Harry says: 'In this family, sometimes you're part of the problem rather than part of the solution and there is a huge level of unconscious bias.'
Meghan's first Christmas at Sandringham
Meghan recalls telling her mother: 'It's just like a big family that I always wanted' as she spoke about her first Christmas with the Royal Family at Sandringham.
She jokes she was sat next to Prince Philip at dinner and thought the conversation had gone 'really well' – before Harry said she was sitting next to his 'bad ear' and probably didn't hear anything she was saying.
Meghan criticises Samantha Markle
In recalling how members of her family spoke to the press about her, Meghan says:
'The UK media I truly believe wanted my mum's side of my family to be the ones that all this drama could be stirred up with… and they just had my mum who is classy and quiet and then you have the other side of family which is just acting differently.
'My half-sister [Samantha Markle] who I hadn't seen for over a decade, and that was only for a day and a half, suddenly it felt like she was everywhere… I don't know your middle name, I don't know your birthday, and you're telling people that you raised me and are calling me "princess pushy"?'
Doria reveals she and Meghan left Thomas Markle's home when she was just two years old and Meghan says she does not remember seeing Samantha as a child.
A disclaimer says Samantha maintains that she and Meghan were close until 2018 and she believes the media 'fabricated' quotes from her.
Samantha's estranged daughter, Ashleigh Hale, and Meghan's niece, then speaks out.
She reveals her grandparents on her father's side and adds she had not seen mother Samantha since she was six years old, until later in life.
Meghan and Ashleigh then recalled how they connected via email and formed a relationship, taking her on holidays.
Meghan says: 'I think we both craved the same thing. I wanted a little sister and she was like a little sister.'
Ashleigh recalls feeling 'resentment' coming from her mother towards Meghan, and eventually they stopped talking.
'Some people you just can't reason with,' she says.
Meghan's friends say reporters were 'ruthless' in getting stories about Meghan and went to her parents' home.
Doria Ragland says: 'I can't just go walk my dogs, I can't just go to work, there was always someone there… I was being stalked by the paparazzi.'
While Meghan and an assistant discuss royal experts, Meghan asks Harry if 'people can just call themselves royal experts'.
He responds the 'title' is given to a 'select group of journalists' which act as 'an extended PR arm of the Royal Family'.
He added: So there's been an agreement that's been there for over 30 years.'
Speaking about coverage of the Royal Family, he says it's an attitude of: 'This family is ours to exploit.'
Afua Hirsch speaks about 'the idea that you can be born into a contractual relationship with the British media'.
Pictured in New York in November 2021, Meghan speaks to camera while having her make-up touched up as Harry plays the role of DJ.
He plays Elton John's Bennie and the Jets, which Meghan reveals is his favourite song.
Meghan's first walkabout
Meghan said: 'What's a walkabout?' as she recalls her first trip out in Nottingham with Harry.
'We just sort of went with it,' she says, revealing the zip on her dress broke just before she was due to head out.
Afua Hirsch and David Olusoga discuss the history of the British Empire and its role in the slave trade within the Caribbean.
Afua says: 'The first ever commercial slave voyage conducted by Britain was personally financed by Queen Elizabeth II and it continued to be financed by kings and queens right up until its abolition.'
Against this backdrop, David says the engagement of Harry and Meghan could have been 'the moment the Royal Family caught up with the rest of Britain'.
Episode three opens with Harry and Meghan's engagement interview, which Meghan describes as 'like an orchestrated reality show'.
The camera cuts to members of the Royal Family including King Charles, Queen Consort Camilla and the Princess of Wales saying they are 'thrilled' to hear the news.
Meghan says: 'We weren't allowed to tell our story because they didn't want-'
Harry cuts in and says: 'We've never been allowed to tell our story.'
Misan Harriman, a photographer, chair of the Southbank centre and friend of the couple, says a lot of people within the Black community in the UK felt 'seen' when Harry became engaged to Meghan.
David Olusoga says: 'Like everyone else, a lot of Black Britons I know were getting swept up in the romance and the wonder of this moment.
'I wanted it to work, as so many people wanted it to work.'
However, referring back to the debates around Brexit, he says: 'Immigration was in the absolute centre of those debates. And immigration is, very often in this country, a cyper for race.'
The proposal
Harry reveals he wanted to propose to Meghan earlier than he eventually did, because he had to ask for permission from his grandmother Queen Elizabeth II first.
He says: 'I did pop a bottle of champagne while she was roasting a chicken and that kind of slightly gave the game away.'
The camera cuts to a dark video of Meghan calling her friend Jess, saying: 'It's happening!'
We then see grainy shots from the proposal of Harry down on one knee as he proposed.
Meghan's former cast and crewmates and her former agent discuss what she was like on the set of Suits.
Silver Tree describes her friend as 'boiling over with ideas' and 'on a track to to bigger things'.
Meghan then discusses her now defunct blog The Tig, which she says 'became a really successful business'.
She also recalls writing op-eds for Marie Claire and Elle magazines about being biracial and the volunteer work she had done.
'I wasn't trying to find the great indie film that's going to get me an Oscar. No! I wanted to go and volunteer,' she says.
As footage is shown of Meghan and Harry speaking at UN conference, the couple speak about their shared interests.
Meghan recalls 'surreal' moment meeting Queen Elizabeth II
Meghan recalls meeting the Queen for the first time after being told at the last minute the meeting would be happening.
She says she thought Harry was joking when he asked her if she knew how to curtsy.
Harry then says: 'How do you explain that to people? How do you explain that you bow to your grandmother?'
Meghan recalls performing an over-the-top curtsy when she met the Queen, and laughs looking back.
Despite admitting she didn't know what she was doing, she recalls Princess Eugenie, Sarah Ferguson and Jack Brooksbank telling her: 'You did great!'
Harry says: 'I remember my family meeting [Meghan] and being incredibly impressed.'
However, at the beginning of their relationship, he says his family's judgment was 'probably clouded' by the fact she was an American actress.
Meghan was in 'ripped jeans' the first time she met Kate
Meghan says: 'Even when Will and Kate came over, and I had met her for the first time, they came for dinner.
'I remember I was in ripped jeans and I was barefoot. Like I was a hugger, I've always been a hugger. I didn't realise that was really jarring for a lot of Brits.
'I guess I started to understand really quickly that the formality on the outside, carried through on the inside.'
Steve Davies, Meghan's former security detail, says he has had experience looking after A-list celebrities in the past, but looking after Meghan Markle 'blew the meter right out the water'.
He reveals her driver had to take different routes to the Suits studio via alleys and back streets, to avoid the paparazzi.
Meghan recalls people in her life asking: 'Is [Harry] worth this?'
Harry says: 'Dating became the combination of car chases, anti-surveillance driving and disguises, which isn't a particularly healthy way to start a relationship.'
Meghan's friends speak about her 'beautiful life' in Toronto where she was often recognised as a Suits actress, but largely had plenty of freedom.
Chantelle Humphrey, Meghan's former PA, says her life took a 'dark turn' when she became a member of the Royal Family.
Silver Tree spoke of a 'baked-in level of curiosity and opinion with royals'.
She claims people tried to buy call sheets for Suits so they could get a glimpse of when she was onset. She also claims people were 'breaking in' to the trailer area.
'It started feeling a little bit dangerous for her,' she says.
'I don't think anyone knew how to manage that new normal. I was terrified someone was going to just be in her trailer waiting for her.'
Meghan reveals she went to the police with complaints of 'stalking', but claims she was told: 'Yes but there's really nothing we can do because of who you're dating.'
Eventually, Meghan says things changed because she received a death threat.
'I needed to have security,' she recalls.
Meghan speaks about Thomas Markle
'I was a daddy's girl my whole life, and I was with him a lot,' Meghan says.
'But I do remember also feeling lonely when I was a kid and wanting to have more people around.'
She shares footage of herself as a child, filming home videos with a camera showing both herself and Thomas sitting out on the terrace.
Harry and Meghan 'don't want to repeat their parents' mistakes
In raising Archie and Lilibet, Harry says they want to 'make sure that we don't repeat perhaps the same mistakes that our parents made'.
Meghan says: 'There's so much I think from anyone's childhood that you bring with you into the present. Especially when you're the product of divorce.'
Harry says children whose parents are divorced 'have a lot in common' regardless of their backgrounds.
Meghan says her mother and father, Thomas Markle, 'co-parented well'.
She then recited a poem she wrote when she was just 12 years old in which she expressed the difficulties of growing up between two parents and two homes.
While the couple get ready to appear onstage to accept an award at the NAACP awards, Meghan says: 'People don't talk about what it's like to be mixed race.
'So much of my self identification was trying to figure out where I fit in and I think a lot of that is like, "you're not white enough, you're not black enough" but I don't see the world that way.'
Harry says that, after travelling The Commonwealth, he felt he was educated on different cultures, different ways of living and unconscious bias.
'I thought I knew,' he says.
He continues: 'My son, my daughter, my children are mixed race and I'm really proud of that.
'When m kids grow up and they look back at this moment and they turn to me and say "what did you do in this moment"? I want to be able to give them an answer.'
Footage plays of Harry out walking while singing 'Hi-Ho' from Snow White. We hear from Archie Mountbatten-Windsor, who complains about having a 'dirty foot' in his American accent.
Harry reveals Buckingham Palace's advice in response to coverage of Meghan's race in the press was 'no comment'.
He says: 'As far as a lot of the family was concerned, everything [Meghan] had been put through, they had been put through as well, and it was like a rite of passage.
'Some of the members of the family were like: "But my wife had to go through that".'
He recalls arguing the difference in the coverage of Meghan was 'the race element'.
Meghan says: 'It was horrible, but I continued to hold the line "say nothing".'
Meghan and her mother reveal they never much discussed the issue of racism when Meghan was growing up. Later, Doria says if she could go back, she would tackle the issue.
Doria says: 'I said to [Meghan] and I remember this very clearly, that this is about race.
'And Meghan said: "Mommy I don't want to hear that".
'And I said: "You may not want to hear it but this is what's coming down the pike".'
Recalling an incident where she went to a concert at The Hollywood Bowl amphitheatre, Meghan says her mother Doria was subject to racist abuse.
After Doria honked her horn when a woman was taking a long time to find her way out of the car park, Meghan says: 'The woman turned around and screamed the N word at my mum.
'I just remembered my mum like, the grip her hand had on the steering wheel.
'And you could see it was so right where the knuckles get all white and she was just silent the rest of the drive home. We never talked about it.
'I had never in my life heard someone say the N word. It's very different to be a minority but not to be treated as a minority right off the bat.
'Obviously now people are very ware of my race because they made it such an issue when I went to the UK but before that, most people didn't treat me like a black woman.'
Meghan and Doria drive past their old home in LA where the Duchess grew up, while childhood photos of Meghan are shown.
She reveals that, when she was a baby, people asked Doria: 'Whose child is that?' because Meghan was fair-skinned, and people thought Doria must have been her nanny.
Doria reveals raising Meghan with a 'nice network of women' around her, including Meghan's grandmother and lots of friends after she split up with Meghan's father Thomas.
Meghan goes back to her old school, Hollywood School House, where she meets her former headteacher Miss Debbie.
Meghan says: 'I was a big nerd growing up… I was not the "pretty one".'
Recalling how she wrote to advertising bosses to change an advert for washing up liquid when she was 11 years old, she describes herself as 'a little activist'.
Her friend from school, Susan Williger, speaks about how Meghan loved the theatre while Doria reveals Meghan got 'straight As' at school.
Meghan deals with paparazzi for the first time
Meghan recalls a day when she was spotted by paparazzi in Toronto in 2016 after picking up flowers from a florist.
She recalls saying: 'Stay warm guys' to the photographers as it was a chilly day.
However, she claims Harry then told her not to speak to the photographers, because reports were suggesting she 'loves' the media attention.
Later she says: 'It felt like all the UK media descended upon Toronto', saying she felt 'surrounded'.
She claims: 'They had paid certain neighbours to put a live stream camera into my backyard.
'Suddenly it was like everything about my life was getting so much more insular.'
Harry says: 'There were things that were said, there were things that were written that I had to go to her to ask and that was the hardest piece.'
Meghan reveals she initially felt 'relief' when the secret of her relationship with Harry was revealed in public.
Her friends, Dhru Purohit and Vicky Tsai, speak about how happy they were to hear her good news.
Nick Collins, Meghan's former agent, recalls a 'tidal wave' on his phone.
At the beginning, Meghan says there was a feeling of: 'Don't worry, it's fine' when the relationship was first made public.
However, she adds: 'That very quickly changed.'
We hear from Doria Ragland
Doria Ragland, Meghan's mother, says the last five years have been 'challenging'.
She adds: 'I'm ready to have my voice heard, that's for sure. A little bit of my experience as her mum.'
Doria recalls the secrecy around Harry and Meghan's relationship at the beginning, and recalls her first meeting of Harry.
'He was just 6'1, a handsome man with red hair. Really great manners. He was just really nice and they looked really happy together. Like he was the one,' she says.
As episode two opens, Harry and Meghan sit in the back of a car at the beginning of a 20 minute drive, and are aware paparazzi are following them.
Harry says: 'Back in my mum's days it was physical harassment.
'Paparazzi still harass people but the harassment really exists more online now.
'Once the photographs are put out and the story's next to it, then comes the social media harassment.'
He says Meghan was going through a 'feeding frenzy' as social media posts calling Meghan a 'b****' are shown onscreen.
In the footage, Meghan appears very anxious and concerned.
As the first episode ends, Harry admits he was 'naive' about what was to come when the couple went public with their relationship.
More headlines fill the screen as a news broadcaster is heard using the word 'antichrist'.
Meghan says she trusted Harry to keep her safe.
The Royal Family live 'in a gilded cage'
Robert Hazell says he does not envy the monarchy as he believes they do not have much freedom.
He says: 'They lack most of the freedoms that the rest of us take for granted.
'They have very little autonomy in choosing their own futures.'
James Holt, executive director of Archewell, criticises the media, claiming they are looking for 'a more exposing photograph, a more shocking story'.
He recalls people telling Meghan: 'You're life's gonna change.'
Meghan reveals Harry tried to prepare Meghan for what life may be like for her when they made their relationship public.
On the night before the first story about their relationship was published, Meghan and Harry reveal they went to a Halloween party to make the most of the last night of their privacy.
Harry says: 'We could be completely dressed up and no one would know.'
The pair dressed as pilots in headpieces which gave them a little more anonymity.
Also present at the party were Princess Eugenie and Jack Brooksbank.
The couple reveal they travelled to Botswana after only having met twice in person.
He says: 'I was astonished that she said yes.'
While there, the couple lived in a tent for five days and spent every minute together.
Meghan recalls thinking: 'What am I doing? What if we don't like each other? And we're stuck in the middle of the bush in a tent!'
She recalls landing and seeing Harry for the first time in a month, which was 'awkward' at first. He broke the ice by handing her a sandwich.
Photos show the couple living in basic conditions in Botswana, drinking from cut up water bottles.
'There was no distraction, there was no cellphone reception,' Meghan recalls, before joking: 'Thankfully, we really liked each other.'
Meghan's friend and fellow actress then speaks for the first time, recalling meeting with Meghan in New York at Bergdorf Goodman for champagne.
Abigail bursts into laughter as she recalls Meghan telling her she was in love with Prince Harry.
Silver Tree then says Harry and Meghan 'invented' an arrangement for seeing each other at the beginning.
At the beginning of their relationship, the couple reveal Meghan often travelled to London and stayed at Kensington Palace so they could get to know each other behind closed doors.
Prince Seeiso of Lesotho, a friend of Harry's, recalls first meeting the young prince.
'I didn't know the boy but I thought, "Let's see what we can do with this young man".'
He adds: 'I think he came here wanting to have time out from that very aggressive treadmill.'
He says Harry had an attitude of learning rather than telling.
'I could see that Harry is very much his mother.' Prince Seeiso says.
Harry says the pair are 'like brothers' after bonding over the fact they had both lost their mothers.
Front pages of magazines and newspapers around the world are shown featuring Prince Harry.
He says: 'Not every story was false, but there was a lot of typical exaggeration and rehashing.'
Although he accepts there is interest in his family, he claims he was chased down the road on foot '30 or 40 times' when he was young.
'Everything that was happening in the UK was so intense. I was trying to balance the whole experience of being a young boy who was trying to deal with the loss of his mum without much support or help or guidance. It didn't seem right. Didn't seem fair.'
As footage plays of the aftermath of Princess Diana's death, including Harry and William laying flowers, he says: 'When my mum died we had two hats to wear.
'One was two grieving sons wanting to cry, grieve and process that grief because of losing our mum.
'Two was the royal hat: Show no emotion, get out there, meet the people, shake hands.
'The UK literally swept me and William up as their children. An expectation to see myself and William out and about was really hard for the two of us.'
Harry's childhood friend Nicky recalls watching Diana's funeral. He says: '[We] watched him walking behind the coffin. That's when you really got to know him.'
Nicky reveals he met Prince Harry at Eton College when they were 13.
'I believe that there was an agreement in place with the media that, while they were at school, William and Harry would be left a bit alone,' he says.
'But Day One we left the house to a scrum, nothing I've ever seen of flashing lights and the media are all there.'
Harry says: 'That's when the stuff that had been happening to our mum, happened to us.'
Speaking about Princess Diana being 'by herself' after separating from Prince Charles, Harry reveals how his previous girlfriends had been pushed into the spotlight.
'Every relationship that I had, within a matter of weeks or months was splattered all over the newspapers and that person' family harassed and their lives turned upside down,' he says.
'When I got to meet M, I was terrified of her being driven away by the media. The same media that had driven so many other people away from me.'
He adds he decided to keep the relationship secret at the beginning.
Meghan recalls: 'Everything was just texts and Facetimes.' She adds: 'It was just relaxed and easy. We just got to know each other.'
Harry says Diana 'spoke the truth' in Panorama interview
Footage is shown of Princess Diana asking a photographer 'as a parent' to leave her and her family alone while they were on a ski trip.
She says: 'We've had 15 cameras following us all day.'
He then refers to the infamous 1995 Panorama interview in which Princess Diana spoke with Martin Bashir.
He says: 'I think we all now know that she was deceived into giving the interview, but at the same time, she spoke the truth of her experience.'
We then see a clip of the interview in which she talks about being photographed wherever she goes.
Harry says: 'My mum was harassed throughout her life with my dad but after they separated the harassment went to new levels.'
Commentators hark back to the reign of Queen Elizabeth II. All interviews in the documentary were completed before the Queen's death.
Robert Hazell, the author of The Role of Monarchy in Modern Democracy, says the royals have popularity ratings politicians would 'die for'.
He says they need to 'maintain that popularity'.
We then see footage of the royal children on a skiing holiday in Switzerland in 1995 when they were asked to pose for photos for photographers.
Footage from Harry's childhood holidays is played, showing crowds of paparazzi taking photos of the family.
He says: 'Rarely do we have a holiday without someone with a camera jumping out of a bush or something.'
He adds the advice within the family is 'don't react'.
As footage is played of Diana looking dejected on a yacht, he recalls thinking: 'What am I a part of?'
Harry says: 'I don't really have any early memories of my mum. It's almost like, internally I blocked them out.
'But I always remember her laugh, her cheeky laugh. Her saying to me: "You can get into trouble, just don't get caught".
'I'll always be that cheeky person inside.
'The majority of my memories are being swarmed by paparazzi.'
Footage is shown of Prince Harry and William pounding on piano keys.
As they stand up, William cries: 'Harry! Don't stand on my toes' as the pair play.
Diana says: 'William is a typical three year old, very enthusiastic. Whereas um perhaps Harry is quieter and just watches. He's certainly a different character altogether.'
As the family poses for a family photo, Harry is too busy playing the piano while Charles tries to grab his attention.
Harry says: 'I think for so many people in the family, especially the men, there can be a temptation or an urge to marry someone who would fit the mould as opposed to somebody who perhaps you are destined to be with.
'Difference between making decisions with your head or your heart and my mum certainly made most of her decisions, of not all of them, from her heart.
'And I am my mother's son.'
Footage is shown of Prince Harry being revealed to the world outside the hospital by Princess Diana and King Charles.
Harry's polo pal Ignacio 'Nacho' Figueras recalls the moment Harry told him he had met Meghan.
He says: 'You could tell right away that those were the eyes of someone that had fallen in love'.
Lindsay Roth adds Meghan was 'giddy' but also wanted to get to know Harry for who he was, and not who the public thought he was.
We see a black and white photo of the couple on their first proper date. They both beam and Meghan is snuggled up to Harry.
Meghan says the couple wanted to 'capture' the feeling of being in the restaurant and says this was the moment they decided 'to give it a go'.
Harry says: 'That wa when it just hit me I was like: Ok this girl, this woman is amazing. She's everything I've been looking for and she's so comfortable, so relaxed in my company.'
Meghan then reveals Harry 'had a list' of what he was looking for in a partner. He jokes he's not going to show anyone that list.
Harry recalls the pair had a great chat for 'about an hour' before Meghan had to leave.
She says: 'I left after an hour and um, I told him that I had other plans. And then I called him that evening and I was like: Look I'm mleaving the day after tomorrow. Do you want to have dinner tomorrow night?'
She joked Harry thought it was 'so forward and American'.
Harry then laughs and says that, on their second date, Meghan was late as she'd rushed in from Wimbledon.
'I hate being late,' she says.
Meghan's friend Silver Tree recalls being told by Meghan she was going on a date with Prince Harry and thinking it was 'really funny'.
She said: 'We were like: "In what world does this happen"?'
We then see a text exchange between the couple in which Harry asks: 'So come on – what u doing tomorrow night? Hope you're having fun over there!'
Meghan replies: 'Heading back to soho. I have a dinner tomorrow at 8 but can do drinks tomorrow night. Would that work? Maybe 6?'
Harry replies: 'You're ON!'
Meghan then reveals the couple's first date was at 79 Dean Street – and that Harry was late.
Harry says: 'I was panicking, I was freaking out. I was sweating.'
Meghan says she was initially concerned Harry had an 'ego' and was the type of man who made a girl wait for him.
But when he walked in, a 'hot sweaty, red ball of mess', in his words, she realised he was 'so sweet'.
Prince Harry reveals he met Meghan over Instagram.
He says: 'I was scrolling through my freed and someone who was a friend has a video of the two of them on Snapchat.'
In the photo, Meghan has the dog face filter on. The Duchess cringes as she recalls it.
Harry says: 'I was like "who is THAT'?'
Meghan says their mutual friend told her 'Prince Haz' had been asking about her.
She recalls: 'I was like, "who is that"?' and asked if she could see his Instagram feed which she says was 'the best barometer.'
We see some clips of Prince Harry's Instagram feed which features nature and environmental shots.
Meghan criticises books written about the Sussexes
Meghan says: 'Books have been written about our story from people who I don't know.'
We then see the clip featured in the couple's first trailer, where she says: 'Doesn't it make sense to hear our story from us?'
We then cut to London in July 2016 when the couple first met. She recalls that she was single and Suits had just been renewed for another season, so she planned to travel in the meantime.
Lindsay Jill Roth, a close university friend of Meghan's, is interviewed for the first time.
'She was just going to be free,' Lindsay says.
Another friend, Lucy Fraser, says: '[Meghan] had planned a single girl summer and she had a lot of plans of goin around Europe.'
Meghan says: 'I had my plan… and then came H. I mean, talk about a plot twist.'
Meghan says: 'We've been really conscious of protecting our kids as best as we can and also understanding the role that they play in this really historical family.'
We see sweet clips of Meghan and Archie out in the snow with the baby in a snow suit, as well as Harry wheeling his son around the house on a suitcase.
Harry says: 'As parents, I think consent is a really key piece to this. That if you have children, it should be your consent as to what you share.'
When asked why she wanted to film the documentary, Meghan pauses. She says: 'I'm not gonna say that it's comfortable but when you feel that people haven't gotten any sense of who you are for so long, it's really nice to just be able to have the opportunity to let people have a bit more of a glimpse into what's happened and also who we are.'
Harry says a friend recommended the couple document the last few years of their lives amid what he described as 'misinformation' around their decision to step down as senior royals.
'It seemed like a really sensible idea,' he says.
We see a black and white photo of Harry and Meghan on their wedding day, smiling for a photo with their page boys and bridesmaids.
Meanwhile Harry says: 'She sacrificed everything that she ever knew, the freedom that she had to join me in my world.
'And then pretty soon after that, I ended up sacrificing everything that I know to join her in her world.'
In the next scene, Meghan is filmed feeding chickens at their home in Montecito with one of her children strapped to her chest.
We hear from Archie for the first time
As the camera pans across the stunning Montecito sky at either sunrise or sunset, Meghan asks Archie what he thinks.
Archie replies: 'Well, it's all done beautiful.'
She agrees: 'It's so beautiful.'
In the next clip we see Archie from behind as he totters along in front of his parents, being filmed by Meghan while Harry pushes the pram.
Meghan says: 'Archie are you having fun.'
Prince Harry and Meghan Markle sit on the sofa for their first interview to camera about their side of the story.
At the beginning of the interview, Harry says: 'I'm nervous. Why am I nervous?'
The couple are shown a video interview Meghan did with Hello! Canada in which Meghan says her favourite song is 'How it feels to be free' by Nina Simone.
The interview is clearly filmed before the couple started dating as Meghan is asked: 'Prince William or Prince Harry?'
She replies: 'I don't know… Harry. Sure.'
The couple burst into laughter, and are then told it was filmed in October 2015, a year before they met.
Harry uses the video as evidence of 'how little [Meghan] knew' about Harry before they met.
The title credits of the docuseries show clips of Harry and Meghan on their wedding day plus photos of the late Queen Elizabeth II.
Also shown are photos of Harry as a young boy cuddling up to the late Princess Diana, and a young Meghan with her mother, Doria Ragland.
Previously unseen photos of the couple cycling in California are also played, before sweet snaps of both the Queen and Doria Ragland meeting Archie for the first time.
Speaking to the camera, the Duchess of Sussex looks dejected as she sits in a shirt, jeans and a towel on her head.
She says: 'I just want to get to the other side of all of this.
'I don't know what to say anymore.'
Meghan then begins to cry.
The first three episodes of Harry & Meghan have been released.
Episode one opens with a self-taken video of Prince Harry speaking to his camera after he and Meghan finished their final royal engagements.
Viewers then see a series of newspaper headlines about the couple's bombshell decision to step down as senior royals.
Meanwhile, Meghan speaks to the camera from the US and says: 'I don't even know where to begin.'
The camera cuts back to footage of Harry who says: 'My job is to keep my family safe.'
Harry talks of the 'level of hate that has been stirred up in the last three years especially against my wife and my son.'
He says: 'I'm generally concerned for the safety of my family.'
'Seething' palace staff ask for secrecy clauses to be revoked to respond to docuseries claims
Buckingham Palace was under pressure to lift confidentiality agreements on former staff so they can counter claims made by Harry and Meghan in their Netflix series.
Members of the Sussexes' now defunct household are said to be 'seething with rage' over trailers for the six-part documentary, the first three hours of which are due out in minutes.
The couple have been shown claiming they had no protection from the Palace and that aides actively leaked and 'planted stories' against them as part of a 'dirty game'.
Now several former employees, part of what the Mail previously revealed to be known as 'The Sussex Survivors' Club', have said they either want Buckingham Palace to respond in full to Harry and Meghan's 'outrageous' claims – or the opportunity to do so themselves.
Family and friends snub Harry and Meghan's Netflix show
Prince Harry and Meghan's most famous celebrity friends – and almost all of their families – have snubbed their bombshell Netflix documentary.
In publicity material released ahead of today's transmission of the first three episodes, Netflix has promised that interviews with 'friends and family' of the couple will feature.
But the Mail revealed last night key allies – including Elton John, Vogue editor Edward Enninful and Prince Harry's 'surrogate Dad', the music producer David Foster – are not taking part.
It is thought that Oprah Winfrey is not a part of it either, and nor are the Obamas.
Moreover there will also not be a single royal 'talking head' in the Harry & Meghan series – not even Princess Eugenie with whom they remain close.
You can read the full article on MailOnline:
Royals brace for Sussex 'truth bombs' with episodes set to drop within 30 minutes
Buckingham Palace will be braced for the worst after two trailers revealed the couple will claim they had no protection from royal officials and that aides actively leaked and 'planted stories' against them as part of a 'dirty game'.
Senior royals are said to be bracing for the worst and will be prepared to address any unfounded accusations as the new series drops on the streaming service within half an hour.
The Duke and Duchess of Sussex have already made a number of claims in two trailers released by Netflix in recent days.
But the Royal Family believes the series will actually by slim on new revelations.
A source told The Mirror: 'There's a real feeling in the camp that Harry and Meghan are making a lot of noise and there isn't much more to say.
'But preparations are being made for all outcomes, especially if there are unjust accusations being made.'
You can read the full article on MailOnline:
King Charles 'could not invite' Harry and Meghan to coronation over docuseries
King Charles III 'could not invite' Prince Harry and Meghan Markle to his Coronation over their Netflix documentary, a royal expert has claimed.
Royal commentator Richard Fitzwilliams said 'it's business as usual' for the Royal Family at the moment – after the senior members all stepped out and continued their engagements following the trailers for the Sussexes' six-part docuseries.
However, he warned The Firm won't continue with this approach indefinitely, claiming that further attacks from Harry and Meghan could result in the royals 'cutting all ties' with the US-based couple.
He told The Sun: 'The question is, what can the royals do about it? Harry will always remain a prince. The only thing they can do is not invite them to the Coronation, and cut all ties – a clean cut from the Sussexes. Essentially, that's all they can do.'
However, the expert did admit that he doubted the Royal Family would release a statement following the explosive documentary, set to be released today.
You can read the full article on MailOnline:
The Duchess of Sussex has shared a statement thanking listeners and voters after winning a People's Choice Award on the eve of her bombshell Netflix documentary with Prince Harry.
Meghan's Archetypes podcast, produced as part of an £18million deal with Spotify, has been named the Pop Podcast of 2022 at the People's Choice Awards.
The podcast received the award during a show at the Microsoft Theatre in Los Angeles last night.
And in a statement released this evening, the duchess said the support of her listeners 'means the world'.
The left-leaning Oscar nominated director behind the bombshell series
Liz Garbus, the Left-leaning Oscar nominated director behind Harry and Meghan's Netflix series has had a 25-year career working on projects about oppressed women and is 'long admired' by Duchess of Sussex.
Ms Garbus is known for her critically acclaimed exposes and documenting the stories of 'survivors', and worked on the Handmaids Tale finale.
Raised in New York by a civil rights lawyer father, her career has spanned almost 25 years, covering documentaries, true crime and high-end drama.
Her notable titles include The Farm: Angola, USA; Bobby Fischer Against The World; Love; Marilyn; and The Fourth Estate.
The Duchess of Sussex previously suggested that the show's direction was in the hands of left-leaning filmmaker Liz Garbus 'even if it means it may not be the way we would have told it'.
You can read the full article on MailOnline:
Netflix will be releasing three episodes of 'Harry & Meghan' today.
The series will have six episodes in total, with the final three being released a week today, on Thursday, December 15.
It is expected to see the couple talk about their decision to leave the UK for the United States, and could touch on royal race rows and their coverage in the media.
The British Board of Film Classification (BBFC) has said the first three episodes are suitable for people aged 15 and above, as they feature 'discrimination' and strong 'language'.
William and Kate won't watch show, but Royals will respond to 'unjust claims'
King Charles and Prince William are poised to issue a 'swift and robust' response to any unjust claims in Harry and Meghan's upcoming Netflix series – but William and his wife Kate are not likely to watch it themselves, sources said.
Senior royals are said to be bracing for the worst and will be prepared to address any unfounded accusations as the new series drops on the streaming service.
The Duke and Duchess of Sussex have already made a number of claims in two trailers released by Netflix in recent days, saying they had no protection from the Palace and accused aides of actively leaking and 'planting' stories against them as part of a 'dirty game'.
But the Royal Family believes the series will actually by slim on new revelations.
You can read the full article on MailOnline:
Harry and Meghan slammed over trailers using stock clips
Trailers for 'Harry & Meghan' have used stock clips, something that has come under fire from one former royal employee.
In teasers for the series, Prince Harry, 38, claims he and Meghan had suffered from leaks and planted stories that backed up the Royal Family 'hierarchy', as a tearful duchess says: 'I realised they're never going to protect you.'
The trailers include several clips that supposedly show the Sussexes being hassled by photographers – but that actually depict different events entirely, including a Harry Potter premiere and Katie Price arriving at court in Crawley.
Pointing to the footage, the former member of royal staff said: '[Meghan] never confronted scenes where she was mobbed because we did so much to protect her… so they've had to make them up.'
You can read the full story on MailOnline:
Royal watchers across the world are holding their breath this morning ahead of the release of the Sussexes' bombshell Netflix docuseries.
Three episodes of 'Harry & Meghan' are being released on the streaming service today, with Buckingham Palace sure to be keeping a close eye on what it contains.
In publicity material released ahead of the programme, Netflix promised it would contain interviews with 'friends and family' of the couple, and provide the inside story on why they left the UK for the United States.
The show is expected to be released at 8am in the UK.
Source: Read Full Article