Ground invasion? Regional conflict? What could come next in Israel-Hamas war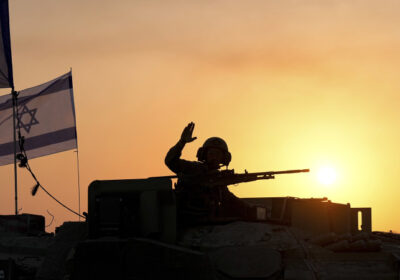 Save articles for later
Add articles to your saved list and come back to them any time.
Dubai: Less than six months ago, Israel's Defence Minister Yoav Gallant fronted a press conference warning the "era of limited conflicts" was over.
The future of multi-front wars lay ahead. Hamas' October 7 deadly attack, and the equally brutal aftermath have proven him correct.
At the time, Gallant said: "We are facing a new security era in which there may be a real threat to all arenas at the same time".
Israeli tanks head towards the border with Gaza.Credit: AP
Iran, he said, was driving this so-called "convergence of the arenas", transferring hundreds of millions of dollars, ideology and know-how to its proxies: groups like the Palestinian Hamas, Lebanon's Hezbollah, Yemen's Houthi Rebels.
"This is something that should keep the whole world, and Israel, awake at night," he said.
If it didn't then, it surely does now as Israel prepares to launch its biggest ever ground offensive into Gaza, and the threat of war on a second front – its northern border – looms large.
So in this complex situation, what scenarios could play out for Israel, Hamas and the region? We talk to experts.
No invasion
Since Hamas' October 7 attack, Israel has waged a relentless aerial campaign against the terrorist group and its apparatus embedded in the besieged Gaza Strip.
More than 7000 Palestinian civilians are estimated to have been killed in the air campaign so far, according to the Hamas-run Health Ministry, while the remainder of Gaza's two million-plus population face a humanitarian catastrophe unlike any they have endured, triggering condemnation around the world.
Israeli tanks have been stationed at the border for almost two weeks, awaiting the green light.Credit: AP
Tens of thousands of Israeli troops have spent almost two weeks massing on the border with Gaza, waiting to launch the operation Prime Minister Benjamin Netanyahu has promised will "destroy" Hamas and rain "hellfire" on its regime.
Israel has faced calls from leaders around the world for a "humanitarian pause" in the conflict, while other voices have called for a ceasefire amid fears a ground invasion would almost certainly threaten geopolitical consequences far beyond the Gaza Strip.
US President Joe Biden this week said he had asked Israel to delay the operation to assist in the return of hostages (four have been freed), while reports later suggested his administration had sought more time to secure air defence assets after a spate of attacks by Iran-backed groups on US military bases in the region.
Prime Minister Anthony Albanese at a press conference with US President Joe Biden, who said he had asked Israel to slow its operation to aid the rescue of hostages.Credit: Alex Ellinghausen
Amid reports of discord between senior members of Israel's war cabinet and the military, Netanyahu has insisted the ground operation is imminent.
With hundreds of tanks already lining the border, Linda Robinson said Israel was unlikely to back down now.
A senior fellow for women and foreign policy at the Council on Foreign Relations, Robinson said Israel had repeatedly pledged to carry out the invasion, "and they have the weight of Israeli public opinion behind them".
"The problem is, how do you do a ground invasion-light?" Robinson said, highlighting the risk of enormous casualties against military objectives they risk not achieving.
In Israel, director of the Begin-Sadat Centre for Strategic Studies Eitan Shamir said the public expectation of the military wiping out Hamas was now too great to change course.
"They raised the bar very high in terms of destroying Hamas," he said.
Bruce Riedel is a former official in the Clinton administration, who served as a member of Clinton's peace process team and was a negotiator at Arab-Israeli summits.
From Washington, where he is now a senior fellow at the Brookings Institution, he said events appeared to be driving the situation "much more than the leadership".
"There is intense frustration among many of the leaders that [Israel] don't really have a good path forward. Netanyahu knows his political career has reached its dead end…but he now wants to find some way to put a better ending on it," Riedel said.
"They can't figure out, one, how to do it at an acceptable cost to the Israeli Defence Forces…and secondly…they don't have 'a day after' plan. Nobody does."
Invasion
In a televised address to the nation on Thursday, Netanyahu said ground forces had pushed into northern Gaza to prepare for a ground invasion, and hinted it could be one of several.
"I will not elaborate on when, how or how many," the prime minister said. "I will also not elaborate on the various calculations we're making, which the public is mostly unaware of. And that is how things should be."
Israeli ground forces operated within the northern Gaza Strip on Thursday, attacking multiple Hamas targets before withdrawing, the Israeli Defence Forces said.
Rodger Shanahan, a former Australian Army officer and Middle East expert, previously told this masthead the objectives of a ground mission would be three-fold: recover as many hostages as possible, punish Hamas for its atrocities, and cripple or destroy its capabilities for several years.
While the IDF are among the best prepared military in the world, Gaza's complex urban terrain will pose extreme challenges for troops on a battleground favouring guerrilla and terrorist groups.
The greatest challenge will be navigating underground Gaza, which is honeycombed with hundreds of kilometres of dark tunnels, likely booby-trapped and difficult to reach with a bombing campaign. "Mouse holes" punched through walls will allow Hamas fighters to move around at depth where technology and connectivity may be disabled.
Israeli military expert Dr Eado Hecht estimates Hamas and other groups can muster at least 40,000 fighters to conduct "a deadly game of hide-and-seek" for an extended period.
"Destroying the tunnels with ground forces, as was done in the summer 2014 war, requires the ground force to locate well-camouflaged entrances and then transport large amounts of explosives into the tunnels along a significant portion of them," he wrote in a recent paper for the Begin-Sadat Centre.
For now, the broader ground mission remains paralysed at Gaza's border, while international pressure for restraint mounts – both to allow humanitarian aid and to better the chances of releasing the 200-plus hostages held captive in the tunnels.
Short and sharp, or slow and patient?
Military observers say the next Israeli steps will be critical in determining the course of the conflict already deemed the deadliest of five Gaza wars for both sides. Israel's government has warned repeatedly that the war will be long.
Some suggest Israel could achieve its military target of crushing Hamas by maintaining its aerial campaign, along with targeted operative raids. Others say anything less than a full-scale onslaught by tens of thousands of troops in armoured tanks will not destroy Hamas.
"Withdrawing without killing or capturing most of Hamas will definitely not provide the political and security solution we need," Hecht said.
Council on Foreign Relations' Robinson, a former foreign correspondent and now-conflict analyst, said Israel should heed the lessons of past conflicts, like Iraq and Afghanistan, which showed the shortcomings of military operations in rooting out groups like Hamas and any resulting insurgency.
"I'm very afraid that the Israeli military is actually going to get bogged down… in a difficult spot, between Palestinian casualties, its own casualties and a growing wave of [international] criticism," she said.
A second front with Lebanon
While Israel has been pummelling Gaza with rockets, its forces have also been engaged in almost daily fire across the Lebanon border with Hezbollah, fuelling fears of a second front with the Iran-backed group, which is also a designated terrorist organisation.
On the receiving end of Hezbollah's guided anti-tank missiles and mortars, Israeli forces are returning fire without escalating the response. Hezbollah claims more than 40 fighters have been killed so far, while the UN estimates almost 20,000 people have been displaced either side of the border.
If the cross border fire between Israeli Defence Forces and Hezbollah in Lebanon were to give way to a fully fledged second front, Robinson said it would be catastrophic to the Israeli military operation.
"I think they had a very hard time in the 2006 war with Lebanese Hezbollah and their incursions there. And Hezbollah is now much more experienced from its extensive operations in Syria."
Smoke rises from inside an Israeli army position which was hit by Hezbollah fighters as seen from Tair Harfa, a Lebanese border village with Israel, south Lebanon.Credit: AP
Riedel added that Hezbollah and Israeli both well understood the devastation they would suffer. It would be "unlike anything we've never seen" in an Arab-Israeli war.
"My instinct would be that Iran is telling Hezbollah, let it simmer, but don't let it boil over. If it boils over, this whole situation becomes very unpredictable and Hezbollah is a very valuable asset of Iran. It doesn't want to see that asset significantly diminished."
Hezbollah possesses far greater military might than Hamas. An estimated 150,000 to 200,000 rockets in its arsenal have the potential to reach northern and central Israel on a scale that would likely overwhelm Israel's highly effective Iron Dome.
Hezbollah leader Sayyed Hassan Nasrallah, right, meets with Ziad al-Nakhleh, the head of Palestinian Islamic Jihad, centre, and Hamas deputy chief, Saleh al-Arouri, in Beirut, Lebanon. The photo is dated October 25.Credit: AP
On the other hand, Israel has "the best air force in the Middle East, and its capacity to bomb the suburbs of Beirut and other strongholds of Hezbollah is enormous," Reidel said.
While there remains little appetite on both sides for a second front, a meeting this week between Hezbollah's usually shadowy leader Secretary-General Hassan Nasrallah and top chiefs of Hamas and Palestinian Islamic Jihad revealed closer than ever cooperation within the Iran-backed alliance.
US and Iran dragged into all-out war
Against the backdrop of rising regional tensions, the US has repeatedly warned other actors not to escalate the conflict, most notably Iran, which Secretary of State Antony Blinken singled out this week with a curt message: "Don't throw fuel on the fire".
Iran is already engaged by extension through Hamas and Palestinian Islamic Jihad, both of which it funds. Within its proxy network, the so-called "Axis of Resistance", Iran holds the most influence over Hezbollah, with members of the Iranian Revolutionary Guard Corps in senior ranks.
Senior fellow at the Arab Gulf States Institute in Washington Ali Alfoneh said it was in no one's interest for the US and Iran to be dragged into conflict.
He argued that Iran's main objectives had already been met on day one of the war: poke a hole in the Iron Dome, disrupt Israel-Saudi diplomatic normalisation, and ridicule its intelligence agencies. Hamas, meanwhile, was simply an "expendable pawn in Iran's grander chess game" with Israel and the US.
"Iran sits back and watches Israel's legitimacy decline as civilian corpses pile up in Gaza. In the meantime, Lebanese Hezbollah serves its purpose as added deterrence against Israeli bombardment of Iran's nuclear facilities," Alfoneh said.
Iran's Supreme Leader Ayatollah Ali Khamenei has denied involvement in the October 7 invasion, but praised attacks on Israel's military and intelligence structures.
As long as the conflict stays confined to Gaza, the West Bank and Lebanon, Reidel said Israel was unlikely to need American boots on the ground, thanks to the recent $US14 billion ($22 billion) aid package, on top of the $US3.3 billion ($6 billion) in defence funding it already gives Israel every year.
Only in the worst-case scenario of a full-scale war between Israel and Iran would the entry of US troops be unavoidable.
"Because if there are significant military attacks inside Iran, the Iranians are going to respond against Israel, but they're also going to respond against Bahrain, Saudi Arabia, they'll go after American bases in places like that," he said.
"And places like Dubai and Riyadh are extraordinarily vulnerable. You destroy the water desalination facilities in Saudi Arabia, and you have to evacuate the city of Riyadh."
The day after tomorrow
As a former advisor to Palestinian peace negotiators, Khaled Elgindy has been struck by the severity of the humanitarian catastrophe in Gaza, calling out a "lack of outrage" from the international community.
"It seems to be that Israel's political and military leaders are operating on the basis of rage and revenge, but nobody is asking the Israelis, what is your endgame other than death and destruction?" said Elgindy, who is the director of Palestinian-Israeli Affairs at the Washington-based Middle East Institute.
Robinson agreed that there had been too little discussion of what lies ahead for Gaza, if indeed Israel can successfully dismantle Hamas, which many say is unattainable.
As she sees it, there are two scenarios: "One is that the UN is brought in to provide a trusteeship for, in essence, a temporary government," she said.
"The other option is to bring in the Palestinian Authority. It is not calling for the destruction of Israel, unlike Hamas, but it has a very weak government and would need to refresh its legitimacy through elections."
The authority is dominated by the Fatah party, which Hamas ousted from Gaza in 2007. Its president, Mahmoud Abbas, 87, is now in his 18th year of a four-year term that expired in 2009.
Elgindy said it would be "political suicide" for the Palestinian Authority leadership to return to Gaza in any arrangement with Israel, and cement their public perception as "the Vichy government" of Palestine.
"It would absolutely destroy whatever shred of credibility they may have left, which, frankly, isn't much," he said.
Robinson acknowledged the corruption and mismanagement that has long wracked the Palestinian Authority, but said any future pathway would rely on its fundamental reform.
"Because if you don't have a Palestinian partner in this, there's no way."
More coverage of the Hamas-Israel conflict
Cascading violence: Tremors from the Hamas attacks and Israel's response have reached far beyond the border. But what would all-out war in the Middle East look like?
The human cost: Hamas' massacre in Israel has traumatised – and hardened – survivors. And in Gaza, neighbourhoods have become ghost cities.
"Hamas metro": Inside the labyrinthine network of underground tunnels, which the Palestinian militant group has commanded beneath war-ravaged Gaza for 16 years. The covert corridors have long provided essential channels for the movement of weapons and armed combatants.
What is Hezbollah?: As fears of the conflict expanding beyond Israel and Hamas steadily rise, all eyes are on the militant group and political party that controls southern Lebanon and has been designated internationally as a terrorist group. How did it form and what does Iran have to do with it?
Get a note directly from our foreign correspondents on what's making headlines around the world. Sign up for the weekly What in the World newsletter here.
Most Viewed in World
From our partners
Source: Read Full Article