George Pell slammed Pope Francis as 'disaster', 'catastrophe' in anonymous memo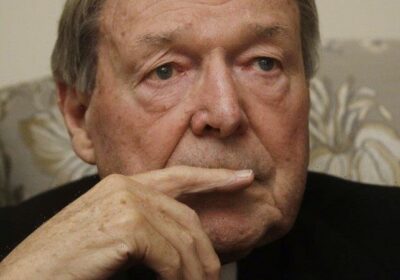 Key points
The late Cardinal George Pell has been outed as the author of a memo condemning Pope Francis.
The memo, published in March, detailed a scathing list of what Pell saw as the failures of current Vatican leadership.
The Australian cardinal criticised Francis for not speaking out for human rights and said his influence was "negligible".
Pell also lashed Francis' financial fraud investigation that has resulted in the prosecution of 10 people
Vatican commentators believed Pell could have played an influential role in the selection of Francis' successor.
Rome: The late Cardinal George Pell has been outed as the author of an explosive anonymous memo that condemned Pope Francis' papacy as a disaster and catastrophe and accused him of silence on moral issues such as the war in Ukraine, human rights in China and a push to open the Church to women priests.
The memo, which was published last year under the pseudonym "Demos", meaning "the people" in Greek, detailed a scathing list of what the author saw the failures of current Vatican leadership.
The letter also laid out the criteria he thought the next conclave of bishops to choose a new pope should prioritise.
The late Cardinal George Pell has been outed as the author of a damning memo about Pope Franics, which described him as a "disaster" and a "catastrophe".Credit:AP
Italian journalist Sandro Magister, a conservative Catholic with a long record of leaking authentic Vatican documents, revealed on his religious affairs blog Settimo Cielo, that the author was saying "he wanted me to publish it".
Pell, who had served as Francis' first finance minister for three years before returning to Australia to face child sex abuse charges, died on Tuesday at a Rome hospital of heart complications following hip surgery. He was 81.
The memo said that commentators of "every school, if for different reasons … agree that this pontificate is a disaster in many or most respects; a catastrophe."
"Decisions and policies are often 'politically correct', but there have been grave failures to support human rights in Venezuela, Hong Kong, mainland China, and now in the Russian invasion. These issues should be revisited by the next pope. The Vatican's political prestige is now at a low ebb," it read.
The Vatican announced on Thursday that Francis would deliver a final commendation and salute at a funeral mass for Pell in St Peter's Basilica on Saturday at 11.30am Rome time, as is custom for cardinal funerals.
Pell's personal secretary Father Joseph Hamilton declined to comment on Magister's report, telling media outlets he was "more preoccupied by my grief". The Vatican has declined to comment.
The memo said the political influence of Pope Francis and the Vatican was "negligible" and that papal writings demonstrate an intellectual decline from the standard of St John Paul II and Pope Benedict.
He said there had been no public support for the Catholic faithful in China who have been persecuted for more than 70 years nor public Vatican support for the Catholic community in Ukraine, especially Greek Catholics.
Pope Francis and Cardinal George Pell worked closely on reforming the finances of the Vatican.Credit:Vatican News/AP
Since the outset of Russia's 2022 invasion of Ukraine, Francis had appeared reluctant to criticise Russia by name – although he eventually did in August.
Francis accused one cardinal from northern Europe of being "explicitly heretical" on Church teachings about sexuality and laments the "active persecution" of traditionalist Catholics. He was particularly critical of the German Catholic Church for its push to embrace the LGBT community, ordain women priests and offer communion for the divorced.
Despite reaching the age limit of 80 for voting in a papal conclave last year, Vatican commentators believed Pell was poised to play an influential role in the selection of Francis' successor if the Pope were to resign or die.
He had been dividing his time between Rome and Sydney after he was exonerated in 2020 of allegations he molested two choirboys while he was archbishop of Melbourne. Australia's High Court overturned an earlier court conviction, and Pell was freed after serving 404 days in solitary confinement.
His home, near St Peter's Square, had recently become a focal point for conservatives preparing their platform and his endorsement would likely have carried significant role in choosing a consensus candidate for cardinals who shared his doctrinal commitments and concerns.
A divisive figure both in Australia and internationally, his legacy is tarnished by a royal commission finding in 2020 that he had known of children being sexually abused within the archdiocese of Ballarat in the 1970s, and criticised him for not doing more to have paedophile priests removed from the church.
While other conservatives have criticised Francis' crackdown on traditionalists and mercy-over-morals priorities, Pell attacks on the pope went further than any before, which will be likely viewed as an extraordinary indictment of the current pontificate considering Pell was a onetime close collaborator.
He lashed his involvement in a big financial fraud investigation that has resulted in the prosecution of 10 people, including Pell's onetime nemesis, Cardinal Angelo Becciu.
Outlining the priorities for a future pope, Pell wrote: "The first tasks of the new pope will be to restore normality, restore doctrinal clarity in faith and morals, restore a proper respect for the law…" , in reference to the Catholic Church's internal canon law.
A Papal conclave selects the new pope from the college of cardinals, the process by which Francis, and earlier Benedict became pope.
The selection of the pope establishes the direction of the Catholic Church. Francis' elevation to the role in 2013 marked a liberal shift after the conservative papacies of Benedict in 2005 and Pope John-Paul II in 1978.
Pell noted that after Vatican II reforms enacted in the 1960s, "Catholic authorities often underestimated the hostile power of secularisation, the world, flesh, and the devil, especially in the Western world and overestimated the influence and strength of the Catholic Church."
The memo also went into detail into the mess of the Church's finances and went to great lengths to defend Becciu, saying he was not treated with justice because he was "deprived of his cardinal dignity without any evidence" and removed from his office over suspicions of financial crime.
"He didn't get due process. Everyone has the right to a fair trial," the memo read.
"The lack of respect for the law in the Vatican risks becoming an international scandal."
Get a note directly from our foreign correspondents on what's making headlines around the world. Sign up for the weekly What in the World newsletter here.
Most Viewed in World
From our partners
Source: Read Full Article