Gardens statue to honour Andrews not set in stone… or bronze …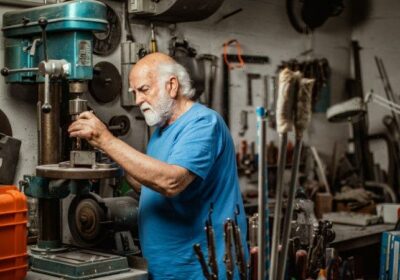 Near Melbourne's lush Treasury Gardens, four bronze statues of the state's longest-serving premiers wait expectantly for their new addition.
There's Sir Rupert Hamer, with suit and tie, positioned as if about to walk into question time. Sir Albert Dunstan and Sir Henry Bolte stand side-by-side as if locked in humorous conversation. Then finally, John Cain jr, one hand casually in a pocket as he gestures upward with the other, as if mid-statement.
The statues of Sir Henry Bolte (left) and Sir Albert Dunstan (right), side by side at Treasury Gardens in Melbourne.Credit:Scott McNaughton
What these figures have in common is they all led Victoria for at least 3000 days.
Now, as the current premier approaches that milestone on Monday, the artist behind the four original sculptures says he's willing to come out of retirement to honour Daniel Andrews.
Sculptor Peter Corlett says he hasn't been commissioned yet for a likeness of the Labor leader, but reasons he'd be the best person for the job – to maintain consistency.
"I guess that's just vanity … I'd tell them [other sculptors] to decline the commission and pass it on to me," he says with a laugh.
Sculptor Peter Corlett is willing to come out of retirement to add a Daniel Andrews statue to the four others he crafted to honour long-serving premiers.Credit:Scott McNaughton
As one of Australia's leading figurative sculptors, Corlett was approached in 1999 by the-then government to create all four premier statues. He was asked to present initial sketch models to then premier Jeff Kennett – his first face-to-face meeting with a state leader.
He likens creating sculptures to raising a baby: challenging yet fulfilling.
"You've got to meet the girl and woo her. You've got to meet the family and so on. You go through all the stages of life and then the child is born and there's your sculpture. And then the child grows up and goes off in the world," he says, wistfully.
Commissioning a piece like this costs the government a pretty penny. According to Corlett, it can be upwards of $100,000, but that's apparently not why artists accept these projects. Instead, it's about capturing the essence of an individual and the joy of creation – something Corlett has found intoxicating since he was just a "tiny little kid".
Corlett would like to immortalise Daniel Andrews like this.Credit:Asanka Ratnayake/Getty Images
The question remains, how would Corlett choose to depict Andrews? For him, the premier's joy and excitement are what he would like to capture.
"I was very struck by him when he acknowledged winning the [2022] election, where he made two fists in the air, and he looked really pleased. I thought that would make a terrific sculpture."
He concedes this may change after undergoing thorough research and meetings with friends, colleagues, family and the premier himself – the process used for each statue. But for Corlett, that iconic image seems to capture the real Andrews.
Asked by reporters this week about the 3000-day milestone and the prospect of a statue being made to immortalise him – as per the convention introduced by Kennett in the 1990s – Andrews brushed the idea aside, saying it was not occupying his thoughts.
The statues of former Victorian premiers Sir Rupert Hamer and John Cain jr.Credit:Scott McNaughton
He said no such statue would be commissioned while he was in office.
"That (3000 days) is a milestone that was dreamt up by former premier Kennett. From my point of view, there's no magic to that day," Andrews said.
"It will just be another day where we get on and deliver on all the things we said we'd do."
The Department of Premier and Cabinet confirmed Andrews would not be involved in commissioning a statue of himself, saying any statue of a long-serving premier would be considered by the government after that person has left office.
After the commissioning process, Corlett estimates it would take about nine months to craft a new statue, meaning, whatever happens from here, Victorians will be waiting sometime before anything is set in stone – or bronze.
Corlett acknowledged the elephant in the room: a statue of Andrews would add to a very long line of white men cast in bronze across Australia, while relatively few women or people of colour have been honoured in such a way.
He says he has dedicated a large part of his 40-year career to trying to commission works of heroic women, partly thanks to the encouragement of his wife who would apparently prefer to honour someone like Joan Kirner, Victoria's first female premier.
"It's been very hard," he admits. "I was driven by trying to find the right balance … But I think Andrews is worthy of a sculpture regardless of the gender balance."
The Morning Edition newsletter is our guide to the day's most important and interesting stories, analysis and insights. Sign up here.
Most Viewed in National
From our partners
Source: Read Full Article