Florida woman vanishes in Costa Rica while celebrating birthday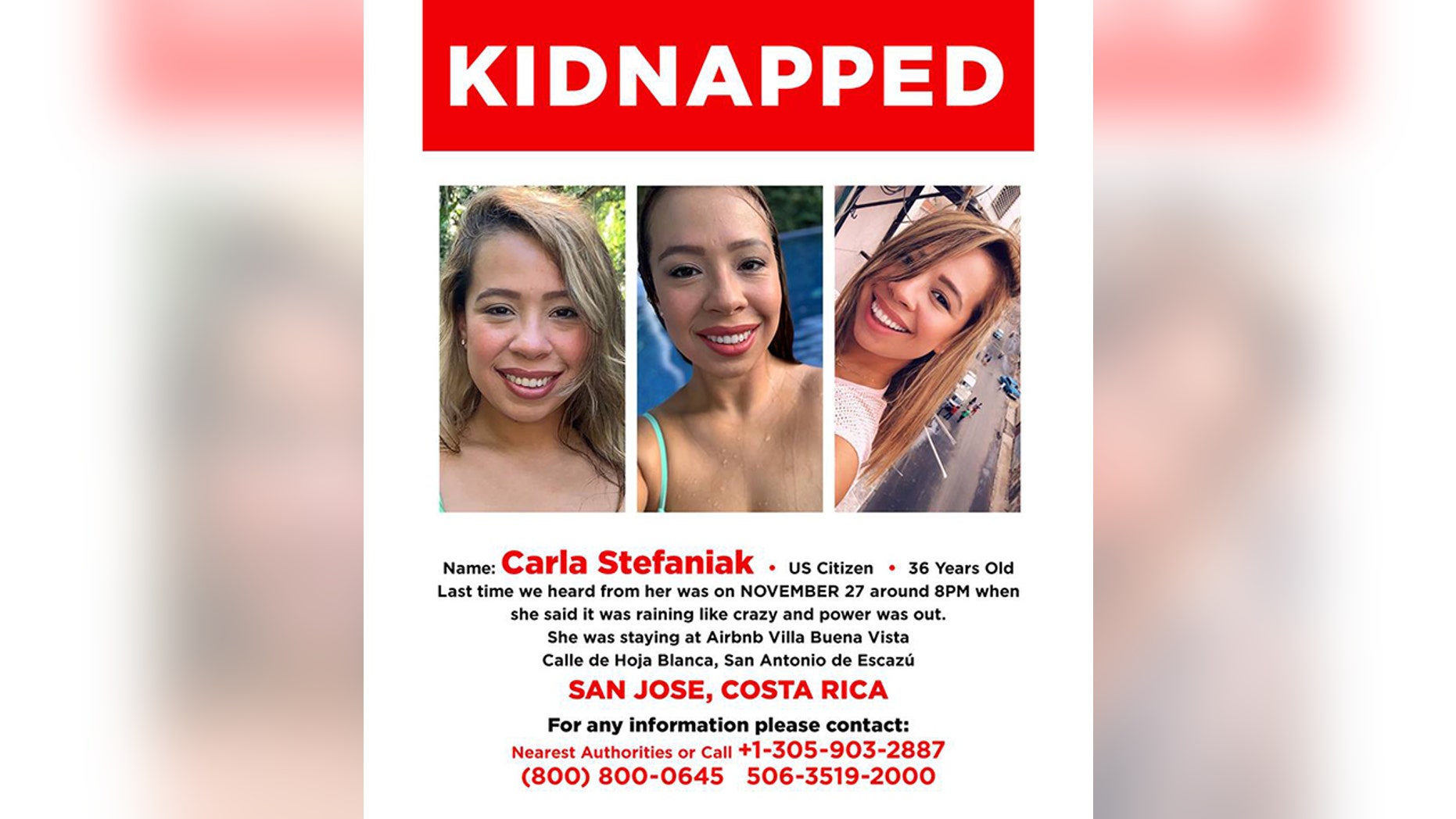 Poster seeks information for missing 36-year-old Carla Stefaniak.
(Facebook)
A family is searching for answers after a Florida woman celebrating her birthday with her sister-in-law vanished last week in Costa Rica — just hours before she was reportedly set to return to the United States.
Carla Stefaniak, of Miami, was set to return home after celebrating her 36th birthday in Central America, according to FOX13. April Burton, Stefaniak's sister-in-law left Costa Rica on Tuesday, a day earlier than when she was scheduled to return.
Burton said the last time she saw Stefaniak was when Stefaniak accompanied her to the airport.
"It was her birthday, and it makes me feel really bad. I do feel guilty because I left early," Burton told FOX13 on Sunday.
After dropping off Burton on Tuesday, Stefaniak paid an Uber driver to give her a tour around San Jose, her family said. She then called a friend and told them she was going to ask one of the guards at the Airbnb she was staying at to buy her a bottle of water – it was the last time Stefaniak's family or friends heard from her.
The Airbnb owner told Stefaniak's family she was last seen getting into an Uber with her luggage on Wednesday at around 5 a.m., FOX13 reported. But Stefaniak's Uber records don't list that transaction.
"None of us really believe this 5 a.m. story because it really doesn't make sense," Burton said. "We know she was abducted. There's no reason for her not to contact anyone."
Burton said Stefaniak told her on Tuesday a rainstorm knocked the power out at her Airbnb, according to CBS News.
"She continued with, 'It's pretty sketchy here,'" Burton said.
Mario Caicedio, Stefaniak's brother, was still in Costa Rica on Sunday searching for his sister.
"We are all destroyed, we are trying to be strong," he told the station.
Caicedio told Telemundo 51 authorities in Costa Rica believe Stefaniak may have been kidnapped because she had checked into her flight, but never made it to the plane, according to NBC Miami.
Anyone with information about Stefaniak's disappearance is asked to contact the FBI. Stefaniak's family also created a Facebook page to provide updates about the search.
Source: Read Full Article