Ex-policeman who launched string of sex attacks on young girls dies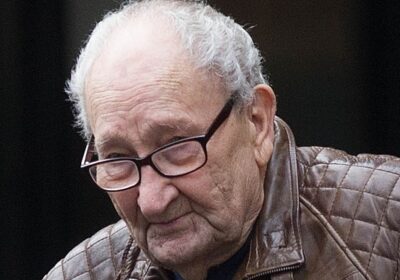 'Depraved and wicked' ex-policeman who launched string of sex attacks on young girls while he was in the force dies aged 93 after a fall in prison
James Glendenning was jailed for 23 years in 2018 for abusing girls in the 1970s
A sex attacker who abused young girls when he was a police officer and who became one of Britain's oldest prisoners when jailed has died after a fall in prison aged 93.
James Glendenning, then 88, from Reddish, Greater Manchester, was jailed for 23 years in 2018 for abusing girls in the 1970s in crimes a judge described as 'utterly depraved and utterly wicked' abuse.
One of his victims described screaming in pain when Glendenning, who had a 17-year career with West Midlands Police, attacked her and another of being threatened into silence by her abuser who vowed to beat her with a cane. .
Crown Court judge David Stockdale, sitting at Manchester and Salford Magistrates' Court, told the defendant in November 2018 he didn't have to stand in the dock because of his physical condition.
Glendenning (pictured outside court in 2018)  'betrayed' the girls' trust, the judge said, describing the pensioner's crimes as 'utterly degrading'
He had used a Zimmer frame throughout the trial.
One of his victims wept as he handed down his sentence, after he was found guilty of one charge of rape, 10 counts of indecent assault, and four counts of indecency with a child.
He told Glendenning, who denied all the charges against him: 'You committed grave offences of sexual assault, at a time when they were young girls.
'Your offences were utterly depraved and utterly wicked.'
Glendenning 'betrayed' the girls' trust, the judge continued, describing the pensioner's crimes as 'utterly degrading'.
The judge added: 'The girls submitted to you because they had no choice.
'You now bring disgrace to your former profession as a serving police officer. It's difficult to imagine a more gross betrayal of trust placed in you by innocent young girls.'
The judge acknowledged at the time of sentencing that Glendenning would spend the rest of his life behind bars.
His prediction has been proved correct after the OAP died on the 29th October after being found unconscious in his cell at Category A HMP Manchester the previous day.
James Glendenning, 88, arrived at court in 2018 using a walking frame
He is believed to have fallen from his cell bed and was found on the floor by prison officers who checked at breakfast time.
The ex West Midlands officer, who committed some of his offences whilst serving in the force, died in a local hospital.
A spokesperson for the Prison Service said:'Prisoner James Glendenning died on 29 October 2023. As with all deaths in custody, the Prisons and Probation Ombudsman will investigate.'
The court was told that one of the victims had tried to alert police to Glendennings hideous crimes years before.
The judge said: 'She went to the police but her account was not believed. That was devastating for her.'
An investigation was 'relaunched' after another complaint in 2015, the court heard.
Speaking directly to Glendenning, the judge continued: 'You meanwhile have lied and lied again.
'You lied to the police in the mid-1980s. You lied to the police in interview in 2015 and 2016.
'You lied to the jury over several days in the witness box. Your lies have now been exposed and the accounts of the two complainants dismissed by you as fabrication have been roundly accepted by the jury by their verdicts.'
Judge Stockdale said Glendenning's two victims had suffered 'appalling trauma', describing their feelings of fear, isolation as well as psychological problems, ill-health, self-harm, difficulty in forming relationships and feelings of guilt.
Praising the woman for their 'courage, stoicism and dignity', the judge said: 'This is long-term damage which abuse of young children inevitably causes,'
'It's to be hoped after all these years they may now find a degree of closure.'
Keith Harrison, defending, referred to the 'extreme old age' of his client and 'diminished life-expectancy' because of ill-health and infirmity as mitigation.
Mr Harrison said: 'He does not suffer from an immediate life-threatening condition, but as you have observed during the trial, he has real health problems which diminishes his quality of life.
'He's lost all he had in the outside world, accommodation, finances, where his life is one of life in prison. That's the sad reality of his situation.'
Glendenning showed no reaction as he was helped from the dock down to the cells to begin his sentence.
An NSPCC spokesperson said in 2018: 'Glendenning has shown no remorse for his actions which have had a devastating impact on the lives of his victims.
'But because of their bravery in speaking out, Glendenning's appalling crimes against children have finally caught up with him.
'We hope the survivors are now receiving the support they need. At the NSPCC, our Letting the Future In service works with children who have experienced sexual abuse to overcome the experience and rebuild their lives.'
Britain's oldest prisoner was believed to be 105-year-old great-grandfather Ralph Clarke who was jailed for 13 years in 2016 for sex attacks on a boy and two girls between 1974 and 1983.
The former lorry driver, from Birmingham, died at HMP Salford in February 2021.
Source: Read Full Article