Ex-BBC DJ Chris Denning, 81, dies serving time for child sex offences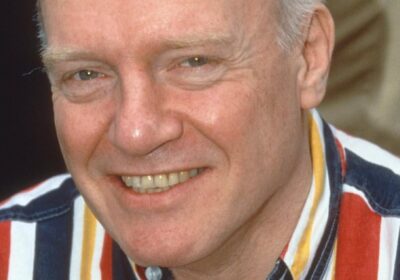 'Depraved' former Radio 1 DJ Chris Denning, 81, dies in prison where he was serving 13 years for sex offences against boys as young as eight
Former BBC DJ died from diabetes while behind bars following Yewtree probe
The 81-year-old was exposed in the 1970s and had convictions across Europe
A notorious paedophile and former BBC Radio 1 DJ once described by a judge as 'depraved' has died behind bars while serving sentences for abusing young boys.
Chris Denning was serving two 13 year prison sentences after being convicted of sex offence against boys as young as eight under Operation Yewtree.
Denning found fame in the 1960s as a BBC DJ, serving as one of the founding disc jockeys on the station, and once held a party in the home of notorious paedophile Jimmy Savile.
In addition to using his fame and showbiz connections to dazzle his child victims, he opened a string of computer game shops to lure boys for abuse. 
His death at the age of 81 in hospital from diabetes last year has only just been disclosed in a prison watchdog report into his care in prison at HMP Bedford.
Chris Denning (circled) was one of the founding DJs on BBC Radio 1 – as seen here in a now iconic promotional shot launching the station. Back row, left to right: Tony Blackburn, Jimmy Young, Jenny Everett, Duncan Johnson, Robin Scott, David Rider, Dave Cash, Pete Brady, David Symonds. Middle row, left to right: Bob Holness, Terry Wogan, Barry Aldiss, Mike Lennox, Keith Skues, Denning, Johnny Moran, Pete Myers. Front row, left to right: Pete Murray, Ed Stuart, Pete Drummond, Mike Raven, Mike Ahern, John Peel
Chris Denning – pictured here in 1997 at a BBC reunion promotional event – was serving two sentences for child sex offences at the time of his death
Denning found fame as a founding DJ on BBC Radio 1 – but was later exposed as a sex offender who was convicted several times in a period spanning decades
READ MORE: BBC Radio One DJ Chris Denning is jailed for 13 years for sex attacks on children as young as EIGHT as it is revealed he took a 14-year-old to meet Gary Glitter 
Denning hosted shows on Radio Luxembourg, where he interviewed The Beatles, then hosted shows with Kenny Everett for the BBC.
He was one of the founding DJs on BBC Radio 1 and was the first voice ever to speak on BBC2.
He left the BBC for Decca Records, then moved to Bell Records, where he helped to launch the careers of paedophile Gary Glitter and the Bay City Rollers.
Their manager, Tom Paton, was convicted of gross indecency involving boys aged 16 and 17 and is alleged to have been a paedophile.
But in the 1970s Denning was exposed as a sex offender.
He was convicted of gross indecency in 1974.
In 1988, he was jailed for three years for indecent assault and possessing indecent images.
In 1996, he was prosecuted for publishing indecent articles.
Despite his numerous convictions, he was invited in 1997 to participate in a 30-year anniversary reunion for BBC Radio 1, alongside Terry Wogan, Tony Blackburn and John Peel.
Denning pictured in 1967. By this time he had already been convicted of sex offences in Germany – and would later be convicted of gross indecency in the first of several UK convictions in 1974
Despite his convictions in the UK, Denning (middle row, second from right) was invited by the BBC to recreate the BBC Radio 1 line-up photo in 1997. Back row, left to right: Tony Blackburn, Jimmy Young, Robin Scott, Duncan Johnson (kneeling), Dave Cash, Pete Brady. Middle row, left to right: Bob Holness, Terry Wogan, Keith Skues, Denning, Pete Myers. Front row, left to right: Pete Murray, Ed Stewart, Pete Drummond, Mike Ahern, John Peel
The Plavecky Swimming Pool in Prague, Czech Republic, where Denning had picked up boys to later photograph as he abused them in the 1990s
Police in Prague carried out surveillance of Denning before he was jailed; he went on to be jailed in Slovakia for five years after producing indecent images of children
READ MORE: Jimmy Savile, Martin Bashir's Panorama interview and the police raid on Cliff Richard's home: The scandals involving high-profile stars that have rocked the BBC 
Fact-box text
It was later revealed that he was already a convicted sex offender in Europe before he ever found fame in the UK.
He was prosecuted in 1959 in Germany for circulating pornographic images. In the late 1990s, Denning relocated to Prague, where he was accused of running a paedophile ring.
Denning had photographed himself abusing boys he picked up from amusement arcades and swimming pools. 
He represented himself in that case and delivered a record 44-hour closing argument, which only ended when the judge cut him off. He was convicted of abusing boys under 15 and jailed.
In 2001, it was announced that police were seeking to extradite Denning from the Czech Republic to question him under Operation Arundel – the investigation into paedophile offences linked to the Walton Hop – a disco for teenagers.
That was the operation that saw former DJ Jonathan King convicted of abusing boys. The extradition failed and Denning went on the run after his Prague sentence ended, first settling in Slovakia.
In 2005, The Sun newspaper tracked him down in Austria, which promptly deported him to England. The following year, at Kingston Crown Court, he admitted five charges of abusing boys under 16 and was jailed for four years.
After the Kingston case, Denning was extradited to Slovakia and sentenced to five years for producing indecent images of children.
By the time the Jimmy Savile revelations triggered Operation Yewtree in 2013, he was back in the UK, living in Basildon, Essex.
Denning was convicted in 2014 at Southwark Crown Court of 40 offences against 24 boys aged between nine and 16. The charges were brought under Yewtree.
Denning being escorted to court in Prague by a Czech justice guard in March 2000. He was jailed after being convicted of abusing boys under the age of 15
Denning returned to the UK after serving his sentence in Slovakia – and was convicted of 40 offences against 24 boys aged between nine and 16 in 2014. Pictured: a court sketch of Dennings being sentenced
The court heard he had taken some victims to Top of the Pops recordings and introduced them to Jimmy Savile, even abusing one boy at Savile's home.
Judge Alistair McCreath labelled Denning 'utterly depraved' and sentenced him to 13 years.
In 2016, he admitted abusing another 11 boys, as young as eight, and was sentenced to another 13 years.
In July 2021, Denning was suffering from Parkinson's Disease, diabetes, a heart abnormality, high blood pressure, glaucoma and bed sores.
He decided in January 2022 that he did not wish to be resuscitated if his heart or breathing stopped.
He died at Bedford Hospital on June 24, 2022, from a bone infection caused by diabetes.
A clinical reviewer for the Prisons and Probation Ombudsman found that, 'when clinical readings first showed that Mr Denning needed emergency care, he was not transferred to hospital for treatment'.
The care he received in custody was worse than he could have expected to receive as a free man, the reviewer said.
The Prisons and Probation Ombudsman, which investigates deaths in custody, published a report saying it found 'issues of concern in Mr Denning's end-of-life care'.
Source: Read Full Article