'Erdogan resign!': Earthquake fallout threatens strongman's chances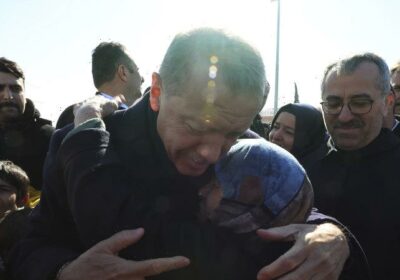 Istanbul: As the people of Turkey's once prosperous south-east waited for help in the rubble of their homes after last month's earthquake, one question kept coming up: "Where is the government?"
The disaster on February 6 killed nearly 45,000 in Turkey alone, left millions homeless across an area almost as large as Germany. Adding victims in Syria, the death toll has surpassed 50,000.
In the days and weeks that have followed, fury at the Turkish government and the lack of properly enforced building regulations has spread well beyond the earthquake zone and increasingly focused on Recep Tayyip Erdogan, the strongman president.
Turkish President Recep Tayyip Erdogan hugs a survivor in Kahramanmaras, a city devastated by last month's earthquakes.Credit:Turkish Presidency/AP
Fans of the country's two major football clubs – including the president's favourite team – chanted "Erdogan Resign!" at games in Istanbul last weekend. The two teams have since been ordered to play to empty stands, but the scale of the anger in the population is clear.
With elections in May, Erdogan appears worried. This week, while visiting the city of Adiyaman, he hugged children, stopped to listen to tearful old ladies, and even asked for "helallik", an Islamic term loosely meaning "forgive and forget".
Collapsed buildings block the streets on in Samandag, Turkey after the magnitude 7.8 earthquake hit near Gaziantep on February 6.Credit:Getty Images
The earthquake has exposed his government's fatal failings, and with many seeking to hold him personally culpable, he is facing the most serious challenge to his grip on Turkey yet.
"Erdogan is responsible for this disaster because he wanted to be responsible for everything in this country," said Sera Kadigil, an Istanbul MP from the Workers' Party, who is coordinating volunteer efforts in the badly affected region of Hatay.
She is not alone: every prominent opposition politician has sought to pin the disaster on Erdogan personally.
This week, the Workers' Party filed a criminal complaint with the prosecutor general's office against 24 top officials, including the president, seeking charges on counts including murder.
"The Turkish public is devastated and in shock because there's a sense that the system is crumbling but there is no guarantee that it can be replaced by anything else," Asli Aydintasbas, a visiting fellow at Brooking Institution, said.
Converting dissatisfaction into an electoral defeat for Erdogan remains a huge task, particularly given the fractured state of the country's opposition.
Even before the earthquake, various political groups mounted a rare campaign to unite. The so-called Table of Six brings together the leaders of six opposition parties with widely differing agendas. But they have been unable to agree on a joint candidate to challenge Erdogan at the polls.
With swathes of the nation in ruins, some have suggested it would be prudent to push the election back, something Erdogan has vowed not to do.
Opposition hopeful Kemal Kilicdaroglu, leader of the Republican People's Party, this week agreed, saying Turkey could not lose any more time with Erdogan and his party in power.
"We don't have a year, not even a day to give you," he said. "We can't endure any more of your incompetence."
The Telegraph, London
Most Viewed in World
From our partners
Source: Read Full Article