'Drowned in her own blood': Accused ACT cold case killer arrested in Melbourne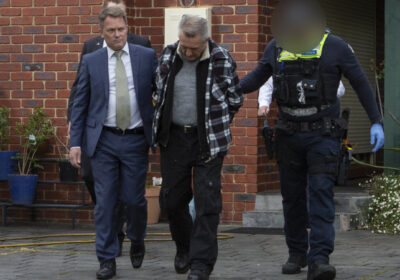 Save articles for later
Add articles to your saved list and come back to them any time.
A Melbourne man will be extradited to Canberra in the custody of police after being arrested on suspicion of murder over the cold case killing of 72-year-old grandmother Irma Palasics, who drowned in her own blood.
Steve Fabriczy, 68, of Rowville faced Dandenong Magistrates' Court on Thursday where he applied for release on bail.
68-year-old Rowville man Steve Fabriczy was arrested on Wednesday.Credit: ACT police
In opposing bail, Detective Sergeant Craig Marriott told the court police had serious concerns that Fabriczy – also known as Istvan Fabriczy – could flee the country if released to make his own way to the ACT, as he is a dual citizen of Hungary.
Marriott said they also feared the 68-year-old may interfere with witnesses with his alleged co-offender still on the run.
He said Fabriczy's arrest related to a home invasion at the home of elderly residents Gregor and Irma Palasics, who were at their McKellar home in Canberra when two masked men forced their way inside about 9.30pm on November 6, 1999.
Irma PalasicsCredit: AFP
Marriott said the couple, aged 73 and 72, were bound and savagely beaten before the offenders ransacked their Grover Crescent home and stole cash and jewellery.
While the elderly man was later able to free himself and phone police, Irma did not survive her injuries and died at the scene.
Gregor died years later never knowing his wife's killer.
"They were violently assaulted. They were bound with cable ties, duct tape and a telephone cord and the house was ransacked. After a period of what's estimated to be about an hour, Mr Palasics, who had been in and out of consciousness, was able to free himself from his bindings and found his wife face down in the hallway," Marriott said.
"He rolled her over and removed her bindings but she had passed away. She had effectively drowned in her own blood [from a broken nose]."
Plea for help: John Mikita puts up posters close to the McKellar home in which his grandmother Irma Palasics was killed.Credit: Jay Cronan
The detective said following a largely fruitless investigation, a DNA match was later established in 2019 through the national crime investigation DNA database.
Those inquiries culminated in Fabriczy making partial admissions to his involvement in the incident on September 8 this year, he said.
"He admitted being in the premises for the purpose of the burglary," Marriott said.
"He gave details of that burglary we say [were] only known to persons involved in that incident and not otherwise known publicly.
"He denied assaulting and murdering anyone but we say these are false denials."
The court heard while Fabriczy owns his own home in Australia he has no family here, with police aware he planned to return to Hungary, where he owns land, upon his retirement.
Fabriczy also has about $250,000 in savings, the officer said, creating further concern that he had the means to leave Australia.
"I'm also aware he's … made statements to Victoria Police while in custody about wanting to harm himself. He made the same statement to us," he said.
"He asked us to shoot him."
The court heard while the 68-year-old had no prior offences for failing to answer bail, he did spend time in prison from 2010 to 2012 after being convicted of conspiring to hijack a truckload of cigarettes.
Magistrate Jason Ong ultimately refused bail and ordered Fabriczy to appear in Canberra Magistrates' Court on Friday where he's expected to be charged with a single count of murder.
In a statement released on behalf of the Palasics family earlier this week, they said after nearly 24 years of pain, questioning and uncertainty, they had never given up hope of finding out who was responsible for the heinous act.
"My grandparents did not deserve what happened to them. Not only was Irma murdered but Gregor's life all but ended on that night and ours have never been the same," they said.
Outside court, Detective Superintendent Scott Moller from ACT police said this week's arrest was immensely satisfying for investigators.
"The family of Irma Palasics never gave up hope, never ceased asking for community assistance and always worked to keep the case in people's minds," he said.
Moller said police were continuing to work to identify and charge a second suspect and believe it's only a matter of time before this occurs.
"I am confident it is only a matter of time before we … are able to provide full closure for the family and the Canberra community," Moller said.
The $500,000 reward offer remains active and information received can still be considered for this reward.
Anyone with information is urged to contact Crime Stoppers on 1800 333 000, or visit act.crimestoppers.com.au.
Get the day's breaking news, entertainment ideas and a long read to enjoy. Sign up to receive our Evening Edition newsletter here.
Most Viewed in National
From our partners
Source: Read Full Article