Don't put Cassius Turvey case at risk, warn West Australian police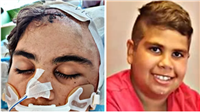 Western Australia's police commissioner has said he is "horrified" by the alleged murder of 15-year-old Noongar boy Cassius Turvey, but has warned against making statements that could prejudice future court proceedings.
In a statement to media on Friday afternoon, Police Commissioner Col Blanch said justice for Cassius was a top priority and that WA Police were dedicated to stamping out racism in the state.
Cassius Turvey, before and after the alleged attack.
But he said people needed to be mindful not to put future court cases at risk.
"When it comes to this case, we all want justice for Cassius. The best way we can do that is let the court process take its course. Why would any of us put that in jeopardy?" he said.
"We've seen it in the past. Juries can be let go, trials can be adjourned. Justice can be delayed. None of us want that for Cassius.
"The community would not accept a commissioner of police damaging a judicial process because I had views before they were found in court. That is not my role as commissioner, that is not the role of police.
"I would caution everyone in commenting directly on the motivations of this case. They may be true but at the end of the day, that's for the court to decide."
But he apologised for comments he made earlier in the week that Cassius was "in the wrong place at the wrong time."
"I regret the impact of my words," he said. "Cassius was an innocent victim of a violent attack, resulting in his death.
"This is a tragedy, but it is a very rare tragedy.
"We must bring the confidence to those families, to the community, to know that it is safe for kids to be out there. But there is no doubt because of this tragedy, there will be fears among the community.
"It is my job as commissioner to lead the police to provide that reassurance and comfort and that sense of safety."
But Indigenous leaders have spoken out in an open letter, calling for a better response from police and the state government.
"The premier and police commissioner are telling us to be quiet. We know attacks on our children are real. They are minimising this horrific killing of young Cassius. This is wrong and dangerous, especially as our people are not selected for juries," the letter reads.
"We as a Noongar Nation are outraged by this mindless, inhumane, cowardly racist act against an innocent child. We call on government to meet us now."
The 21-year-old accused, Jack Brearley, will appear before court next month. He was also charged with aggravated assault occasioning bodily harm and stealing.
It will be alleged Brearley assaulted a 13-year-old boy who was with Cassius by hitting him with a metal shopping trolley handle.
Police will also allege the man stole the boy's walking crutches and his cap.
Most Viewed in National
From our partners
Source: Read Full Article