Donald Trump takes brutal swipe at 'negative force' Nicola Sturgeon in bombshell exclusive interview at Turnberry | The Sun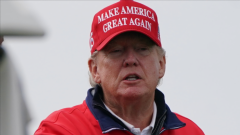 DONALD Trump today took a swing at embattled Nicola Sturgeon – insisting she was "anti-business" and a "negative force" for Scotland.
In an exclusive interview with The Scottish Sun at his luxury Turnberry golf course, the ex-President insisted the crisis-hit former First Minister was "not very nice to him" and should have been more like his "friend Sean Connery".
But he had warmer words for her successor Humza Yousaf – insisting the new SNP leader was "a good man".
Enjoying a meat pie, chips and coke with our reporter John Glover inside the resort's famous lighthouse, Trump, 76, said: "Nicola Sturgeon has not been very nice to me.
"She never liked what we did for Scotland. My mother was Scottish. The people of Scotland are very proud of what I did for Scotland.
"She has been a very successful politician but now that she is out of office it would be a good change for Scotland.
READ MORE DONALD TRUMP
EastEnders fans expecting a bloody Xmas as festive episode air post-watershed
"I think you should embrace people like my friend, Sean Connery. He was very proud of me and what I did for Scotland.
"I think she (Sturgeon) was anti-business. She is a negative force.
"She has hurt Scotland. She has hurt education and tourism. She should have embraced us."
Mr Trump's swipe at Ms Sturgeon over education comes after Scotland's school standards slumped on international scales during the SNP's time in power – and after the ex First Minister failed on her aim to eliminate the poverty-related attainment gap.
Most read in The Sun
Moment man arrested 'for throwing gun cartridges into Buckingham Palace'
Coronation Street actress Rebecca Ryan gives birth and reveals adorable name
Boy, 9, died after being 'beaten & held in cold bath by mum and her fiancé'
Towie's Amber Turner and Dan Edgar split after six years together
On Mr Yousaf, the controversial businessman said: " I don't know the gentleman but I hear he is a good man."
He also revealed he hoped Prime Minister Rishi Sunak would step in to help Turnberry land The British Open golf championship.
The course has hosted four times previously but golf chiefs of the R&A distanced themselves from the venue after the Capitol Riots in January 2021.
Mr Trump added: "Turnberry is a great course. It is the number one course. All the golfers want it (The Open) back here but it's up to the R&A – and the Prime Minister has an impact. I think the Prime Minister should insist on it returning to Turnberry.
"Sturgeon had a big impact on the Scottish Open. We have two of the top courses in Scotland. She should have been begging us. We didn't deal with her much as she was a negative force."
Nicola Sturgeon recently described the fraud probe crisis that has engulfed the SNP in recent weeks as her "worst nightmare".
But the former party leader said the police investigation into the party's finances did not influence her decision to stand down as FM in February.
Ms Sturgeon said she "could not have anticipated" what happened in the weeks since she resigned.
Her husband Peter Murrell was arrested last month as officers spent two days searching their Glasgow home as part of the ongoing investigation into funds.
Mr Murrell, the SNP's former chief executive, was later released without charge pending further inquiries.
Party treasurer Colin Beattie was arrested almost two weeks later before also being released while further investigations are carried out. He has since resigned as treasurer.
Ms Sturgeon told reporters last month: "Clearly the events of the last few weeks have been difficult – and I use this word advisedly and deliberately – in some respects very traumatic."
Read More on The Sun
Shoppers are going wild for M&S midi dress that's ideal for the Coronation
Here's why you must NEVER pee in the shower – and 4 other habits to avoid
In March, Mr Trump became the first ex-US President to face criminal charges over alleged hush payments to porn star Stormy Daniels. He is due to reappear in court in December.
We pay for your stories and videos! Do you have a story or video for The Scottish Sun? Email us at [email protected] or call 0141 420 5200
Source: Read Full Article