Cenotaph is targeted by eco zealots as fears grow protesters could spark chaos at Remembrance Sunday parade | The Sun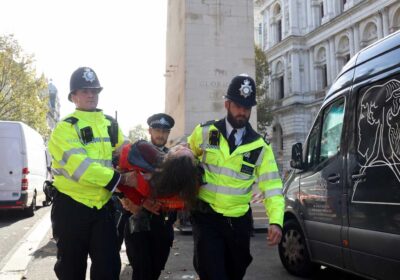 ECO zealots have descended on Whitehall and were seen targeting the Cenotaph as fears grow over the Remembrance Sunday parade.
Just Stop Oil protestors were pictured lying next to the sacred war memorial today with cops arresting 100 people.
The group had staged a slow march towards the remembrance memorial.
One officer said the protesters had been moved to the site "to get them off the road", adding: "It was for their own safety, obviously it's quite a busy road."
Shadow Home Secretary Yvette Cooper posted on X that "targeting the Cenotaph is totally unacceptable".
She added: "Full support for the police in taking necessary enforcement action."
Read More in UK News
DAMP SQUIB
Met Office warns of a total wash-out this week with rain EVERY day
SHOCKING SCENE
Moment crowd watched man drowning in river & took selfies instead of helping
The Metropolitan Police confirmed that no protestors glued themselves to the road.
A spokesperson for the force said: "Around 100 arrests were made by officers along Whitehall during another day of disruption by Just Stop Oil.
"These arrests were made for breaching Section Seven of the Public Order Act at various points between Trafalgar Square and Parliament Square, including near to The Cenotaph.
"No protester glued themselves to the road. There were no offences linked to The Cenotaph."
Most read in The Sun
NOT LONG NOW
I'm A Celebrity 2023 start date revealed – and it's just DAYS away
SENDING LOVE
Lorraine mourns 'saddest news' as ITV colleague dies months after giving birth
STRICT EXIT
Strictly shock as favourite is axed & Claudia brands dance-off 'closest ever'
'WHOLESOME'
Steve Cooper reaches out to distraught Forest fan after playing The Last Post
It comes ahead of fears that the Remembrance Day parade could face chaos from protestors.
Concerns have already been growing that pro-Palestine protests will clash with the memorial parade, wreath laying ceremony and two-minute silence being held in the capital.
Rishi Sunak said that Metropolitan Police have ministers' "absolute and total backing" to tackle criminality, ahead of the pro-Palestinian march on Saturday.
Speaking to broadcasters today, the PM said: "Remembrance Day is a time for national reflection. It is a time when I know the whole country will come together to pay tribute to those who have paid the ultimate sacrifice to keep us safe.
"I want to make sure police have our absolute and total backing to clamp down on any acts of criminality, but also to ensure public order."
It comes as a poppy seller was forced to leave an Edinburgh train station after pro-Palestine protesters staged a concourse sit in.
The Scottish Poppy Appeal said that the elderly volunteer packed up the stall at Edinburgh Waverly station after hundreds of demonstrators flooded the concourse.
Meanwhile a pair of Just Stop Oil protesters have been arrested after glass protecting the Rokeby Venus painting at the National Gallery in London was smashed.
Read More on The Sun
Money matters
I budgeted £100 each for my kids' Xmas gifts – trolls say they 'have nothing'
KEEPING WARM
Full list of cold weather payments to help you through the winter
The Met Police said two activists had been arrested on suspicion of causing criminal damage.
The artwork, which was painted by Diego Velazquez in the 1600s, was previously slashed by suffragette Mary Richardson in March 1914.

Source: Read Full Article