Casting a line in a Fairfield paddock, now that's pretty fly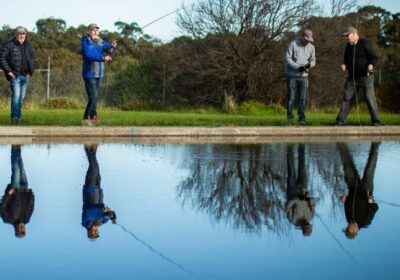 If you venture into the far-flung fields of Fairfield's Yarra Bend Park on a weekend, you might come across a curious sight.
People are standing on the edge of a shallow concrete pool, but they're not here to swim. They appear to be fishing, but there are no fish in the water. What is going on?
School of thought: Vin McCaughey at Red Tag Fly Fishers' Club's casting pool at Fairfield.Credit:Scott McNaughton
Welcome to the Red Tag Fly Fishers' Club. This pool, in a paddock near the Eastern Freeway and the Yarra River, 5km north-east of Melbourne CBD is for practising the fine art of fly casting.
The club, which is turning 90, continues as it has for generations — members practise casting for distance and accuracy. They also practise fly tying – making artificial bait – and they fish in rivers and lakes across Victoria.
One change is that modern members are encouraged to 'catch and release' the fish, for the sake of sustainability.
President Barney Stephens said membership rose from 100 to 130 during the COVID-19 pandemic when talks and fly tying workshops were held online.
Vin McCaughey, standing, helps teach fly tying at East Ivanhoe Bowling Club.Credit:Joe Armao
The club now hosts fly tying classes at East Ivanhoe Bowling Club, but later this year, Red Tag will have its own clubroom in a new sports pavilion near the Fairfield casting pool.
Red Tag vice-president Vin McCaughey, 84, a member for 60 years, says fly fishing is the perfect hobby.
"It keeps you fit," he said, "and it's ideal because you can do it when you're seven and when you're 90."
McCaughey advises new members such as Oliver Anderson, 8, and his father Keith, 53, that the secret to fly casting is "practice and more practice".
A Red Tag fly tying class held at East Ivanhoe Bowling Club. Red Tag membership grew during the pandemic.Credit:Joe Armao
When McCaughey joined, veteran club members seemed to cast with the grace of ballet dancers.
"It's not so much strength as timing. It's not so much the big, strong people that cast well," McCaughey said.
Stephens said McCaughey is nicknamed "the Professor" for his fishing skills.
Vin McCaughey (far right) casts his fishing rod over the pools in Yarra Bend Park, Fairfield. Credit:Scott McNaughton
It's been a wonderful social club for McCaughey, a retired electrician, who joined Red Tag soon after migrating from Belfast in 1961.
As a child, he enjoyed fishing with his father and uncle on Lough Melvin, a lake on the UK and Irish Republic border.
In Red Tag, McCaughey and his wife, Irene, and two children socialised and travelled with other young families to scenic spots such as the Buffalo River near Myrtleford, in north-eastern Victoria.
McCaughey had a stroke at age 55, but within six months, returned to Red Tag events in a wheelchair.
McCaughey taught himself to cast with his left arm because his right arm at the time was paralysed.
Lifelong hobby: Vin McCaughey at O'Dell's Lake in Tasmania circa 1980s.
"I had to tie the rod to my hand, because I kept throwing it away!" he says.
He wouldn't quit. "It's what I love doing."
After Irene died six years ago, going to the club kept him busy, "having friends and things to do".
On Sunday morning, McCaughey was at the casting pool despite it being 7 degrees.
Vin McCaughey, right, in 1964, with then-secretary of the Red Tag Fly Fishers' Club Alec Wallace pictured at the Australian Fly Casting championships in Ballarat.
Last weekend, McCaughey joined eight fellow Red Tag members at Millbrook Lakes, a private trout fishery at Gordon, near Ballarat.
"It was fantastic," he said. "I probably now go for the company. The younger ones, they go for the fish. I'll still catch a fish too, but me and my friends in the club, we go to have a good time."
Red Tag members and their boat at Eildon Weir, Victoria, in 1932.
The club will hold a 90th birthday dinner at The Manningham Hotel in Bulleen on August 26.
Your essential guide to the best things to see and do in and around the city. Sign up to our Culture Fix newsletter here.
Most Viewed in National
From our partners
Source: Read Full Article