Car-mad Liverpool bomber called himself GT and was obsessed with Johnny Cash – he was no extremist, say pals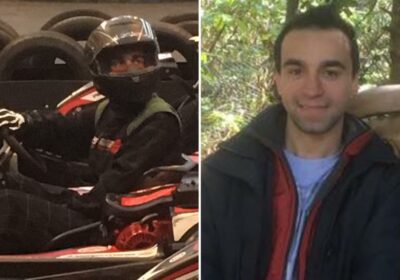 THE CAR-mad Liverpool bomber called himself GT and was obsessed with Johnny Cash – but he wasn't a "fanatic", pals said.
Emad Al-Swealmeen, 32, blew himself up in a taxi at the Liverpool Women's Hospital on Remembrance Sunday – seconds before the 11am minute's silence.
He had moved to the UK seven years earlier where it's claimed he changed his first name to Enzo Almeni in honour of Ferrari founder Enzo Ferrari – and in a bid to help him seek asylum in the UK.
Friends said they were astounded that the "quiet and bashful" young man, who was also a big fan of country singer Johnny Cash, was behind the Poppy Day bomb.
The motor-racing enthusiast, who The Sun understands was a Jordanian national, was never granted asylum and in 2017 he converted to Christianity at Liverpool's Anglican Cathedral.
According to pals, he had mental health issues and was previously said to have been sectioned under the Mental Health Act for brandishing a knife near Liverpool's city centre.
But the bomber went on to spend eight months living with devoted Christians Malcolm and Elizabeth Hitchott at their home in Liverpool and appeared the perfect guest.
During his stay, Mrs Hitchcott said Al Swealmeen would go to the food bank with them and do chores around the house.
One friend who knew Al Swealmeen through his job at a pizza takeaway, said he "nearly fell off his chair" when he found out the bomber was his former colleague.
He told the Daily Mail: "He called himself GT because he loved cars, it was a little nickname he gave himself, he even had it tattooed on his arm.
"He was quiet, but not in a weird way, he was just really shy. I nearly fell off my chair when I saw his picture. 
"He did speak to me about feeling depressed one time, but didn't really go into it.
"At the time he lived in a shared house with a few others and all he cared about was go-karting.
"He showed me his helmet that he had bought, he was really excited about it. He went go-karting a few times on his own, he was so into it, and I remember him getting a tattoo and showing it off.
"He also loved Johnny Cash and he told me he wanted to get a Johnny Cash tattoo too."
JOHNNY CASH LOVER
Police are not "looking for anyone else" in connection with a suspected terrorist bombing in Liverpool, according to a minister.
Security minister Damian Hinds confirmed that counter-terror police are not seeking any other suspects following the explosion on Sunday.
The businessman who employed Al Swealmeen at his pizza takeaway for several months in 2016 said he was also "shocked" as he "wasn't a fanatic."
He said: "I was shocked when I saw who it was. I still can't believe it.
"He was a nice, polite guy. He wasn't a practising Muslim, he told me he lived with a Christian family, and he definitely wasn't a fanatic.
"I've employed Muslims before, some of them don't like touching ham if it isn't Halal, but he didn't seem worried about that."
According to friends, Al-Swealmeen had spent a large part of his life in Iraq, where his mum came from.
It was claimed he had told friends he came from Syria — but The Sun understands he was a Jordanian national.
TERROR ATTACK
Al-Swealmeen had taken a taxi to Liverpool's Women's Hospital on Sunday from his home nearby.
CCTV footage captured the moment his home-made-ball-bearing device was detonated seconds after cabbie David Perry pulled up in front of the main entrance at 10.59 am.
Mr Perry survived by "a miracle".
Detective Chief Inspector Andrew Meeks of Counter Terrorism Police North West said: "Our enquiries are very much ongoing but at this stage we strongly believe that the deceased is 32-year-old Emad Al Swealmeen.
"Al Swealmeen is connected to both the Rutland Avenue and Sutcliffe Street addresses where searches are still ongoing.
"We believe he lived at the Sutcliffe Street address for some time and had recently rented the Rutland Avenue address. Our focus is the Rutland Avenue address where we have continued to recover significant items.
"We continue to appeal for any information about this incident and now that we have released his name any information that the public may have about Al Swealmeen no matter how small may be of great assistance to us." 
We pay for your stories!
Do you have a story for The Sun news desk?
Email us at [email protected] or call 0207 782 4104. You can WhatsApp us on 07423 720 250. We pay for videos too.
Click here to upload yours.
Click here to get The Sun newspaper delivered for FREE for the next six weeks.
Source: Read Full Article