Cadbury Flakes labelled 'too crumbly' following move to Egypt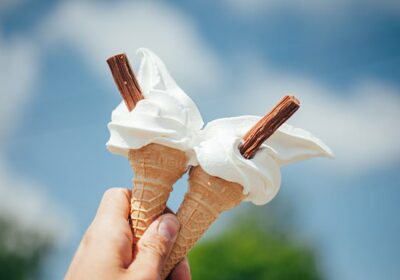 Ninety-nine problems: Ice cream sellers say Cadbury Flakes are 'too crumbly' with quality dropping since production moved to Egypt
Parent company Mondelēz International moved production to Egypt in 2020
British ice cream sellers are complaining that Cadbury Flakes are 'too crumbly'.
Vendors say they have noticed the quality of the chocolate staple taking a hit since parent company Mondelēz International moved its production to Egypt in 2020.
They have revealed their frustration at having to pay 'top money' for a box of Flakes which then arrives as a collection of shards – with some sellers resorting to 'sprinkling bits' of the shattered confectionary over their products.
John Taylor, owner of C&M Creamery Ices, told the BBC: 'You can't give someone a 99 with a broken Flake. It's embarrassing for an ice cream man.'
Another vendor, Lawrence Glauser, owner of Lorenzo's Ices in East Yorkshire said that he has often had to dump at least a quarter of box as they cannot be used.
Ice cream sellers have noticed that the quality of the flakes have taken a substantial hit since the company moved its production to Egypt
Mr Glauser said: 'They're charging top money for them, but they arrive as though they have been bounced off a cliff.
'If you're buying five boxes of Flake for an event and you discover a lot of them are broken your day is ruined.'
Katy Alison, owner of a van in Bognor Regis, said that she had to throw away just under half (70) Flakes in a single box, because they were all broken. 
A typical box contains 144 Flake 99s. 
A Mondelēz International Spokesperson said: 'We care about our loyal customer base and take quality issues very seriously. Cadbury Flake 99 is a naturally delicate and crumbly product, and we have processes in place within our supply chain to avoid any breakage as much as possible.
'We are aware that, recently, some customers have received product which does not meet our usual high standards. This has been addressed following improvements to our production processes, although some prior stock may remain in circulation.
'We are in the process of liaising with our customers (wholesalers) to support those potentially impacted. We sincerely apologise for any inconvenience caused.'
Source: Read Full Article