Bus driver Stephen Shrimpton 'had medical issues at wheel' before M53 crash which killed schoolgirl Jessica Baker, 15 | The Sun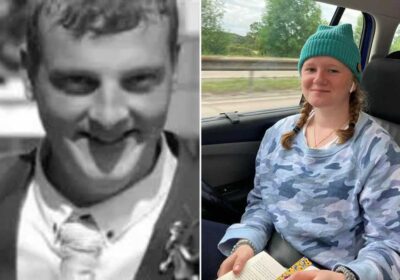 BUS driver Stephen Shrimpton reportedly had medical issues at the wheel before the M53 crash which killed him and 15-year-old schoolgirl Jessica Baker.
The bus carrying pupils from Calday Grammar School and West Kirby all-girls grammar school overturned on the M53 this morning.
The driver of the bus has been named by his family as dad-of-two Stephen Shrimpton.
In a GoFundMe appeal, his sister-in-law said that he "suffered medical issues at the wheel".
A 15=year-old girl who died alongside the driver has been named as Jessica Baker.
Merseyside Police said: "Jessica Baker sadly died as a result of the collision on the M53 northbound carriageway earlier today.
Read More UK News
BUS TRAGEDY
Tributes pour in for girl, 15, & driver who died after school bus overturned
TREE PROBE
Man in 60s arrested alongside boy, 16, after Hadrian's Wall tree chopped down
"Jessica's family have requested that their privacy is respected at this time and any updates from them will be issued via Merseyside Police news office as appropriate."
The crash happened just after 8am near Birkenhead, Merseyside, and saw the coach flip onto its side after colliding with a car.
Witnesses report having seen school kids fleeing from the smashed rear window of the bus while their traumatised pals travelling in a second bus were left watching on in horror.
A paramedic who rushed to the scene has now told of how one girl who was weeping in the aftermath said the crash was "very scary" and claimed "I thought I was going to die".
Most read in The Sun
TUPAC BOMBSHELL
Gangster who bragged about shooting Tupac Shakur is finally arrested
FAMILY DRAMA
Married footballer denies having affair after video of 'mistress' goes viral
'CHASED DOWN'
Teen girl, 15, was 'stabbed to death by teen after grabbing pal's teddy'
SPECIAL BRANCH
Three clues Sycamore Gap tree was cut down in 'planned attack'
He told MailOnline: "She was crying her eyes out. She was in shock and said it was horrible and very scary. I think some of the older kids helped her out.
"She said she thought she was going to die in the bus."
He added: "The bus was a mess. The children were in shock. It's going to take a long time for them to get over, what they've seen."
Shocking photos show broken glass, debris and school bags strewn around the bus wreckage.
Earlier this afternoon, cops revealed that two people were killed – a schoolgirl and the coach driver.
A boy, 14, was left with life-changing injuries in the horror smash.
Merseyside Police said: "We understand there were 54 people [on the bus] including the driver, sadly I can confirm the driver and a schoolgirl have died."
Cops said four people were taken to hospital – two to Alder Hey Children's Hospital and two to Arrowe Park Hospital – including the 14-year-old boy who was injured.
The remaining 52 attended the emergency services training centre, where 39 were discharged with no further treatment and 13 were treated for minor injuries and then released.
Specialist support is being offered to the families of both victims.
Trauma support is also being put in place for the pupils, as well as children from both schools on other buses travelling in convoy who witnessed the horror.
In a press conference Chief Superintendent Graeme Robson added: "We also know that other children from both schools were on buses travelling in convoy with the bus involved in the incident and they witnessed the incident and they will too be provided with specialist trauma support.
"The motorway is expected to be closed for a number of hours while investigative work is carried out and we would like to thanks motorists for their patience while the investigation is ongoing."
HORROR CRASH
It comes as North West Ambulance Service this morning declared a major incident.
It said in a statement: "North West Ambulance Service has declared a major incident following a road traffic collision between a coach and a car on the M53 northbound at approximately 8.30 this morning.
"The trust dispatched a large number of resources to the scene, including ambulances, advances paramedics, our Hazardous Area Response team and a HEMS doctor."
Calday Grammar School said: "We're actively gathering details and assisting affected students and their families.
"If you need to talk or seek guidance, please reach out to our teaching and pastoral teams."
Alder Hey children's hospital also declared a major incident and said it was treating "a number of" injured people.
The hospital has said it was "extremely busy" following the M53 crash.
A spokesperson said it would only "ask parents to only bring their children to the Department if it is urgent."
Meanwhile, a Wirral Hospital spokesperson said: "We have clear plans in place to deal with these types of emergency situations and our services are ready to receive any casualties. The Trust has declared a Major Incident and the Major Incident Team has been stood up to manage the situation."
READ MORE SUN STORIES
LOVE HURTS
I was dating a guy for 6 weeks and then found out he had a secret fiancee
NOUGHT AGAIN
Shoppers divided by Y2K trend that's making a comeback -many are loving it
Dr Nikki Stevenson, Medical Director at Wirral University Teaching Hospital, said: "Our thoughts are with those affected by this event and we are ready to provide treatment and support to any casualties and relatives arriving at Arrowe Park Hospital.
"Our staff are professionally trained and prepared for such events, and we have established a Major Incident Team to coordinate and manage the emergency response."
Source: Read Full Article