Brit base jumper, 65, dies after plunging from mountain in Italy wearing wing suit | The Sun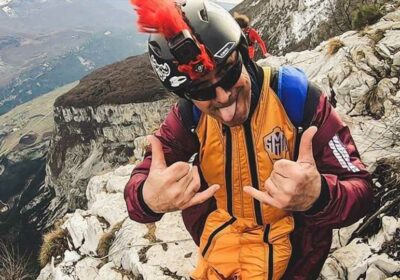 A BRIT base jumper has died after plunging from a mountain in Italy.
Mark Andrews, 65, was killed after he fell more than 400 metres down a rockface in Trentino.
The 65-year-old, originally from Cornwall, was said to have been wearing a wing suit when tragedy struck yesterday.
A fellow base jumper watched on in horror as "fearless" Mark fell to his death and quickly called emergency services, who scrambled to the scene.
One of the daredevil's pals told MailOnline: "He came to base jumping quite late. He's only been doing it since 2014 but he packed a lot into those nine years.
"He was fearless and will be missed. He was a regular in Italy at various base-jumping events, but had also base jumped all over the world off bridges and skyscrapers.
Read more on world news
Brit dies after being knocked off his bicycle by 'hit-and-run driver' in Spain
Brit dies in listeria outbreak linked to cheese as urgent alert issued to public
"He lived in Moscow for and was a drilling engineer but then he moved to Bucharest where his wife is from."
The foreign office said: "We are in contact with local police following the death of a British man in Italy and are supporting his family."
Footage online shows Mark undertaking hair-raising stunts, leaping from mountain tops across Europe.
He was affiliated with base jumping group, Lean To Base Jump. 
Most read in The Sun
Holly Willoughby posts cryptic message ahead of return to This Morning
Tributes paid to girl, 12, killed at Bournemouth beach while swimming
Moment Phillip Schofield comforts his mum after This Morning sacking news
Emotional way Holly Willoughby will address Phil Schofield scandal revealed
Source: Read Full Article