Boy dressing up as Prince Harry steals the show for World Book Day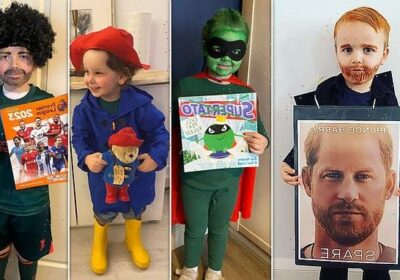 A royally good costume! Boy dressing up as Prince Harry from the cover of Spare steals the show for World Book Day as children wear outfits of their favourite characters from literature
Lad dressed as Prince Harry with his tome Spare was a World Book Day favourite
He joined others who were in Poo Collector, Evil Pea and Paddington Bear wear
Have you done World Book Day today? Share your pic at: [email protected] 
A little boy has dressed up as Prince Harry holding his incendiary autobiography Spare for World Book Day.
Ellis, three, is the child of make-up artist and hair stylist Melissa Wright and her skills were evident in the look.
Her son sports ginger hair and a painted on ginger beard and expressive eyebrows.
In his hands he held a blown-up cover of Spare, with the young lad even mimicking Harry's serious expression in his picture.
Ellis Wright, three, dressed up as Prince Harry for World Book Day holding up the book Spare
This boy Ollie had his outfit displayed on Twitter and was dressed up as his hero Mo Salah
Jude, six, looked just like hero wizard Harry Potter as he dressed up for World Book Day
Surrey Mother Melissa, 36, said: 'I was a bit worried because I guess it is a controversial topic because everybody does have quite a big opinion.
'Essentially, it is just fun.
'He is quite feisty, he's definitely got an opinion, which then kind of led me to Harry,' she revealed to the Mirror. 
It was one of many pictures displayed on social media by parents and guardians this morning.
Jude, six, whose favourite book is Harry Potter and the Philosopher's Stone, dressed up as the famous boy wizard. 
Elsewhere one young girl did her outfit as Evil Pea from the colourful child's tome Supertato
Theo Partasides looked the part dressed up as Paddington Bear for World Book Day today
Another child was said to have been dressed up as poo collector from the book Poo in the Zoo
Elise had gone to school as thrall from the Chris Metzen book a Snow Fight and Warcraft
And Theo Partasides looked terrific as a very accurate Paddington Bear for the occasion.
World Book Day is a registered charity which promotes reading for pleasure for young children.
Its aim is to offer every youngster their own book and develop a habit for reading. 
A spokesperson for World Book Day said: 'Reading for pleasure is the single biggest indicator of a child's future success – more than their family circumstances, their parents' educational background or their income.
'We want to see more children, particularly those from disadvantaged backgrounds, with a life-long habit of reading for pleasure and the improved life chances this brings them.
'Designated by UNESCO as a worldwide celebration of books and reading, World Book Day is marked in over 100 countries around the globe.'
Comedian and author David Walliams posted this snap on Wednesday to mark World Book Day, before visiting Clifton Primary School in Ealing, London to meet with pupils
Many schools brought the event forward by a day to Wednesday after teachers voted to go ahead with strikes across parts of the country.
Author David Walliams posted a photo to celebrate the event, and also shared a clip of his visit to Clifton Primary School in Ealing where he spoke to schoolchildren about the best-selling books he's penned including Spaceboy, Billionaire Boy and Gangsta Granny. 
Elsewhere, singer Paloma Faith posted an image of her eldest daughter dressed as a lion on Instagram, taking the inspiration from popular children's book Jill and the Lion by Lesley Barnes.  
In south-east London, primary pupils Ebba and James Foale Robinson, aged five and eight, dressed up as Hermione Granger and Harry Potter from JK Rowling's hit series. 
Singer Paloma Faith posted an image of her eldest daughter dressed as a lion on Instagram, taking the inspiration from popular children's book Jill and the Lion by Lesley Barnes
Zak Sanderson, 10, and Nell Sanderson, seven, dressed up as Welsh Rugby Union player Sam Warburton and Gangsta Granny as their London school celebrated World Book Day
Wizard times! Ebba and James Foale Robinson, aged five and eight, dressed up as Hermione Granger and Harry Potter from JK Rowling's hit series
And Zak Sanderson, 10, and Nell Sanderson, seven, who attend St Faith's Primary School in Winchester, Hampshire, chose to dress up as the central protagonist in books they both love. 
While Zak opted to dress up as Welsh Rugby Union player Sam Warburton, whose autobiography he's reading, his little sister opted for a grey wig and specs to portray Gangsta Granny from David Walliams' popular kids novel.
On social media, scores of parents shared photos of their youngsters in their literary outfits, with teachers also posting photos of staffrooms filled with characters from popular childrens' books.  
Tomorrow will thousands of schoolchildren at home, after the NEU estimated that around 200,000 members across England and Wales will strike over three days of action this week, with the 'majority of schools' expected to either restrict access to pupils or fully close.
A fox, a wolf and a spaceboy: Felix, Zoë and Arlo Duff posed up a storm ahead of their school day in celebration of World Book Day
Well it is Wednesday! Esther Elliott, eight, (left) dressed as Wednesday Addams and her younger sister Penny Wren, seven, posed as Mirabelle Moon on their doorstep this morning
Tens of thousands of teachers across the Midlands and eastern England, as well as many more in Scotland, are striking today in a long-running dispute over pay.
It is the second day of regional walkouts by the National Education Union (NEU) after teachers took strike action in the north of England on Monday.
Last week, Education Secretary Gillian Keegan invited the teaching unions to 'formal talks on pay, conditions and reform' on the condition that this week's walkouts were suspended.
Ms Keegan has called the union's decision not to suspend the regional strikes 'hugely disappointing'.
Paul Whiteman, general secretary of school leaders' union NAHT, said: 'While it's difficult to predict the exact impact of strikes in schools this week, there is likely to be significant localised disruption.
Cecily Robinson, five, from Berkshire shows off her Christmasaurus outfit – playing the titular character from the debut book from McFly member Tom Fletcher
Vivienne Nouril, aged four, celebrated with her reception class at Strand on the Green school in Chiswick – donning the same colours as the main character in Bear Moves
But Mary Bousted and Kevin Courtney, joint general secretaries of the NEU, have accused the Government of 'burying its head in the sand' as they claim underfunded pay increases have 'pushed the profession to its limits'.
They said: 'We reiterate once again that we are willing to enter negotiations at any time. Teachers want to be in the classroom, not the picket line.
'The Education Secretary needs to withdraw her unnecessary pre-conditions and get around the negotiating table.'
'School leaders will be considering what approach to take for those schools affected, based on their individual circumstances and risk assessments.'
He added: 'It is very disappointing that the Government has not been more willing to act to prevent strikes by bringing something of substance to the table for discussion. For all the hours of talks we have conducted thus far, they have not offered any tangible move on pay, which is what is required.'
Further national strikes by NEU members in England and Wales are planned for March 15 and 16.
Source: Read Full Article