'Boundless cruelty': Rapist Robert Wilson jailed for 22 years for attacks on woman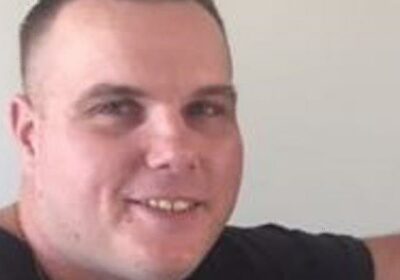 Warning: This story contains graphic content
A man has been jailed for 22½ years for repeatedly raping and bashing a woman he held captive in his Victorian home for five days.
County Court Judge Fiona Todd said Robert Wilson acted with "boundless cruelty" in raping the woman 18 times during nine separate attacks at his home in Darley, north-west of Melbourne, between March 25 and 29, 2019. The pair met on dating app Badoo weeks earlier.
Robert Wilson has been jailed for 22 years and six months.Credit:Facebook
Wilson photographed his vile and degrading sexual acts against the woman, repeatedly punched her to the face and head, struck her with a metal bar, stomped on her stomach, pointed a speargun at her head and threatened to kill her. He also mocked her appearance and warned that if she disobeyed him, he would turn her into a "money-making tool" by inviting other men to pay for sex with her.
Wilson took the woman to his home after picking her up from work, but by the time he dropped her at her home after five days, the victim was unrecognisable to a friend because of her bruised and swollen face.
Todd on Friday told Wilson his prolonged and demeaning crimes had a "catastrophic effect" on the woman's health and integrity. The victim, who cannot be named, watched the sentencing hearing with her camera turned off. Wilson showed no emotions during the 80-minute hearing.
Robert Wilson committed vile and demeaning sex acts against the woman.Credit:Facebook
"Your persistent rape of [the woman] was embedded in a grossly horrific context, the harm of each rape compounded by those that came before and after it," the judge told the 35-year-old.
"This was boundless cruelty. It is almost incomprehensible."
"You did what you did to [her] because you wanted to do it, and you thought you might get away with it. And because nothing about her humanity constrained you."
Wilson has spent more than three years in custody awaiting sentence but must serve 16 years before he is eligible for parole. He pleaded guilty to three charges of rape, which cover all the sexual offences, and single counts of false imprisonment, intentionally causing injury and theft, related to $3130 he stole from the woman.
Robert Wilson's home in Darley, near Bacchus Marsh.Credit:Simone Fox Koob
The ordeal began when Wilson picked the woman up from her work on the Monday afternoon and told her they needed to talk at his home. When inside the Darley house, Wilson punched and stomped on the woman, picked her up by the ankles, strangled and then raped her.
The next day, an alarm activated when the woman stepped out of the bedroom and Wilson struck her to the body with an iron bar, threatened to kill her with the speargun and raped her.
As the abuse and assaults continued over the following days, the woman's friends sent Wilson messages on Facebook asking where she was. The woman previously told friends she feared Wilson.
Wilson told the friends the woman was unwell and would be home by the Friday, but then told her he would kill the friends. He also filmed videos where he instructed on the answers to give, and threatened to send degrading images of the woman to her family if she went to the police.
A speargun used by Robert Wilson to threaten his victim.Credit:Victoria Police
The woman told the court in April that although she was "paralysed with fear" during the ordeal, her will to live was strong. More than three years on, she experienced nightmares and was exhausted from living in a permanent state of flight.
"My life will never be normal again," she wrote in a victim impact statement.
On Friday, the judge commended the woman's courage and endurance in surviving and the "Herculean task" of describing what happened to her friends, police and the courts.
"It cleared the pathway to justice in this case and therefore to a safer community," the judge said.
Wilson grew up in Tasmania and was kicked out of home at 15 after an argument with his father, who was violent and abused alcohol and drugs.
He was married for seven years but separated in 2017 and is no longer in contact with his two daughters.
Todd acknowledged that Wilson accepted responsibility, but found there was no remorse or explanation for his crimes.
Wilson has prior convictions including assault and stomping on another woman's head.
The Morning Edition newsletter is our guide to the day's most important and interesting stories, analysis and insights. Sign up here.
Most Viewed in National
From our partners
Source: Read Full Article