Bikies to be stripped of colours in plan to target organised crime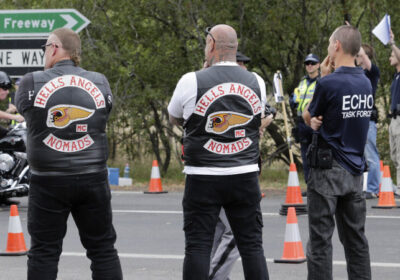 Save articles for later
Add articles to your saved list and come back to them any time.
Bikie gangs would be banned from wearing club colours and tough new anti-association laws put in place for convicted criminals under a proposed crackdown on organised crime.
The plan for the new powers, among the toughest in the nation, comes after an admission that current legislation targeting serious criminal gangs in Victoria is failing.
Bikie gangs would be banned from wearing club colours and patches.Credit: Paul Rovere
Police would be able to ban convicted criminals from associating with each other and apply for court orders to disrupt their illegal activities for up to five years, while bikie gangs would be prohibited from wearing club colours, patches and the "1%" symbol, which signifies their outlaw nature.
Criminals found to have breached the proposed laws would face up to five years in prison and massive fines.
The planned new powers will be welcomed by law enforcement agencies after a recent string of underworld murders and more than 30 firebombings linked to the illegal tobacco trade.
A long-running independent review of Victoria's Criminal Organisations Control Act 2012 admitted current legislation "was not achieving its purpose of preventing and disrupting organised crime", according to a confidential consultation paper released last month by the Department of Justice and Community Safety.
Police raiding a Hells Angels clubhouse in 2020.Credit: Victoria Police
Actions outlined in the report, obtained by this masthead, would bring Victorian laws into line with other states.
Over the past five years, Victoria has become the preferred destination for bikie gangs to stage their national runs. A senior member of the Bandidos was recently shot at a Ballarat clubhouse after a gathering in regional Victoria.
Some underworld figures temporarily relocated to Melbourne after becoming the subject of control orders in other states that disrupted their criminal activities.
A senior police source, not authorised to speak publicly, said they supported any reforms that would hamper organised crime.
"I'm not across the detail, but I'm in favour of any changes that make life difficult for these gangs. The firearm prohibition laws have been really effective over the past couple of years, but tougher laws on association would definitely help," the senior officer said.
Victoria Police has been unable to issue any unlawful association notices to serious criminals under the existing scheme, with the independent review finding a key part of the current legislation "sets the bar too high and renders the scheme operationally unworkable".
Under the proposed changes, a senior police officer would only need to be satisfied on "reasonable grounds" that the issuance of a non-association notice would disrupt or prevent organised crime.
More than a dozen new offences connected to organised crime could also lead to a person, if convicted, being the subject of an unlawful association order, according to the consultation paper.
Offenders convicted of serious crimes in other states could also be the subject of non-association notices under the proposed reforms.
Those found to have breached the orders – by consorting with other criminals at least three times in three months or six times over a year – could be sentenced to up to three years in prison.
However, some of the measures proposed by the Allan government are expected to raise concerns with civil rights advocates – particularly an overhaul of the state's unlawful association laws.
Principal lawyer at the Police Accountability Project Gregor Husper said Victoria Police could not be trusted with more powers without meaningful oversight.
Husper, who has not read the report, said the reforms would "undermine cherished rights of association, privacy, reputation and security of the person".
"These powers are like putting a wheel clamp on a person, not because they've parked illegally but because the police think they might. It is oppressive to interfere in the lives of people when there is no specific offending under investigation," he said.
Under the proposed reforms, the Independent Broad-based Anti-corruption Commission would be given expanded oversight role on new anti-association laws, and would be required to provide reports to the attorney-general and Victoria Police on its monitoring.
The corruption watchdog would also be required to assess if new laws had a disproportionate impact on First Nations people, victims of family violence or vulnerable communities.
Some exemptions from the proposed unlawful association orders could be granted to First Nations people if they were to meet for cultural reasons.
Law enforcement agencies would also be given new powers to apply to courts for a serious crime prevention order to "restrict the activities of individuals involved at the most serious end of organised crime".
A convicted criminal made the subject of such an order could face limits on how much cash they possess and bans on international travel. They could be prohibited from entering designated premises, or be compelled to provide police with their home address, employment details, vehicle ownership or interstate travel plans.
A serious crime prevention order could be imposed for up to five years, but could also be withdrawn by police or appealed by those issued with one.
Contravention of such an order would be punishable by up to five years in prison or a fine of up to $115,386, according to the confidential report.
The government is also planning to ban the wearing of gang colours, patches, insignia and symbols in public by outlaw motorcycle gangs. It would also include the displaying of signs on bikie clubhouses.
"The review found a ban on the public display or wearing of gang colours is a justified disruptive strategy," the report said.
Any breach of the proposed ban could result in a maximum fine of $11,538 for an individual or up to $57,693 for a body corporate.
Police would be given powers to order gang members to remove colours or face additional fines if they refuse to comply, according to the proposed reforms.
A Victoria Police spokeswoman said the force "would support any government consideration in relation to improving the workability of the Criminal Organisations Control Act, in order to enhance our ability to combat serious and organised crime".
A Victorian government spokeswoman said it had "commissioned a review of our criminal organisation laws to make sure they're fit for purpose and are consulting with a broad group of stakeholders to get their feedback before determining how to proceed".
An IBAC spokeswoman declined to comment.
Start the day with a summary of the day's most important and interesting stories, analysis and insights. Sign up for our Morning Edition newsletter.
Most Viewed in National
From our partners
Source: Read Full Article