Biden calls Netanyahu to demand 'significant de-escalation' in Gaza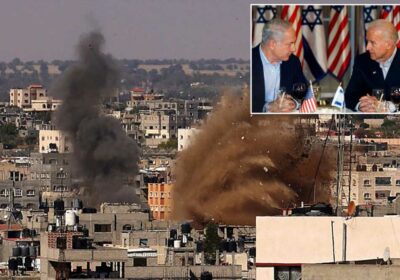 More On:
israel

Car trouble: Biden ripped for joking about running over reporter

Benjamin Netanyahu says Israel has not ruled out conquering Gaza

Facebook shuts down pro-Israel page targeted by 'cyber terrorism' campaign

White House privately presses Israel to wind down Gaza bombings: report

President Biden on Wednesday told Israeli Prime Minister Benjamin Netanyahu that he expects "significant de-escalation" immediately in Israel's conflict with Hamas.
"The President conveyed to the Prime Minister that he expected a significant de-escalation today on the path to a ceasefire," the White House said of the call between the two leaders.
Biden and Netanyahu "had a detailed discussion on the state of events in Gaza" and about "Israel's progress in degrading the capabilities of Hamas and other terrorist elements," the White House said.
But Netanyahu said after the call that he is "determined to continue this operation until its aim is met," despite Biden's call for a ceasefire in Gaza.
In a statement from the his office, Netanyahu said that he "greatly appreciates the support of the American president," but said Israel will push ahead "to return the calm and security to you, citizens of Israel."
The official White House readout did not specifically mention US support for Israel's military campaign responding to a barrage of rockets fired by Hamas from Gaza toward Jerusalem and Tel Aviv.
More vaguely, the readout of Biden's Monday call with Netanyahu said, "The President reiterated his firm support for Israel's right to defend itself against indiscriminate rocket attacks."
Biden has spoken four times with the Israeli leader in the past week as civilian casualties mount on both sides of the conflict but particularly in Gaza, which has been ruled by the Islamic fundamentalist group since 2007.
Although Biden at first defended Israeli airstrikes on Gaza, he on Monday began to urge Netanyahu to pursue a cease-fire, which Republican critics denounced as a break with Israel.
On Tuesday, Biden spoke for nearly eight minutes with Israel critic Rep. Rashida Tlaib (D-Mich.) on the tarmac of Detroit's airport before praising her as a "fighter" during a speech. The Palestinian-American congresswoman is a supporter of the Boycott, Divestment and Sanctions movement and has colorfully denounced Israel's "apartheid government," calling on Biden to scrap a pending $735 million arms sale that she said could be used to "kill children and families."
Biden faces a growing faction of Israel critics within his party in Congress, including Rep. Alexandria Ocasio-Cortez (D-NY) and other members of the progressive "Squad."
Criticism of Israel's campaign has focused on disproportionate civilian casualties reported by Hamas in the crowded and poor Gaza Strip, but also on the destruction of a 13-story building that housed the offices of the Associated Press. Secretary of State Tony Blinken on Tuesday said Israel's government provided the US with evidence to support its claim that Hamas was also working out of the tower.
Share this article:
Source: Read Full Article