Bedbug plague sees French families dump infested mattresses in streets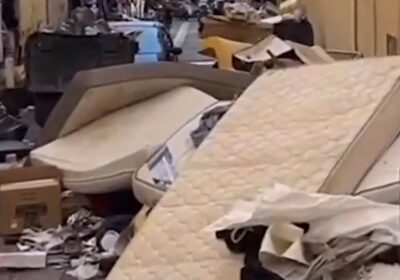 Bedbug plague sees French families dump infested mattresses in the streets
The Government is battling to contain bout of nationwide panic over bedbugs
The bedbug plague in France has seen families in Marseille throw mattresses out into the streets.
The French government is battling to contain a bout of nationwide panic, after several schools were closed across the country due to the problem.
Video shows residents walking past discarded mattresses in one of the streets in Marseille, with some of the items lying in the road and others propped up against buildings.
Images also show home furnishings abandoned in the streets because of the issue, with a placard reading 'bedbugs' pinned to the headboard of a bed left out on the road.
The crisis has taken a hold of the capital, just nine months before it hosts next summer's Olympic Games.
Video from Marseille appears to shows residents throwing mattresses from apartments in to the street below in attempt to rid their homes of bedbugs 
A mattress is seen abandoned on a sidewalk in Marseille next to a line of bins
Government officials were holding an emergency meeting on Friday on how to tackle a crisis borne out of anecdote and viral posts on social media and which is now filling talkshow airtime – even if pest-control experts remain largely nonplussed.
Rail travellers, cinema-goers and U.S. influencers in Paris for Fashion Week were among those reporting seeing the bugs, or being bitten by them.
Leftist lawmaker Mathilde Panot took a vial she said contained bedbugs into parliament. 
She told Prime Minster Elisabeth Borne bedbugs were everywhere and she lambasted the government for inaction.
'Madame prime minister, these little insects are spreading despair in our country. Do we need to wait for Matignon (PM's office) to become infested before you act,' Panot said.
Sniffer dogs are inspecting French trains and the Paris metro for bedbugs though so far not a single one has been found on public transport, the country's transport minister, Clement Beaune, said.
Beaune met last week with transportation companies to draw up a plan for monitoring and disinfecting – and to try to ease what some have called a national psychosis inflamed by the media.
'There is no resurgence of cases,' Beaune said, telling reporters that 37 cases reported in the bus and Metro system and a dozen others on trains proved unfounded – as did viral videos on social media of tiny creatures supposedly burrowing in the seat of a fast train.
Between 2017 and 2022, more than one in ten French households had been infested with bedbugs, the health authority says. 
The National Agency for Food, Environmental and Workplace Safety (ANSES) said the presence of bedbugs did not mean poor hygiene.
A placard reading 'bed bugs' beside a mattress abandoned on the pavement in a street in Marseille
Now, both Socialists and centrists of President Emmanuel Macron's party want to propose bills to fight bedbugs. 
Panot recently brought a vial of bedbugs to the Parliament to chastise the government for, in her view, letting the creatures run rampant.
A pest control companies' organisation said bedbug callouts in the June to August period were up 65 per cent on the same period last year. Pest control is expensive and often out of reach for low-income families. 
Entomologist Jean-Michel Berenger told newspaper Le Monde that several decades ago, bedbugs were kept in check by cheap and potent insecticides. 
Those insecticides, including DDT, were later found to be dangerous to human health and banned.
Bedbugs have successfully developed resistance to other, milder insecticides, scientists have said.
The latest rebound in bedbug numbers in Paris is in part down to a revival in tourism in the wake of the global COVID-19 pandemic. Bedbugs are often carried in clothing and baggage.
Tips for travellers from pest control groups include inspecting bedding, taxi and metro seats for signs of infestation, including tiny rust-coloured spots on bed sheets. Luggage should be closely examined when repacking and once back home.
Households should remove all clutter to make finding bedbugs easier, plus washing and drying bed linen often and on the hottest temperature allowed for the fabric.
In the UK, Sadiq Khan has said that the possibility of bedbugs on London's public transport is a 'real source of concern'.
The Mayor of London said that he was in contact with officials in Paris after the French capital became overwhelmed by outbreaks of bedbugs, with footage showing them crawling on seats of buses and trains.
Transport for London are said to be keeping an eye on the situation and are disinfecting seats daily as part of its cleaning protocol.
Despite the measures in place, a video went viral over the weekend, gathering more than a million views, of what is claimed to be a bedbug on a passenger's leg on the Victoria line in London.
There are also fears that the infestation could have travelled further north in the UK after a bedbug was supposedly spotted on a bus in Manchester on Sunday.
However, Adam Juson of the pest control company Merlin Environmental suggested that the video did not appear to be real.
In response to the threat of bedbugs, Mr Khan told PoliticsJoe: 'This is a real source of concern. People are worried about these bugs in Paris causing a problem in London.' 
He added: 'I want to reassure those listening that TfL has the best regimes to clean our assets on a nightly basis.
'We are speaking to our friends in Paris to see if there are any lessons to be learnt but for a variety of reasons we don't think those issues will arise in London; but there is no complacency from TfL.'
Source: Read Full Article