BBC gives first look at Amol Rajan and new University Challenge titles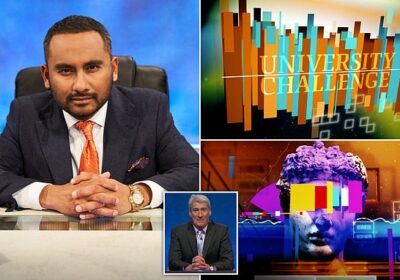 The new face of University Challenge: Radio 4 star Amol Rajan poses for photos on set of long-running BBC quiz show after Jeremy Paxman stepped down as host following Parkinson's diagnosis
Rajan will become only third person to host University Challenge in its history 
Jeremy Paxman confirmed last August that he was stepping down after 28 years 
The BBC today provided a first look at new University Challenge host Amol Rajan and a redesigned set as recording gets underway for the popular quiz show's 61st year.
He is taking over from Jeremy Paxman who confirmed last August that he was ending his reign as the longest-serving current quizmaster on UK TV after 28 years.
Rajan, 39, will become only the third person to host University Challenge in the history of the BBC Two show, which was launched by Bamber Gascoigne in 1962.
The BBC has now modernised the set, replacing a previous version in place from 2013 which saw 1,736 contestants compete. In addition, producers have created a fresh titles sequence which will be shown when the new series starts this summer.
Rajan was the BBC's media editor from December 2016 until this January and has been a host on Radio 4's Today programme since May 2021. He has presented on Radio 2 and The One Show, and is a former editor of The Independent newspaper.
The BBC today gave a first look at new University Challenge host Amol Rajan on the set
Rajan will become only the third person to host University Challenge in the history of the show
But his appointment to University Challenge last summer caused a stir amid concerns over how he had in the past written openly about his republican views and been involved in a number of controversies during his time at the BBC.
Starter for 10! University Challenge: Amol Rajan version 
1 – Which sports team that previously boasted Arthur Conan Doyle, P.G. Wodehouse, A.A. Milne and J.M. Barrie as members does Rajan play for?
2 – In 2013, at the age of just 29, he became editor of The Independent. This made him the youngest ever editor of a UK broadsheet national newspaper. But what other record did he break in taking this role? 
3 – Which publication did he once describe as publishing 'some of the finest writing on politics, history and culture' despite being 'frequently offensive'?
4 – Which member of the Royal Family did Amol Rajan call a 'racist buffoon' in 2012?
5 – Rajan is a keen chef and was an enthusiastic meet eater for much of his life before something made him change his mind. What was it? 
6 – After leaving school, Rajan took a gap year to work in the Foreign and Commonwealth Office before starting at Downing College, Cambridge. What degree did he take?
7 – Which alcoholic drink the presenter drink the night before his first Today show shift?
For answers, scroll down to the bottom of the page.  
In late 2021, Rajan sparked anger from the Royal Family over a documentary about Princes William and Harry and their relationship with the media which was criticised as inaccurate – although the BBC defended it.
Similarly, his BBC documentary The Princes And The Press was criticised by the royal households and he apologised for comments which resurfaced from a decade ago which called the Duke of Edinburgh a 'racist buffoon' and King Charles III 'scientifically illiterate'.
Meanwhile, a 'world exclusive' interview with tennis star Novak Djokovic in February last year was attacked for airing the Serbian ace's anti-vaccination views.
Today, Rajan said: 'I have spent years re-arranging Monday nights around the need to be in front of my television at 20.30. University Challenge really is my favourite programme. 
'And from their feedback and sheer numbers, our treasured audience has made very clear I am far from alone.
'Perhaps that's no surprise given this is Britain's longest running TV quiz, in a nation of quiz lovers.
He added that while there was a new a set and presenter, 'everything else remains' including the title music, the voice of Roger Tilling and the 'fiendish questions'.
Rajan also said some of the students appearing on this year's series come from universities competing for the first time.
He continued: 'What we've seen so far includes moments of huge tension, flashes of genius, and brilliant starters and bonuses that will have viewers joining in and shouting at their screens.'
In 2020, Rajan himself appeared as a contestant on a celebrity Christmas special of University Challenge, however his team from Downing College, Cambridge, failed to make it through the first round, losing to Durham University.
The BBC's 2021/22 annual report showed Rajan was on a salary of around £325,000 but he is expected to be paid more as the host of University Challenge.
Producers have created a new titles sequence which will be shown when the new series starts
An image released by the BBC shows a grab from the new University Challenge title credits
Rajan has been married to Charlotte Faircloth since September 2013 and the couple have three children.
From interview with anti-vax Djokovic to calling Prince Philip a 'racist buffoon': Amol Rajan's controversies 
'RACIST' ROYALS 
Rajan, a former editor of The Independent, was forced to apologise after making incendiary remarks about the royals in articles written for the newspaper in 2012. 
He described the public role of Prince William and Kate as a 'total fraud' and called Prince Philip a 'racist buffoon'.
After the remarks resurfaced, he tweeted: 'In reference to very reasonable questions about some foolish commentary from a former life, I want to say I deeply regret it.'
HARRY & WILLIAM DOCUMENTARY 
Rajan was criticised by the Royal Family in 2021 for a documentary about William and Harry's relationship with the media called The Princes and the Press, Buckingham Palace.
In an unprecedented move following its airing, Buckingham Palace, Kensington Palace and Clarence House, released a joint statement criticising the BBC for 'giving credibility' to 'overblown and unfounded claims from unnamed sources'.
However the BBC defended the documentary at the time, saying: 'The documentary included interviews with a range of print and broadcast reporters who follow the royals closely and heard their views on the relationship the press has with the royal family and what influences the stories that are published.'
DJOKOVIC INTERVIEW
Last year Rajan's 'world exclusive' interview with tennis star Novak Djokovic faced criticism for airing the Serbian ace's anti-vax views.
The tennis star discussed the chaos around the cancellation of his Australian visa ahead of the Australian Open in January 2022 due to his vaccination status.
But it was claimed at the time of the interview that insiders at the corporation were concerned by the interview, including Rajan's apparent 'chumminess' with Djokovic.  
Paxman filmed his final episode last autumn and his final series – which is currently airing the quarter finals – will finish on TV in the summer.
The 72-year-old, who has been diagnosed with Parkinson's disease, had presented the show since it was revived by the BBC in 1994.
Paxman revealed in May 2021 that he had been diagnosed with Parkinson's after his doctor had seen him on University Challenge during lockdown.
He said he suffered regular falls, including one that left him with 'black eyes' and admitted it was 'very hard to know you're not going to get better'.
Born in Leeds, Paxman started his career in 1972 on the BBC's graduate trainee programme, working in local radio and reporting on the Troubles in Belfast.
Shortly after moving to London in 1977, he transferred from Tonight to Panorama, before stints on the Six O'Clock News and BBC One's Breakfast Time.
He became a presenter of Newsnight in 1989, a position he would hold until June 2014 during which time he interviewed high-profile figures from politics and culture.
University Challenge is produced by Lifted Entertainment North, part of ITV Studios, in association with Richard Reid for the College Bowl Company.
Pinki Chambers, the BBC's commissioning editor for entertainment and comedy, said: 'The competition is fierce, the questions are harder and Amol has taken to the programme in an instant. This is going to be one of our best series yet.' 
The show's executive producer Peter Gwyn added: 'The Lifted Entertainment team are genuinely thrilled to be working with Amol Rajan, who will become only the third person to host University Challenge, a programme we've been producing here in the North West for over 60 years.
'We couldn't be more proud or more excited to be part of a new era for this icon of British television.'
At the time of Rajan's appointment, the Daily Mail reported that BBC colleagues had been left 'seething' because 'he gets every gig going'.
It was also claimed that Rajan was handed the role even though two female presenters were told they would get a screen test, before the BBC backtracked on this offer.
There was concern that the broadcaster had opted to appoint another male host.
Times Radio presenter Mariella Frostrup took a dig at Rajan's appointment at the time, tweeting: 'Are BBC cuts now affecting staffing so badly that they only have one presenter? 
'Love Amol Rajan but what about the likes of Mishal Husain, Samira Ahmed, Kirsty Young. Would have been so great to see University Challenge finally go to a woman. It's only 2022 after all!' 
It was announced last August that Jeremy Paxman would be stepping down from the show
Jeremy Paxman at the Broadcasting Press Guild Awards in London last month on March 24 
A member of the public responded: 'Perhaps it just went to the best candidate regardless of sex. Get off your sexist high horse.'
READ MORE — University Challenge is accused of treating non-Oxbridge institutions as 'second class' in elitism row 
But one senior BBC insider also told the Mail: 'People are seething. He gets every gig going. They pay him so much that they have to find him stuff to do.'
It emerged last summer that Woman's Hour presenter Emma Barnett, 37, and Front Row host Samira Ahmed, 54, had been acting as standby presenters for Paxman in recent months.
Miss Ahmed said on social media she would love to present the show. But two days later, the BBC confirmed Rajan had been appointed.
The Sun reported that Miss Barnett and Miss Ahmed were told they would get screen tests but this never happened.
A BBC source denied these screen tests had been promised.
Last month, the BBC was accused of elitism over its University Challenge rules which allow separate Oxbridge colleges to enter while limiting other universities to one team each.
The long-running show has eight of its 28 entrants hailing from Oxford or Cambridge colleges in the current series. The previous edition saw nine of the 28 entrants drawn from Oxbridge.
In a series of complaints to the BBC, Frank Coffield, an emeritus professor of education at University College London, said the show's 'grotesque' Oxbridge bias breaks the corporation's impartiality rules and perpetuates elitism in the UK.
In 2020, Rajan himself appeared as a contestant on a celebrity Christmas special of University Challenge, however his team failed to make it through the first round, losing to Durham
But the BBC's complaints service said in reply: 'All institutions that deliver higher education courses at the level of bachelor's degree or equivalent or higher are welcome to apply to take part on University Challenge.'
In 2008, journalist and editor Rachael Jolley wrote in the New Statesmen about what she called the 'deep inequality' of the show's format. Gascoigne, Paxman and Rajan all studied at Cambridge.
ANSWERS for University Challenge: Amol Rajan version
1. The Authors XI cricket team;
2. First non-white national newspaper editor in the UK for more than a century;
3. The Salisbury review;
4. Prince Philip
5. Becoming a father;
6. English literature;
7 – Three 'massive' rums.
Source: Read Full Article